Britton remembers dark days
Any nerves Leon Britton may experience at a sold-out Wembley this Sunday will be small fry compared to those he felt at the Vetch Field a little over 10 years ago.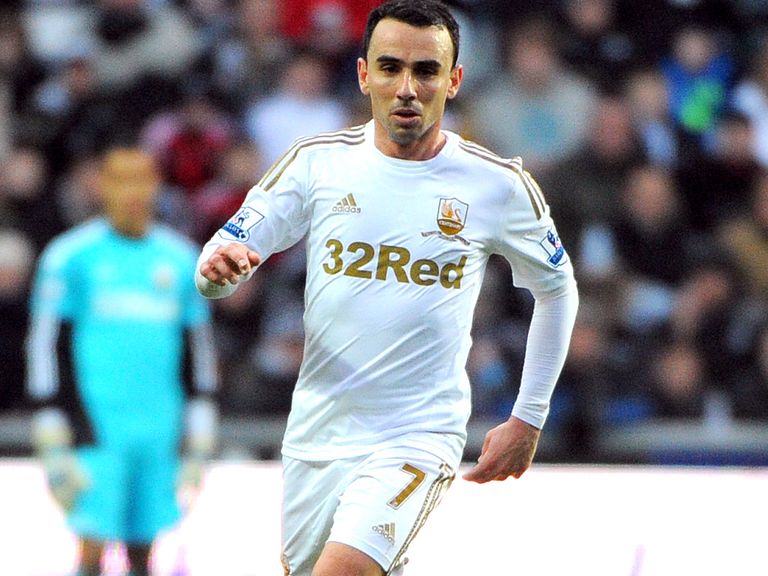 The diminutive midfielder is one of three players - along with Garry Monk and Alan Tate - to have represented Swansea in all four divisions of the English leagues.
He and his team-mates have the chance to cap the Welsh club's remarkable rise from the bottom of League Two to the Premier League when they face Bradford - themselves currently in the fourth tier - in Sunday's Capital One Cup final.
Victory would see the Swans land their first major piece of silverware and there is a tangible excitement in the city as the Wembley showpiece approaches.
That is in stark contrast to the week building up to Saturday, May 3, 2003, when the Welsh club were preparing to face Hull at their former home.
Swansea needed to win to avoid falling out of the Football League, an outcome which could have had disastrous repercussions on and off the field, with the club in financial difficulty despite a buy-out by a consortium of local businessmen the previous year.
Swansea emerged as 4-2 winners against the Tigers - the same scoreline by which they beat Reading to secure a top-flight place two years ago - but Britton can vividly recall the sense of dread he felt that day.
"I just remember the build-up, everyone was so nervous and it is such a different atmosphere this week," he told Press Association Sport.
"With this final and the play-off final a couple of years ago everyone was buzzing, but we were so worried about what would happen to the club if we lost that game.
"We got the lead but then we were 2-1 down and you could feel the atmosphere change, it was so quiet.
"Thankfully we got a dubious penalty just before the break and scored twice early in the second half.
"If someone had said to you then that we would be in the Premier League and a major cup final you would have thought they had landed from the moon.
"Even six years ago the LDV Vans Trophy final against Carlisle was a massive game for us, even the most optimistic Swansea fan could not have thought we would be where we are."
Britton, who has made over 400 appearances for the club, first joined the Swans on-loan from West Ham at the end of 2002.
Britton had also had a spell at Arsenal as a youngster and he admits it was a huge culture shock when he first arrived at a club with a ragged, if characterful, stadium and no training ground to call their own - a situation which is only set to be rectified this year.
"I remember being surprised there was no training ground. Back then we used to get to the Vetch, get changed and the manager Bryan Flynn would tell us where we were training and we would travel in convoy," he said.
"I was desperate to play so I did not care about there being no training ground or a small stadium.
"But it was a culture shock for the manager to say 'hop in your cars boys, we are training at Townhill astroturf'.
"You'd get up there and have these cheeky kids up there giving you a bit of lip, but those are fine memories for me."
Britton instantly became a hit with the Swansea faithful, to the extent that fans on the North Bank at the Vetch Field starting passing buckets around to raise money to pay his loan wages.
And the 30-year-old admits that sight created an instant bond between him and the club.
"I made a connection immediately. I remember making my debut at Exeter. I made a couple of tackles early on and the fans were chanting my name, it was brilliant for me," he said.
"To see them passing the bucket around to pay for the loan wages...I could not believe it.
"I had come from playing West Ham reserve football in front of a couple of hundred people where no-one knew my name, to having a few thousand shouting my name. They showed faith in me and I wanted to pay them back by signing permanently."
And Britton hopes Sunday will be just the latest chapter in Swansea's remarkable story.
He said: "It has been crazy. I have had a few fans come out of nowhere on the phone asking if there are spare tickets.
"You go to the petrol station and there are guys there asking if you have any spares, but we can't get as many as we want as players.
"It is a massive occasion and people want to talk to you about it, there is a huge buzz around town and a it is chance to make history. I think Swansea will be almost empty on Sunday."
---
Click here for completely free £10 bet with Sky Bet & £5 free every week
---