McManaman: Frenzy didn't distract me
Prior to March 17, Callum McManaman was just another young player trying to make an impression in the Premier League.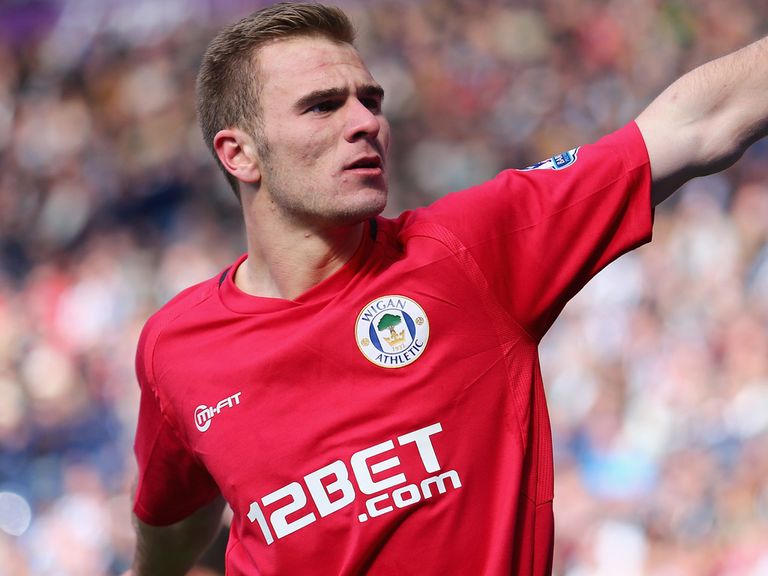 The 22-year-old had begun to attract some attention for his performances in Wigan's FA Cup run, netting a fine goal against Everton in the quarter-finals a week earlier, which earned him a first Premier League start against Newcastle.
By the end of the day, McManaman was headline news, but becoming the Premier League's public enemy number one was not exactly what he had in mind.
The striker's tackle on Massadio Haidara was certainly reckless - coming in high and fast, McManaman caught the Newcastle full-back on the knee with considerable force.
Referee Mark Halsey missed it but the TV cameras did not and McManaman found himself at the centre of a media frenzy.
Circumstances conspired against the winger as Newcastle's fury was compounded by the Football Association's inability to impose a retrospective ban, while the relative quiet of an international week meant the incident stayed at the top of the news agenda.
While Wigan defended their player, critics inside and outside football queued up to condemn McManaman, labelling the tackle among the worst in Premier League history.
It was against this backdrop that the 22-year-old returned to action two weeks later against Norwich with all eyes on him and gave a performance notable only for the boos that greeted his every touch.
But McManaman has not allowed his notoriety to cow him and, after starring in Wigan's FA Cup semi-final win over Millwall, last weekend scored his first Premier League goal with a stunning strike against Tottenham.
Looking back to the Newcastle match, McManaman said: "There was a long wait after the game for the next match but what happened didn't get me down or affect how I prepared myself for Norwich.
"There was more media attention than I'd had before that point in my career but things happen in football and all you can do is look forward and work hard for the good of the team.
"People around you help but ultimately it's down to you as an individual to go one way or the other. Having just got into the team I was desperate to get back on the training pitch and make sure I was in the starting line-up for Norwich.
"When the gaffer put me in that team it was a big moment and from that point onwards I like to think that I've progressed and become a stronger part of the team."
The Liverpudlian supported Everton as a boy and joined the club's youth system aged seven, but his release nine years later was heartbreaking.
However, McManaman's resilience was evident as he put the disappointment behind him and joined Wigan, making his first-team debut a month after turning 18.
He has had to wait for his chance, making only a handful of appearances since and going out on loan to Blackpool last season.
But Wigan boss Roberto Martinez has never doubted the striker's talent and, when the heat was really on, he backed McManaman not just to shine for the Latics but to win England honours in the future.
Martinez said: "Very soon people will realise what he is all about and what a phenomenal talent he has. There's been a lot of talk about developing young players and young English players with real raw talent, and he's got that.
"I think it's been very unfortunate that people speak about that moment.
"It's one of those situations where people will start wanting to know more about him and they will find out that maybe in future years he can bring something to the national team. That's how exciting Callum can be for the future."
McManaman's form has been such that he will one of the first names on Martinez's teamsheet for the FA Cup final against Manchester City next weekend, and he is also likely to be a key figure if the Latics are to avoid relegation once again.
Midfielder James McArthur has been impressed by the way his young team-mate has coped with adversity.
"Callum is a strong character," he said. "A lot of bad things got said about him over the Haidara tackle but it was a challenge to try and win the ball.
"He's a winner, but he would not intentionally hurt somebody. He's not that type of person. As for dealing with it, he's doing his talking on the field, and that's the most important thing."
---
Click here for completely free £10 bet with Sky Bet
---