Martinez - Football without fear
Sin Miedo. It means "without fear" in English and is the underlying principle Roberto Martinez applies to football.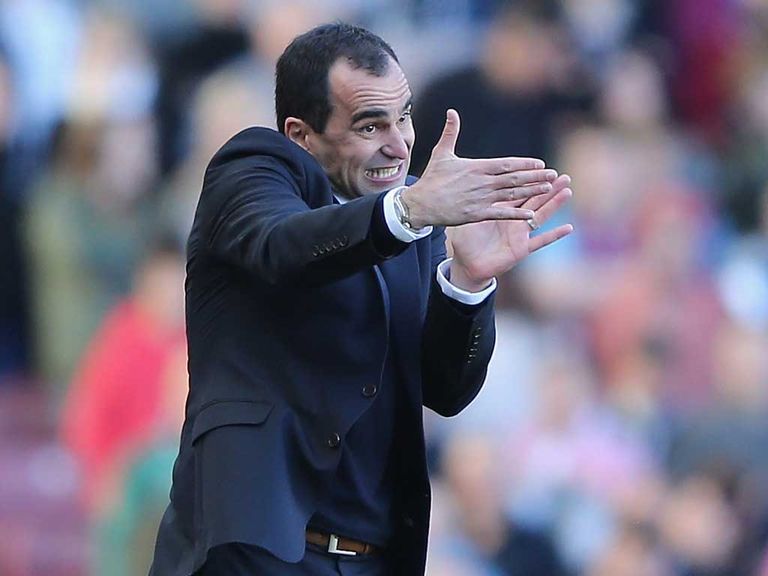 Whether that be in his approach to management or how he expects his players to perform, the Spaniard is a man of unstinting principles who demands a certain way of playing.
It has earned much praise for being admirable and attractive; for Martinez it is just football as it should be - and has an equal amount of substance to add to the style.
The 39-year-old's blueprint is obviously evident - as it was at former club Swansea - but without the ability to convince the players at his disposal to buy into his ideas, he knows it would not work.
And that is where the likeable Martinez more often than not succeeds. Spend a few minutes in his company and it is impossible not to be enthused.
While Sir Alex Ferguson has built an all-conquering dynasty down the road at Manchester United on the back of experience, finance and occasionally fear, Martinez's situation is different.
However, that is not to say the Wigan manager's standards are not as exacting, he just has another view of how to meet them.
"I always feel it's important there is a clear message for what you are trying to do, something that is clear for everyone at the football club," said Martinez, whose father - also Roberto - was a football manager in his Catalonian hometown of Balaguer.
"I do not believe in managing by fear. I believe in doing it by aspiration.
"When you manage by fear, the moment you turn (your back), the players do what they want.
"To change a philosophy at a football club the way we wanted was going to be a shock for many supporters.
"To do it in the Premier League with a team like Wigan, people were saying I was crazy, that we could not try to play good football and achieve our aims of staying in the division.
"I wanted to tell everybody to have no fear, but to believe."
A Catalan-born former central midfielder managing a team who value passing principles above all else. Sound familiar?
No-one has (yet) suggested Martinez is the next Pep Guardiola, but he is probably the closest thing England has to the former Barcelona boss in terms of strategy.
How many Premier League managers, staring at the prospect of relegation, would have radically altered their team's structure and adopt an unusual (for the top flight) 3-4-3 formation a la Guardiola?
It worked for Martinez, whose side in subsequent weeks went on a phenomenal run which saw them escape the drop last season having beaten the likes of Manchester United, Arsenal and Liverpool, the latter who came calling in the summer when they needed a new manager.
"The Premier League has proven to me that, no matter who you play against, if you do things right and if you believe in yourself you can have great results," said the Latics boss, who lit up England's lower divisions playing for Wigan and dispelled the theory that good football was restricted to the elite.
"I've had a continental upbringing that I developed while I was at Real Zaragoza, but those beliefs get challenged on a daily basis in the British game.
"I was never a physical player in my time, I had to be effective on the football pitch with my arguments. I had to learn how to be effective in the British game.
"For me it's was about fighting the idea that you cannot be successful in the British lower leagues by playing football."
Despite his laid back approach Martinez is a workaholic: one story recounts him having to be ordered to take a five-day holiday at Swansea after 19 months without a break and even then he came back to sort out a player's contract.
"I don't see it as a job, so in that way I don't need a day off," he explained.
"I need to watch a game probably seven or eight times and until I find all the answers and convert all the doubts into solutions I don't stop watching.
"I love watching other games and other leagues, seeing other players and other managers' problems with a very relaxed feeling, and that is the way I find calmness internally."
It takes a lot to get Martinez flustered and it is unlikely an FA Cup final, win or lose, will do so.
Without fuss. Without fear. It's the way he wants it.
---
Click here for completely free £10 bet with Sky Bet
---