Mancini can't escape speculation
Roberto Mancini is a serial winner but rarely does a month go by without his position at Manchester City being questioned.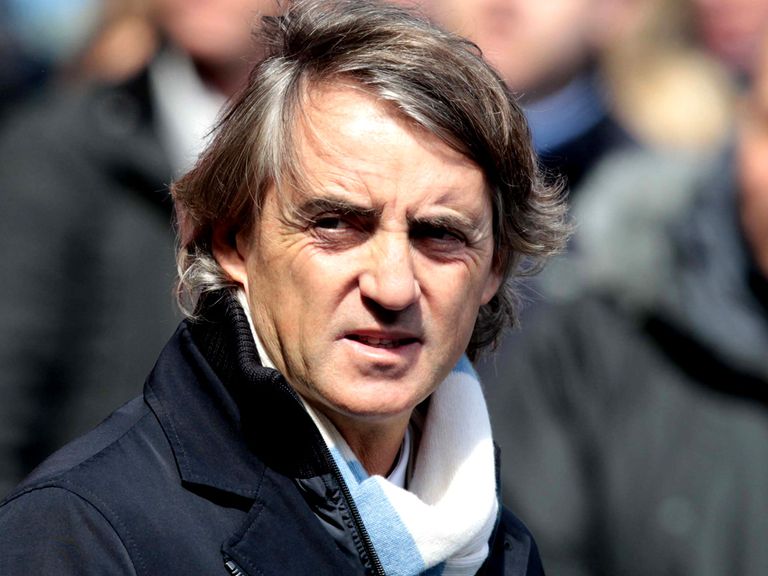 Of the two managers preparing teams for the FA Cup final, it is not the one who has spent most of the past four seasons fighting relegation battles that seems to be under pressure.
Victory at Wembley over Roberto Martinez's Wigan would secure a major trophy for a third successive season for Mancini at City, coming after the 2011 FA Cup win and last season's dramatic Premier League triumph.
It is a run that has transformed the image of a club that until its 2008 takeover by Sheikh Mansour of Abu Dhabi was renowned for underachievement and failure, glorious and otherwise.
Yet that has not seemed enough to some observers, with speculation that billionaire-backed City could wield the axe recurring after almost every indifferent result.
A host of top names have been linked with Mancini's job but few boast the pedigree of the 48-year-old incumbent, who also won three Serie A crowns and four Italian Cups while managing in his homeland.
To his credit, Mancini has dealt with frequent questions about his future at his regular press conferences this season with politeness and, occasionally, humour.
Only once did he genuinely seem to lose his temper over the matter, that being when it emerged some months into the campaign that he had spoken to Monaco last season.
Yet even then his anger was fuelled because he felt he had dealt with the matter the previous week, only for his choice of words in a language not his own to have left question marks.
His frustration was understandable, however, given that the Monaco stories referred to a time predating City's title win and the hierarchy's subsequent decision to hand him a new five-year contract.
Much had changed since that apparent dalliance and, despite all the regular conjecture since, Mancini has spoken with the confidence of someone secure in his job throughout the season.
His comfort has seen him joke regularly with the media, most notably when he walked into a press conference wearing a David Platt mask, mocking his own apparent reluctance to attend on previous occasions and send his assistant instead. On another day he wore a Comic Relief red nose.
In fact, the temper and awkwardness that apparently exists in the dressing room and on the training ground is rarely seen outside game-day situations.
The matches, however, are a different matter with a confrontation with a cameraman and another with a referee providing evidence of his intensity when close to the action.
Occasionally there have also been difficult post-match comments about players such as Joe Hart, Micah Richards and Samir Nasri which may have done little for harmony within the camp.
A club-versus-country row over captain Vincent Kompany also seemed unnecessary but as last season's infamous wrangle with Carlos Tevez showed, even the most bitter disputes can be overcome.
The one notable man-management exception which can be thrown back at him though is that, of course, of Mario Balotelli.
The Balotelli circus dragged on too long for the good of the club and even though the madcap striker has rediscovered his goalscoring touch with AC Milan, his sale in January made sense.
Balotelli's outrageous antics were comical and even endearing at first, while he at least contributed on the pitch, but as his influence waned they became a patience-draining distraction, even for Mancini.
Faced with the task of keeping a faltering domestic title defence alive after another disappointing Champions League showing, Mancini did not need pictures of him brawling with Balotelli hitting the press.
It was Balotelli's final life and even though Milan played a cat and mouse game over his signature, the transfer made sense for all parties.
By then, however, the league crown won in such exhilarating fashion last season was already starting to slip away.
A shock loss at Southampton in February effectively ended the title race as a contest and Mancini conceded defeat to Manchester United after another dismal display against Everton.
Coming after failure to progress beyond the group in the Champions League, it is only to be expected that Mancini's position at such an ambitious club should be under review.
But as Mancini has often pointed out, he did not land any of his chief transfer targets last summer and several of last season's key players have suffered form dips or been injured at key times.
Results may be the determining factor but for a club likely to finish second - a highest placing since 1977, last season aside - and through to the FA Cup final, they do not seem to have been too bad.
---
Click here for completely free £10 bet with Sky Bet
---