Guardiola revels in pressure
Pep Guardiola may have stayed silent since it was announced he would be Bayern Munich's next coach, but speaking last week the Spaniard admitted his huge success at Barcelona means the pressure of expectation will be on him when he makes his return to the game.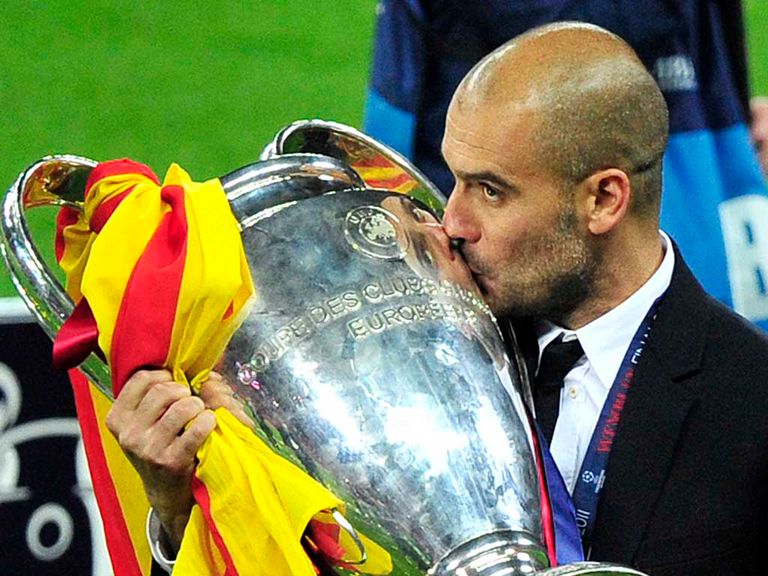 Guardiola, currently on a year-long sabbatical in New York after leaving Barcelona last May, has a agreed a three-year deal at Bayern and will take over at the end of the season when current boss Jupp Heynckes retires.
Guardiola won 14 trophies during an incredible four years in charge at the Nou Camp, including three Primera Division titles and two Champions League crowns.
He is also credited with moulding a Barca side which many class as the greatest team of all time.
Speaking to FIFA.com in an interview conducted last week and published this morning, the 41-year-old admitted his time at Barca has put added pressure on him going into his next post, but sees his track record as a positive rather than a negative.
"Yes, but I wouldn't change it! I prefer to carry on like this, having experienced what I've been through, rather than starting out somewhere you've got to win everyone over," said Guardiola, speaking the Ballon d'Or awards ceremony.
"Things are a bit different now: when I started out at Barcelona some 86 or 87 per cent of people didn't want me."
"Now, thanks to how well everything went, there'll be clubs that are more interested in me."
"These things happen in life and you can't control them. We achieved what we did all together, thanks to so many people, and I'll remember everything I experienced during those years."
Bayern were one of a host of clubs reportedly keen on securing Guardiola's services, with Chelsea, Manchester United, Manchester City, AC Milan, Roma and Paris St Germain all linked with him.
When asked about that speculation, Guardiola said: "It made me feel bad for the coaches who were in the clubs at the time. I personally wouldn't like it if I was coaching somewhere and my club was releasing this kind of information while I was still there."
"But I've kept out of everything, I'm still out of it and I'll stay that way, out of respect for the people who are trying to do their jobs."
"That said, it makes you think that you're not getting the offer because of how good you are, but because of what you've won."
"We won a lot and that's why I'm more in demand now than when I started out, when only three or four people at Barcelona believed in me. The others didn't feel the same way."
Guardiola also admitted there are certain things he misses about football, but some things he does not.
"I've missed the game itself. All the stuff that surrounds it, not so much," he said.
"But I have missed (figuring out) the way a certain team plays and how you can beat them, deciding on which players to select to try and win a match."
"For me at least, that's the only reason I'm in this game. If it wasn't for that... Everything else, well, they're not things that I have a constant need for. I can live perfectly well without them. In fact I'd say you can have a much better life without them.
"But the game itself, that's what draws you in."
---
Click here for completely free £10 bet with Sky Bet & £5 free every week
---