Nine-dart hero Pietersen gets card
Charl Pietersen hit a nine-dart finish as he won a Tour Card on the opening day of the 2013 PDC Qualifying School in Wigan, and was joined in his success by Germany's Jyhan Artut, Canada's Ken MacNeil and English youngster Ricky Evans.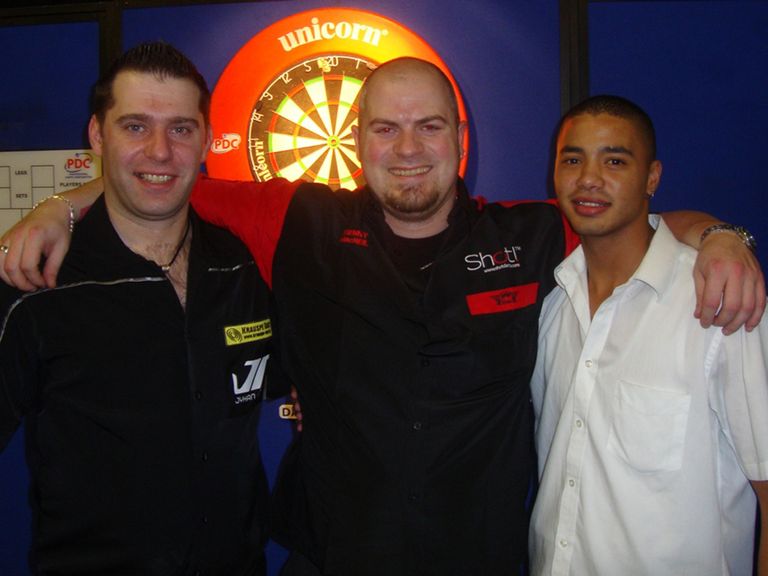 South African ace Pietersen, who recently competed in the Ladbrokes World Darts Championship, celebrated a brilliant first-ever day at Qualifying School by being one of the four players to win through from over 300 hopefuls in Wigan.
Pietersen found himself 3-0 down in his final game against experienced Englishman Kevin McDine but hit a nine-dart finish - the first in the three-year history of Qualifying School - as he levelled before prevailing 6-5 to win his Tour Card.
The 21-year-old from Pniel in Western Cape had defeated Ricky Williams, David Murphy, Pete Dyos, Brett Claydon and Stuart White earlier in the day to set up the clash with McDine, and said: "It's an amazing feeling and it's a dream come true for me.
"I want to play darts for the rest of my life and this has given me the opportunity.
"I enjoyed my games today and the experience I got in the World Championship was great for me, but now I can focus on the future.
"I'm still shaking from hitting the nine-darter and it feels so good to have hit the nine-darter, especially in the final against Kevin. To play him in the final game was special because I've enjoyed watching him on television in the past."
Pietersen follows in the footsteps of fellow South African Devon Petersen, who won a Tour Card at the same venue two years ago but has opted to sit out 2013 to recover from a tendon problem in his throwing arm.
"Devon's a great friend and he's been an inspiration to me," added Pietersen. "He's a really good player and he's shown me the way.
"The game's so big in England and I want to come and live here now, play the circuit and get more experience."
Canadian ace Ken MacNeil dedicated his success to his late father, who passed away a month ago, as he won back his place on the PDC circuit with a 6-2 win over newcomer David Copley in his decider.
MacNeil had missed out on winning a Tour Card last year and has seen fellow countryman Jeff Smith - who was successful in Q School 12 months ago - overtake him in the PDC Order of Merit to win a place alongside John Part in Canada's team for the World Cup of Darts, but he was left in tears following a memorable day in Wigan.
MacNeil began his run with whitewashes of Sean Johns and Simon McCall before defeating Dan Russell 6-2, and he then saw off Norwegian Robert Wagner 6-1 with what he later described as the best performance of his career.
He then overcame Germany's Andree Welge 6-3 to reach his deciding game against Copley, and admitted: "Coming over here for this tournament, I felt like I did when I qualified for my first World Championship - I was hungry again.
"Not getting through Q School last year and not being able to play much on the circuit because of visa problems has meant that I lost my World Cup spot, and I wanted to come back and prove that I can still play, and I did it.
"My match against Robert Wagner is probably the best match I've ever played in my life, including practising, and I don't even know where it came from.
"I lost my Dad just over a month ago and he left me his ring, which I was wearing on my dart-throwing hand. He was with me the whole way - I think he put those 180s and those doubles in, and this is dedicated to him."
He added: "I'm really looking forward to this year and hopefully I can get over here and play full-time.
"I know I can do it because I've beaten the best players in the game - this time last year I lost out in Q School but then beat Phil Taylor in the World Cup a week later!
"I was really hungry this year and I was very well prepared for this, but to get through on the first day is amazing. I haven't shed a tear in darts since I was 22 or 23 and first got picked for Canada, so today was unbelievable."
German ace Artut, meanwhile, regained his Tour Card with a 6-4 win over Middlesex's Vernon Sheppard in their decider, while 22-year-old Kettering ace Ricky Evans will become a full-time professional after he defeated Finland's Veijo Viinikka to win a Tour Card.
Artut, who will represent Germany in the World Cup of Darts from February 1-3 in Hamburg, defeated Richard van Zijtveld, Brandon Walsh, Jonathan Worsley, Dave Charnock and James Forster as he set up his decider with Sheppard.
"It feels so great," said Artut. "It's been a hard time for me because I'd played in the World Championship for three years in a row and I missed out last month and I've dropped out of the top 64.
"It's the first time I've not had a Tour Card, but now I've got a sponsor and it's so important for me to win my Tour Card back.
"I knew it would be hard today but I played well in my first three games and that set me up for the day."
Artut's World Cup partner Welge was two games away from winning a Tour Card and teenager Max Hopp is also competing in Wigan this week as he bids to turn professional.
"There are so many good players in Germany now and we're showing that," said Artut. "Last year I found it so hard in the European Tour because in our national qualifiers I was losing to some brilliant players.
"It's an exciting time for darts in Germany, and with the World Cup coming up in Hamburg it's a very happy time for me too."
Evans defeated both Adam Smith-Neale and Nathan Richards 6-1 in his opening two games and overcame another former Youth Tour rival, Lewis Venes, 6-2 in the third round.
He then produced a fine upset with a 6-4 defeat of Hong Kong's Royden Lam - who had dropped only two legs in three games as he reached the last 32 - before seeing off Lee Hayes and Finland's Veijo Viinikka by the same scoreline to win his Tour Card.
"This is a great chance for me now to make the step up to being a full professional and I'm delighted," said Evans, a 22-year-old from Kettering who is a former PDC Unicorn Youth Tour winner.
"The Youth Tour has been great for me and with so many good players I was delighted to make the top 16 last year to get free entry into Qualifying School.
"To go on and win through in my first day at Qualifying School is amazing - I can't believe it!"
Alongside the success of players from Canada, South Africa and Germany on Thursday, the field of 300-plus players at Qualifying School includes hopefuls from as far afield as Hong Kong, Australia, New Zealand and Japan, as well as from across Europe and Scandinavia.
Thursday's losing players will return to the Robin Park Tennis Centre in Wigan on Friday to compete in the second of four days of Qualifying School, with a further four Tour Cards on offer in each day.
Players who lose in the last 64 onwards on each day are also allocated ranking points based on their finishing position, which will go onto the Q School Order of Merit, from which nine further Tour Cards will be allocated following Day Four.
---
Click here for completely free £10 bet with Sky Bet & £5 free every week
---