Adrian Lewis
Adrian Lewis has lost his world title and now need to find hi best form again to get back into the winning habit.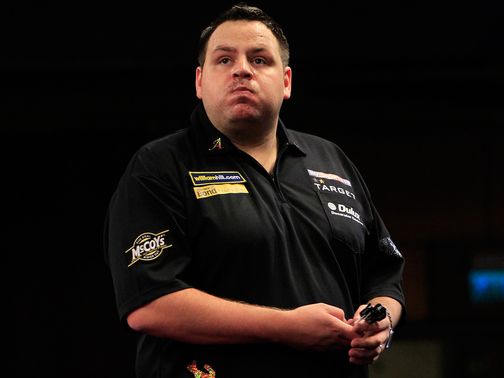 The two-time world champion has not enjoyed the Premier League on the whole, making the play-offs just twice but finishing runner-up in 2011.
Consistency is the key to success in the Premier League and that is the one thing he has struggled with - as being one of the most talented throwers around means talent is not a problem.
Two years ago, 'Jackpot' delivered on the promise everyone - primarily his former mentor and fellow Stokie Phil Taylor - had seen in him for many a year by winning his first major title, the small matter of the World Championship.
Lewis beat Gary Anderson in the final, throwing a nine-darter along the way to cap a special night after which he said: "I have to push on from this."
Fact box
Date of birth: 21.01.85
Birthplace: Stoke-on-Trent
Nickname: Jackpot
Major titles: World Championship (twice)
World Championship best: Winner (twice)
Walk-on music: Reach Up (Papa's Got A Brand New Pigbag)
In truth, he failed to really do that in the 2011 season, but his return to Ally Pally last year brought the best out of him once again and a 7-3 win over another Potteries chucker in Andy Hamilton saw him make it back-to-back world titles.
Again, though, he hasn't really built on it with the World Cup (playing alongside Taylor) and German Masters his only really eye-catching successes since.
Since coming to prominence in reaching the quarter-finals at the 2005 World Matchplay aged just 20, Lewis has been a familiar face at major tournaments.
And as the last two years prove, Lewis is a big-game - and big-tournament - player, but 2012 was not his year as he struggled throughout the campaign.
He reached just one quarter-final in 2012, but a quarter-final at the worlds represented some sort of success after becoming a dad obviously hindered his preparation time off the oche.