England turn series on its head
Dave Tickner looks at the moment when everything changed in the England v India Test series.
England v India. Click here to bet.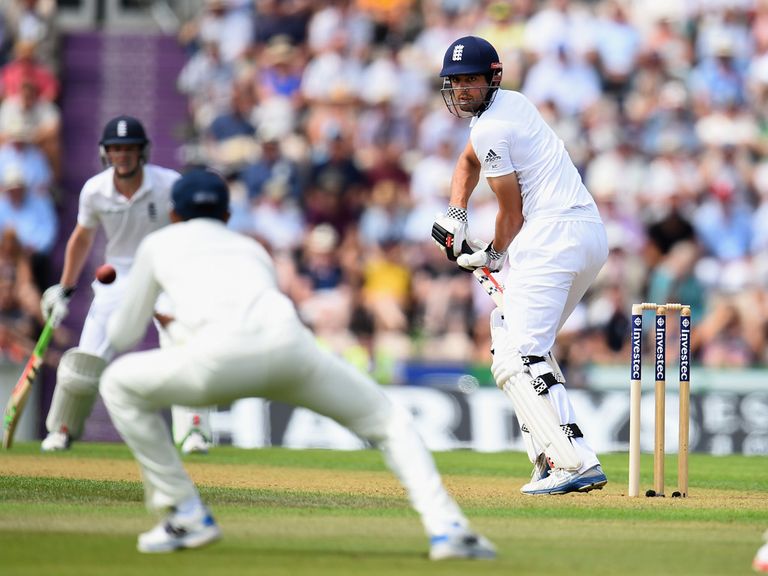 For India, that escalated quickly. I mean, that really got out of hand fast.
Three weeks ago, they had thrashed England at Lord's after Under-Pressure Alastair Cook's Beleaguered Side had miserably failed to accept the advantage handed to them at the toss on the green, green grass of home.
India produced a performance of high quality and no little backbone. On day one, led by Ajinkya Rahane, they battled through alien, seamer-friendly conditions to put themselves in the game. Bhuvneshwar Kumar with the ball and Murali Vijay with the bat kept them in it on days two and three.
Then Ravindra 'Zorro' Jadeja took the game away from England with a thrilling assault on day four before Ishant Sharma finished the job on day five.
As an all-round team performance in unfamiliar conditions, it was hard to beat. Yes, England were a rabble, but India had produced their finest overseas performance in years. And not just because all their other recent overseas performances have been rubbish. This was really, really good. India were 1-0 up and totally deserved it.
Three weeks and two of the worst Test performances you will ever see, everything has changed. India are 2-1 down, Alastair Cook grows happier and steelier by the day, and England's Low Ebb is now a New Era.
It's hard to imagine a more total transformation in the fortunes of two sides. There were a few months between England beating Australia and then losing 5-0 to the same opponents. We've seen a similar turnaround here in just a few weeks. And Australia had at least shown something in the latter stages of the England tour to hint at a turnaround. England had done nothing for a year to suggest this was imminent.
One of the many, many reasons for  cricket's great appeal is the way hundreds and even thousands of small, discrete events combine to create the whole story. Every ball can mean everything or nothing. Every ball can be just another delivery slightly outside off stump let through to the keeper, or it can be the ball on which matches, series and careers change course.
It's easy, facile and simplistic to try and pin the turnaround of the last fortnight on just one of these events. But it's also great fun and essentially irresistible.
Because this series has the clearest of turning points. It didn't even need hindsight to see it. Even as it happened it couldn't have been more clearly signposted as a turning point if it had had a signpost pointing at it and saying TURNING POINT.
Bet NOW on England v India - 5th Test!
Before it, England were a joke with a clueless captain while India were controlling proceedings with solid, efficient and disciplined cricket. After it, the roles have been utterly reversed.
The 67th ball of the Ageas Bowl Test was the first of debutant Pankaj Singh's third over. A big and burly right-armer of decent pace, he had started well.
After winning the toss and batting first – not a straightforward decision in helpful bowling conditions and with his own game in tatters – Alastair Cook was, along with opening partner Sam Robson, in watchful mood. Pankaj's first two overs had cost just a single run.
The first hour would always belong to the bowlers here, but Cook and Robson were getting through it. Carefully, sometimes unconvincingly and sometimes streakily, but they were getting through it.
Then Pankaj pushed one across Cook, who – still fighting his own game as well as at least two external opponents – couldn't help himself. He poked his bat tamely at the ball and edged it to third slip. As Pankaj celebrated a first Test wicket, Jadeja dropped the straightforward chance.
Cook, on 15 at the time, battled to 95 job-saving runs that set England on their way to a giant first-innings total.
The relief seemed to flow not just through Cook but his whole team. As Cook determinedly set about seizing this unexpected second chance, the senior players, those that remained, who had struggled all summer, suddenly came to the fore. Ian Bell stroked a century. James Anderson took 5/53. Stuart Broad took 3/66. Pankaj, meanwhile, ended his first Test wicketless.
England won by 266 runs. They had ended a year of miserable defeat with a victory that came close to perfection. It's hard to identify a session that England lost in the game.
A week later, and an even more one-sided Test at Old Trafford was finished inside 200 overs. Rain and the Old Trafford outfield presented England with far more troublesome questions than India did. Such was Cook's restored status as both batsman and leader that even getting out mis-hooking for just 17 in England's only innings caused barely a ripple.
That dismissal a fortnight earlier would have seen parliament recalled and a national state of emergency declared.
Had Jadeja held that catch at Southampton, it is far from certain that Cook would even have been on the field at Old Trafford to be able to get out in such a fashion, never mind be able to do so without fear of the consequences.
Jadeja may be at best a mediocre Test cricketer but, for better or worse (usually worse) he has become the series' central figure. He was also a key protagonist in the series' other crucial moment. The unseemly Trent Bridge pushing row, in which adult humans paid lawyers hundreds of thousands of pounds in an attempt to decide who started it, has become a huge and utterly unnecessary distraction for India.
MS Dhoni and his team have allowed their focus, so clear in the first two Tests, to be drawn away from a five-match Test series by trivial and petty playground politics. Dhoni's apparent obsession with seeing arch sledger Anderson receive his comeuppance has become – and been allowed to become – a damaging diversion from the job at hand.
If the goal of sledging is to distract and unsettle your opponent, then Anderson has succeeded beyond his wildest dreams here.
As well as England have played in the last two games, India have been shockingly complicit in their own startling fall from a position of such strength at Lord's. The batsmen have entirely abdicated responsibility, climaxing in the pitiful collapse to 8/4 after Dhoni had batted first in conditions not dissimilar to those at Southampton.
The bowlers have at least stuck to the task but suddenly look inadequate against opponents now playing with renewed verve and belief. And, as happened to England in the winter, the efforts of India's bowlers, however worthy, are being rendered irrelevant by the hopelessness of their batting.
England remain a flawed side that is still searching for the ideal balance, still placing unsustainable demands on their world-class new-ball pairing and still not quite believing their luck that Moeen Ali, capable as he is, has taken 19 wickets at 23s against a side that is supposed to chew up and spit out orthodox spinners.
You can drive yourself quite mad looking back at a cricket match and saying "What if?" But that is what India - and England - will be doing. While Cook and his team deserve huge credit for turning this series on its head, there must be serious doubts about whether they would have been able to do had just one ball, the first ball of Pankaj Singh's third over in Test cricket, had a different outcome.
New Sky Bingo customers get £20 free!