The strange and the sub-standard
Dave Tickner reflects on the first Test, marvelling at the 10th-wicket partnerships and despairing at the sub-standard pitch.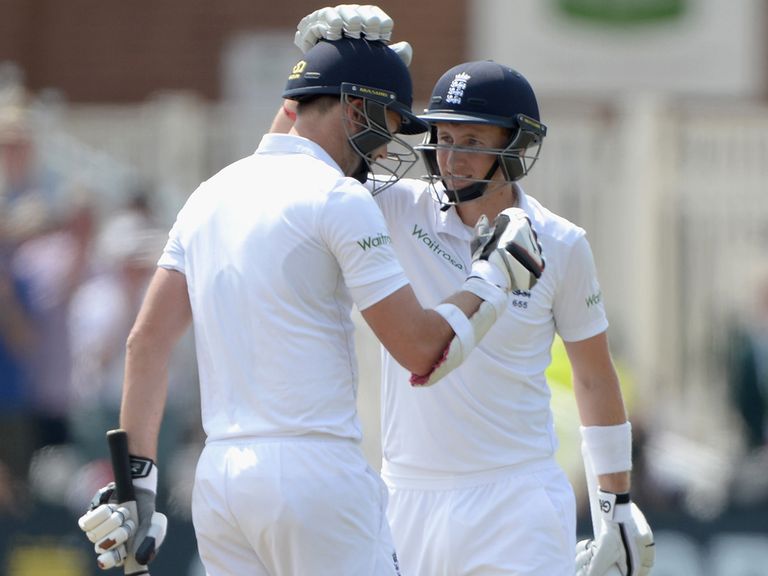 On one hand, the most predictable and dullest of draws between two talented yet flawed and scarred cricket teams on one of the worst Test pitches ever produced.
On the other, a dizzying, confusing, expectation-confounding rollercoaster ride of brilliance and incompetence where bowlers were batsmen, batsmen were bowlers and nothing was quite as it seems.
The drawn first Test between England and India at Trent Bridge will rank as one of the stranger in the game's long history.
Its place in history is secure thanks to the startling efforts of first Bhuvneshwar Kumar and Mohammed Shami, and then Joe Root and James Anderson. This was the 2,128th Test match, and the first to feature two century stands for the 10th wicket.
The 198 added by Root and Anderson is the highest ever for the final wicket of the innings, eclipsing the 163 added on the same ground almost exactly 12 months ago by Phil Hughes and Ashton Agar.
Given the indisputable fact that 10th-wicket partnerships are better than anything else in cricket and therefore sport and therefore our whole ultimately meaningless existence, one could make a strong case for this being the greatest Test match ever played. Despite the fact it was mainly awful.
The 10th-wicket partnership has it all. The peril that comes from knowing that one slip brings the whole thing to an end, the cruel yet distinctly human delight that comes from knowing it's really, really annoying your opponents.
But most of all, the 10th-wicket partnership is great because it upsets the general order.
Elite sport is, almost exclusively, about teams or individuals doing something they are amazingly good at. Cricket is perhaps unique in the way it fundamentally requires a hefty proportion of its combatants to do something they are not good at. But still to do so against people who are.
The Agar effort of 2013 was astonishing. An adorable, teenage debutant playing with total freedom and absence of fear, his charming lack of awareness of the magnitude of what he was doing highlighted memorably by the smile and shrug of the shoulders when he was dismissed for 98.
But it lacked the one thing that makes 10th-wicket partnerships properly special. Agar's selection came at a time when Australia were in something approaching full-blown crisis. It's easy to forget now, but a year ago Cricket Australia were producing clangers with every bit as much regularity as the ECB does now. They might not have sacked their best batsman, or insisted they had the right captain because of his family or loftily dismissed those they exist to serve as outside cricket, but they did go nine Tests without a win, send Shane Watson home for not doing his homework and then bring him back as captain, and have Glenn Maxwell open the batting in a Test match.
They didn't know what they were doing, and in the midst of this chaos and as part of their concerted efforts to continually overlook Nathan Lyon they accidentally picked a fine young batting all-rounder to play as a frontline spinner. England have done exactly the same thing, but at least they haven't made Moeen Ali bat number 11.
The point is, Agar was an accidental number 11. His innings was thrilling because it was a young talent emerging on the biggest stage. It was a surprise, but only because we didn't know he was any good. He will never bat 11 again.
But James Anderson is a number 11. It's not that we didn't know he was good at batting; we know that he isn't. His Test average barely scrapes into double figures. Before last week, he hadn't reached 30 in six years or 20 in his last 26 innings. In eight of those innings, he was dismissed for nought.
So for him to score 81, more than double his previous best first-class score and his first 50 in any form of senior cricket for club, county or country is just deliciously, wondrously ridiculous.
But while the lower-order joy papered over some vast cracks in how both teams and pitch played, they could not mask them completely.
While all three innings produced top-quality middle-order collapses to briefly hint at a positive result, the draw went odds-on on the first morning and stayed there. India slipped from 304/4 to 346/9, England even more hilariously from 134/1 to 202/7, and then India again from 140/1 to 184/6 on the fourth evening and final morning to give one last glimmer of hope that these sides might actually be sufficiently fragile to lose a match on this pitch. But you never truly believed.
In all three collapses, the wickets were self-inflicted. This was a pitch where you couldn't really win a match, only lose it. Bowlers couldn't really take wickets, but batsmen could still lose them.
The wickets were like London buses: absolutely awful.
Whatever the flaws of the teams, the pitch was the real villain of the piece. The demise or otherwise of Test cricket is always the subject of much debate. It's always under threat from this or from that, but the simple fact is this: the only thing that can kill Test cricket is Test cricket.
Test cricket played on joy-sapping pitches like this that offer nothing for batsman, quick bowler or spinner, Test cricket where a series lasts five matches not because it's right and proper but because there's money to be made so let's squeeze as many matches as possible into a six-week window and to hell with the quality or the effects on the players. Test cricket where there is precious little entertainment to be had for the majority of the game, where the quality of the fare on offer is of secondary importance as long as those outside cricket continue to cough up for tickets across five days.
It's short-sighted in the extreme. You can't keep selling a sub-standard product at premium prices forever.
In this topsy-turvy Test, the primary source of entertainment came when bowlers were batsmen and batsmen were bowlers. But the stunning 10th-wicket partnership is also so beautiful because it is rare. Even on pitches as placid as this one, there will not be enough Jimmy Andersons and Mohammed Shamis to save the day forever.
This series, and this sport, needs better surfaces. You can't keep going to 11. It will not always be one louder.