Fletcher backing for Cook
Duncan Fletcher has no doubt, from personal experience, that Alastair Cook has the mettle to restate his case as England captain.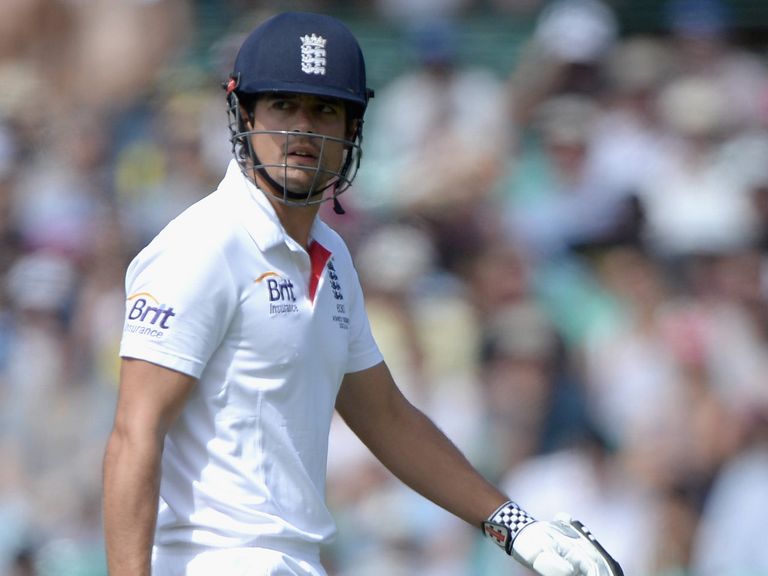 It was Fletcher who first helped to usher Cook into Test cricket when, as a 21-year-old in spring 2006, the batsman flew half-way round the world from an A tour in the Caribbean to open the innings on debut in Nagpur.
Cook responded back then with a second-innings century, the first of his all-time England record 25 - a prolific output which has, however, not been updated for more than a year.
As Cook therefore comes under ever more pressure, after 24 Test innings without a hundred - a sequence which has spanned back-to-back Ashes, including last winter's whitewash, and most recently the home defeat inflicted by Sri Lanka this week - Fletcher, in his current guise as India rather than England coach, generously spoke up for him.
India will be England's next opponents, in the five-Test Investec series set to start at Trent Bridge next month.
As they prepared for their first warm-up match, against Leicester at Grace Road on Thursday, Fletcher recalled his first impressions of Cook.
"There were two things that struck me.
"Firstly, I thought he was a very intelligent cricketer who understood the game.
"I remember talking in one of the very first team meetings he came to - he'd just been flown across from the West Indies - and we asked about someone, and he quite confidently stood up and said 'this player does this, and this player does that'.
"There are very few players prepared to commit to something like that at such an early stage in the England squad."
Cook also very soon revealed another quality Fletcher believes will continue to serve him well.
"The next thing was that I think he's a very determined individual.
"He's very, very determined - which I think most opening bats have to be.
"If you have a look at batters and pick them on their mental aspect, one of them would be that they have to be determined and stubborn.
"I think Alastair's got that."
There is precedent too, Fletcher notes, for teams wisely sticking with captains through lean form.
Former Australia opener Mark Taylor, the cornerstone of such a successful era from the end of the 1980s, is his favoured example.
"For however long he [Cook] has struggled, give me one player who hasn't been through that period for that length of time.
"I remember Mark Taylor. How long did he not get a run for? Australia kept him on as captain.
"He went through a big period where he didn't get any - and they kept him."
Whether Cook returns to his best this summer, or afterwards, Fletcher is sure it will happen.
"It might take him a little bit longer.
"But at some stage, you'll get through it - and people will be back praising you again."
England are, notably, in a state of transition after their Ashes embarrassment.
But Fletcher and India captain Mahendra Singh Dhoni nonetheless anticipate a tough tour for their own inexperienced team.
Dhoni said: "I still think England are a fantastic side.
"That means it will be a tough competition for us, and they know the home conditions better than us.
"Transition happens to every side.
"I have not seen a cricketer in history who has played for 100 years. They retire at some point.
"It's happened to every side. It has happened to England ... it's something you have to go through, and that's the time there's pressure on the side."
Only three members of India's 18-man squad have previously played Test cricket in England - a recipe, Fletcher believes, for an engaging series.
"We could be unpredictable ... it's a very, very inexperienced side," he said.
"How many Tests have our opening batters played? How many Tests has our number three played? How many Test overs have our bowlers bowled?
"But it can be nice sometimes, because being unpredictable means they play some exciting cricket."