Mathews ready for backlash
Sri Lanka are bracing themselves for a "hostile" series against England, as previous disagreements threaten to linger in the first Investec Test at Lord's.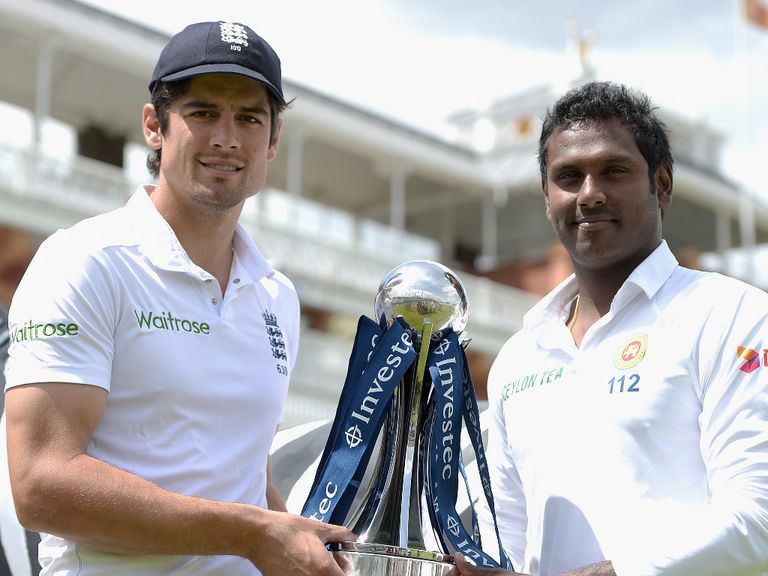 The tourists have already banked limited-overs wins this summer, and would dearly love a clean sweep across the formats in England.
Captain Angelo Mathews notes that, as Sri Lanka embark on a fourth full Test tour of this country, a first victory - to add to their one-off success at The Oval in 1998 - would be an appropriate send-off for their two great batsmen Mahela Jayawardene and Kumar Sangakkara.
Before then, though, he is well aware the shadows cast by the controversy of Jos Buttler's 'Mankad' run-out in the final Royal London one-day international at Edgbaston may well extend to the home of cricket.
Neither Buttler not Sachithra Senanayake, the man who first warned him and then ran him out backing up - as the Laws of Cricket stipulate he is entitled to - is in attendance here.
Even so, after Mathews and England captain Alastair Cook took and have stuck to their diametrically-opposing views on the incident, it is clear the topic may be revisited.
"We all know it's going to be a hostile series - we're up for the challenge," said Mathews, who will be seeking no further confrontation but will not shrink away from it either.
"It was all heat-of-the-moment ... he (Cook) was obviously disappointed, after losing the series, and we didn't want to talk too much about it.
"Certainly we don't want a repeat - we just want to put that to bed and ... go out there and enjoy ourselves."
Mathews stopped short, however, of any assurance there will be no more repercussions.
"Obviously you can't guarantee anything - they are gunning to beat us and we want to beat them.
"We are not a really aggressive team on the field. We like to play it hard ... have a bit of fun, and play to our best potential.
"But if a team is going to be aggressive against us, we can be aggressive as well."
As in Birmingham last week, he emphasised how firmly he stands by the decision to enforce Buttler's dismissal.
"I think the spirit of the game is important.
"But you've got to make sure no-one takes advantage of it.
"We've always played in the spirit of cricket.
"There is a law. If you are going to judge the captain and the team (for invoking it), there shouldn't be a law.
"If that's the case, the rule has to be taken out.
"We play within the rules, and stick to the spirit of cricket, and I don't think you should let anyone take advantage of it."
Mathews knows he needs to be measured in his leadership, if he is to help deliver that first Test series victory in alien conditions.
"I'm trying to be as balanced as I can," he said.
"Every captain is different, and I deal with it in my way."
As for Jayawardene and Sangakkara, pillars of Sri Lanka's middle order for more than a decade, Mathews added: "If we can win the series, that will be the best send-off for them.
"Kumar is dying to get a hundred at Lord's - he hasn't done it before, but Mahela has.
"They have served the country for ages - more than 15 years - and I think they've both got 10,000 runs each in Tests and ODIs. I think that says it all.
"They have (such) class. In Mahela's case, he always plays brilliant knocks in finals - and leaves his best for the last.
"They are big-game players, and want to get involved in every big opportunity. I'm sure they will score hundreds, if they get (themselves) in."