England's New Era: The Options
Dave Tickner looks at the contenders for a place in England's Test team for the series against Sri Lanka.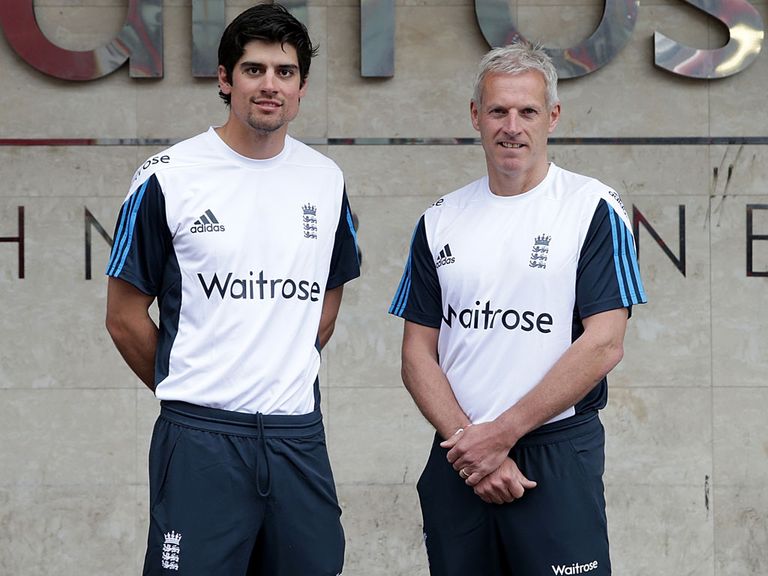 These are interesting times for the England cricket team. Interesting in the Chinese curse sense.
After years of relatively consistent success with a relatively consistent side, things went dramatically, spectacularly and utterly wrong in the winter. Ashes demolition was followed by one-day annihilation and then, a (solar) red cherry on the cake of despair, T20 humiliation at the hands of Holland.
Brutal stuff, and there are casualties everywhere. For varying reasons and with varying degrees of sense, England have lost their most destructive batsman, their most reliable batsman, a world-class spinner, a team director and a selection panel.
It's all gone wrong. And that's great, because now everything is up for grabs. A month away from the first Test of the summer, there are anything up to seven available spots in the team. This is bad news for the team, but good news for people who enjoy speculating about who may fill those spots or wildly setting off selectorial bandwagons for everyone who takes three wickets or makes an eye-catching 73 in the County Championship.
Ryan Sidebottom has just got Kumar Sangakkara out. He's only 36. Could probably still do a job this summer. He's a left-armer as well, adding much-needed variety to a samey attack. See? It's that easy.
But who will actually turn out to be the 11 men charged with the task of leading the England Test team into a brave new era?
Here's a rundown of the sure things, the likely lads and the leftfield punts.
THE CERTAINTIES
Alastair Cook (capt) Struggled horribly home and away against the Australians, but emerges from the winter with his position strengthened and reinforced by a board desperate for the photogenic, reliable, sweat-free part-time farmer and solid citizen to become the sure hand on the tiller they desire. There's little evidence of improvement in his reactive, negative captaincy but every decision made in the last three months has made it clear that not only are the top brass not looking at any other possible captains but are instead actively engaged in nullifying even the idea of such heresy. Captaincy concerns notwithstanding, Cook quite rightly remains a certain pick at the top of the order - only an idiot would rush to discard a man with 8,000 Test runs after a brief lean spell - and he's made hay against Division Two attacks in the early-season sunshine.
Ian Bell Endured as tough a winter as the rest of England's batsmen but his class and experience will be crucial in a top six that suddenly looks short of both. Whether he bats three or four is less certain. He wants to bat four, should probably bat three but, as senior pro, will probably get his way. Bell too has put the winter's woes behind him with a couple of predictably gorgeous early centuries for Warwickshire. While batting at four, it should be noted.
Stuart Broad There are injury concerns over England's T20 captain. He will miss the ODI series but remains on course for the first Test against Sri Lanka at Lord's. Has become a high-class new-ball bowler in recent years, and, even if he hasn't quite become the all-rounder England hoped, the man who launched a thousand T-shirts is now the second name on the team sheet after the skipper.
James Anderson He's probably not quite as good as Dale Steyn. He's probably not quite as good as his biggest fans think. He's definitely not as bad as his harshest critics think. He's a very, very good bowler who when the stars align is capable of magic. Like so many others, has gleefully taken advantage of being back in England and not playing against Australia, picking up three five-wicket hauls in six innings for Lancashire
THE INJURIES
Ben Stokes Stokes has since blotted his copybook with some iffy one-day performances culminating in an argument with a dressing-room locker and a broken wrist that could yet rule the Ashes Bright Spot out of the start of the summer. There seems to be a growing sense that his Ashes efforts were overplayed, that his successes were excessively hailed due to the dreadfulness around him. Such talk is unfair. Coming into a Test team is difficult. Coming into a struggling Test team on a shambolic tour is harder. Coming into a struggling Test team on a shambolic tour against a fired-up team with an excellent bowling attack is close to impossible. Stokes made a brilliant hundred on a pitch that resembled the Grand Canyon, took more than his fair share of wickets as fourth seamer and stood up to the Aussies like few others. Will he be fit, though? New head coach Peter Moores is crystal clear on this: "The impression I have is that they are not saying Ben's recovery isn't going to plan."
Matt Prior Dropped for his own good in Australia as his form with both bat and gloves utterly deserted him. The decision always felt like an attempt to prolong rather than curtail his career and all the noises are that England will go back to Prior to keep wicket if his Achilles problem doesn't rule him out. That, though, is a big if. He did score a century against Middlesex playing as a batsman only but hasn't played since and is yet to keep wicket since losing his Test place.
THE PROBABLES
Sam Robson The Joe Root du jour, Robson has surely moved to the head of the queue to be Alastair Cook's latest opening partner. Made big runs for Middlesex last season, followed it up with a century-laden winter for assorted England Performance and Lions teams. Probably the right man to pick, definitely the man the selectors want to pick. Needed one more statement in early season to make a compelling case an overwhelming one. A big Lord's hundred against a Notts attack including one of England's Ashes tormentors in an admittedly off-the-pace Peter Siddle was that statement. The bandwagon could not be stopped even before he followed it up with a fluent 77 in the record-breaking run-chase against Yorkshire two weeks later. Little-known fact: Robson was born in Australia.
Joe Root After an epic 18-month journey around England's top six, Root finally left it altogether in the fifth Ashes Test in Sydney. Will almost certainly return against Sri Lanka despite his early season being hampered by a broken thumb and the lingering doubts about the suitability of his technique, if not his ticker, at the highest level. If he does return then must, must, must be given an extended run in a specific role, even if that is at number three with Bell pulling rank. Will therefore end the summer either opening or at number six, or out of the side altogether. Bowls some off-spin, which is useful now that Graeme Swann is a full-time bantersmith.
Gary Ballance Technically the man in possession after emerging on the right (or wrong, depending on how you look at it) side of the revolving selectorial door in Sydney. Didn't score many runs, but also didn't look like he was about to burst into tears about the sheer beastliness of it all. Outrageous first-class record, first in Zimbabwe and latterly with Yorkshire, means he is worthy of an extended run and, like Robson, an early-season century at Lord's looks to have sealed the deal. Also plays differently to the rest of England's likely top five. A Robson, Cook, Root top three is a tad one-paced. This is not necessarily a huge problem - England got to number one in the world on the back of a Strauss, Cook, Trott Axis of Nurdle - but history shows it's far more successful if you've got a chap in the middle order born in Southern Africa who changes things up a bit. Ballance's recent 130 against Middlesex at Lord's saw him plunder 56 runs from 23 balls after the fall of the ninth wicket. You sense England would ideally like to pick Eoin Morgan for this role, but Ballance has a far better record of replicating one-day success in whites.
Moeen Ali For some reason, everyone appears to have decided Moeen Ali, who scored 1,400 first-class runs last season and took 28 wickets, is a frontline spinner. Arguing against this appears futile. With no actual frontline spinner making a particularly compelling case, it appears increasingly likely that Ali will get the gig. Arguably worth a place in England's top three, will probably bat number eight. These are strange times for England.
Chris Jordan An inconsistent but promising one-day series was enough, in the post-Ashes gloom, to propel Jordan to the head of the third-seamer queue and 11 wickets at under 20 in his two Championship appearances for Sussex at the start of the season should be enough to keep the bustling quick ahead of his rivals. His fielding is excellent and his batting firmly in no-mug territory to add to his appeal.
THE REPLACEMENTS
Chris Woakes Pretty unlucky to lose the all-rounder berth after consistent success with bat and ball for Warwickshire and a solid enough debut Test at The Oval. But Stokes surged clear of him in the winter, which would have left Woakes right out of luck were it not for lockergate. Now ideally placed as a like-for-like replacement should England want a five-man attack, as they surely must with no Swann around to do the work of two men. Has struggled for runs this season but his first-class record makes a powerful case, averaging 38 with the bat and 25 with the ball.
Jos Buttler Championed by Kevin Pietersen (who, and we can't be certain of this, just might have had an ulterior motive) and James Foster (who probably doesn't), England's one-day keeper has not been blemish-free with the gloves in blue, red or solar red but is an outrageously exciting talent. A very different batsman to Prior, but crucially shares his ability to change the shape of a game in a single session. Will be England's next Test wicketkeeper, the only question is when.
THE DISCARDS
Michael Carberry Not technically discarded yet, but an Ashes campaign that was neither nowt nor summat left the 33-year-old unlikely to be part of England's New Era and an interview with the Guardian in which Carberry tore into the management regime suggested he knew his time had come and gone, so he might as well go down in flames. Has made a duck and a century in the Championship this season, but followed these with scores of 45, 47 and 35; precisely the kind of numbers that left him vulnerable in the first place.
Nick Compton Ditched for scoring too slowly at the top of the order. It looked a touch harsh at the time, and has grown harder to justify given what's gone on since. While an average of 30-odd and a strike-rate to match is not spectacular, neither Root nor Carberry (nor Cook for that matter) have significantly improved on either mark since and Compton has continued to rack up scores for Somerset. Hard to shake the notion that as batsman who forced his way into the side through sheer weight of runs rather than as part of some succession plan he was never quite a fully accepted member of Team England.
Eoin Morgan England's best one-day batsman must have been given some encouragement over his Test chances this summer as he eschewed the IPL in favour of early-season red-ball cricket with Middlesex. He hasn't done badly, but he hasn't done that well either. Most damningly, there has been little of the invention or flair that makes him such a compelling limited-overs talent. If he's to play for England in Test cricket, it should be as a slightly restrained version of his coloured-clothing self. His strike-rate this season is 20 runs per 100 balls lower than Chris Rogers. If he's just going to bat sensibly, then England have far more sensible options. A bench in the UAE probably looks quite an appealing option in hindsight.
James Taylor The prolific Notts middle-order man must have scored more runs at 'A' level than any cricketer ever, but still has just two Test caps to his name. Frustratingly for his many supporters, with places up for grabs, Taylor has spent the first month of the season looking excellent and then getting out before he's scored quite enough runs to make a case.
Samit Patel With England considering Moeen Ali for the spinner's role, then it has to be asked why Samit Patel is not being considered even if we know the answer before we ask. Bowls more/better than Ali, and is more accustomed to batting down at six or seven than the Worcestershire man. But Patel, it's fair to say, does not match England's image of what an international cricketer looks like. And that's far, far more important than how many runs he scores or wickets he takes. If they didn't pick him for a Twenty20 tournament in Dhaka and Chittagong, they're not about to pick him for Test matches in London or Leeds.
Steve Finn A wreck by the end of the winter, the most promising fast bowler in the country had regressed to the point where he stood out as conspicuously unselectable in a squad overflowing with such characters. It's hard to imagine just how badly he must have been performing in the nets. It's enormously encouraging, then, to see something approaching the old Steven Finn back and firing for Middlesex this season. He's not quite bowling at full pace and full confidence, and he is still going for runs. But he is taking wickets. With England likely to be a five-bowler outfit now, there is room for a bowler who leaks a few runs but takes lots of wickets. While his bowling is as inconsistent as ever, the returns this season are not with returns of 4/89, 4/50, 4/82, 5/91 and 6/80. Ideally, he'd still benefit most from a full season honing, perfecting and stump-avoiding in county cricket but, while England should be able to resist his wicket-taking charms at the start of the summer their resolve will be tested if things aren't going to plan.
Simon Kerrigan You remember. Called up for the fifth Ashes Test at The Oval after consistent wicket-taking success for Lancashire. It, err, it didn't go well. Bowled eight genuinely awful overs, apparently so gripped by nerves he was unable to grip the ball. Not helped by spending the rest of the match ruminating on the futility of existence while his skipper desperately tried to avoid making eye contact. Has been written off by everyone who's only seen those eight overs, but remains one of few genuine spinners in county cricket taking wickets at a rate that demands attention. Turns 25 this week, so still has plenty of time, if properly handled, to turn his career into more than a punchline.
THE OUTSIDERS
James Vince The Hampshire batsman has long been touted for England honours on account of an uncanny technical resemblance to Michael Vaughan, a cover-drive to die for and a happy knack of making runs whenever the Sky cameras turn up at the Rose Bowl. But he scored 1,100 Championship runs at 61 apiece last season and currently boasts a three-figure average this term as he adds consistent substance to the undoubted style. Would be a progressive pick at number three and a contender at number six should Stokes miss out and England opt for a sixth batsman rather than an all-rounder.
Jonny Bairstow Like Carberry (and Scott Borthwick, and Boyd Rankin...) technically starts the summer as the man in possession of a Test place. Played the last two Ashes Tests and did okay, but remains a batsman who keeps rather than a true keeper-batsman. Keeps missing straight balls in Test cricket, a significant flaw, but returned from injury to make 95 for Yorkshire against Durham's vaunted attack before getting a rough lbw decision. Like Finn, a young player who has had a taste of the highest level and would probably benefit most from a year working out his game in county cricket.
Graham Onions They're just not going to pick him, are they? If 70 wickets in 2013 didn't do the trick, then it's hard to know what will. Should have gone to Australia, but unlikely now to get another chance at Test level.
Monty Panesar Remarkably, 32-year-old Panesar is barely more than a footnote in the post-Swann selectorial discussion. Two difficult years on and off the pitch have left him on the outside looking in. It looks like England have moved on.
Tymal Mills A warning from history. After Ashes torment at the hands of Shane Warne and Adam Gilchrist, England wasted much time and many careers trying to unearth a similar once-in-a-lifetime talent of their own. Going down this road leads directly to Ian Salisbury having the same number of Test caps as Chris Read. It is, in short, a bad road. England, though, are being encouraged by plenty of people who ought to know better to embark once more along this particular road to ruin. After a winter being battered by Mitchell Johnson's left-arm thunderbolts, the clamour to pick a chap who bowls undeniably fast and indisputably left-arm grows ever louder. That his current scattergun efforts are far more similar to the laughing-stock incarnation of Johnson than the moustachioed destroyer of worlds he has become appears not to matter.
PROBABLE ENGLAND XI: Cook (c), Robson, Root, Bell, Ballance, Stokes, Prior (wk), Ali, Broad, Jordan, Anderson.
---
New Sky Bet customers: Free matched bet up to £30
---