Rogers revels in 'greatest' innings
Middlesex opener Chris Rogers believes his 241 not out against Yorkshire in the LV= County Championship is the greatest innings of his career.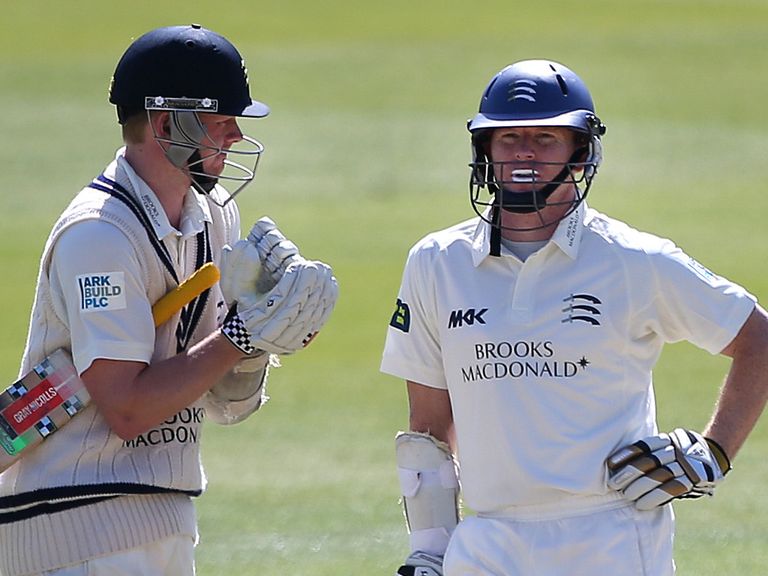 Middlesex opener Chris Rogers believes his match-winning 241 not out against Yorkshire in the LV= County Championship is the greatest innings of his career.
Rogers' brilliant double-hundred inspired Middlesex to chase down 472, their highest fourth-innings total ever at Lord's, and record an incredible seven-wicket win over the Tykes.
The 36-year-old has hit 10 double-hundreds in his career, and has four centuries at Test level, but the Australian insists this was his best ever.
"I think it was the greatest innings I've hit. There's been a couple of good ones but to be in a fourth innings and play like that and get a win, that doesn't happen every day," said Rogers, whose knock included 37 fours.
"That was what kept driving me on so to get over the line and still be there at the end is something to be very proud of."
Yorkshire went into the final day as firm favourites to seal their second win of the season but Rogers, together with Sam Robson (77) and Neil Dexter (72), steered the hosts to the third-highest chase in County Championship history.
A poor first-innings score of 123 had put Yorkshire in control and Rogers admits he thought the game was lost going into the final day.
"I said to the boys I thought the game was gone," Rogers said.
"The first innings was very disappointing, I just thought we were timid.
"They've got a very good attack, particularly in conditions that suit them, and no-one stood up and that was what annoyed me.
"I told the guys to go out and take their chance, be positive and we all did it - it won't come off every day but it came off for us today."
Middlesex lost an early wicket as Dawid Malan (35) was trapped lbw by Ryan Sidebottom and Eoin Morgan (27) was later caught by Adam Lyth off Kane Williamson but the hosts kept the scoreboard ticking over.
Rogers, however, says he remained doubtful about the prospect of victory until the target went under the 100-mark.
"Once it got down below 100 I thought we had to really have a bad period to lose the game," Rogers said.
"You just never know, you always think there's going to be a twist and I've played in enough games to know a couple of wickets can change things quickly."
He added: "If we'd lost a couple of quick wickets and the tail had come in, it might have been a bit different.
"But the other guys deserve a lot of credit too, it was almost a perfect run-chase and given we've been criticised for our batting, that can be an excellent step for us."
Rogers played a major part in Australia's Ashes whitewash last winter and says he has taken a lot from the international team's "aggressive way of playing".
He will be 37 in August but insists he feels as strong as ever and hopes to play in next summer's series against England before he retires.
"You're made to believe that when you get to your mid-thirties it's almost time to call it a day but I keep surprising myself with my body," Rogers said.
"I'm hoping to get to the Ashes next year - that would be an amazing way to finish.
"But that's a long way away and there's a lot of tough Test matches in between."
Yorkshire coach and former Australia bowler Jason Gillespie praised his fellow countryman's innings but was disappointed with the consistency of his bowlers.
"It was a fantastic knock," Gillespie said.
"Sometimes you have to take your hat off to the opposition. We gave it out best but it just didn't quite work in the second innings with the ball.
"You can't rest on your laurels, you need to make sure your skills are right each and every over."