Robson: I'm ready for England
Sam Robson believes he is ready to play Test cricket after further boosting his claims for an England call-up in Middlesex's 10-wicket win over Nottinghamshire.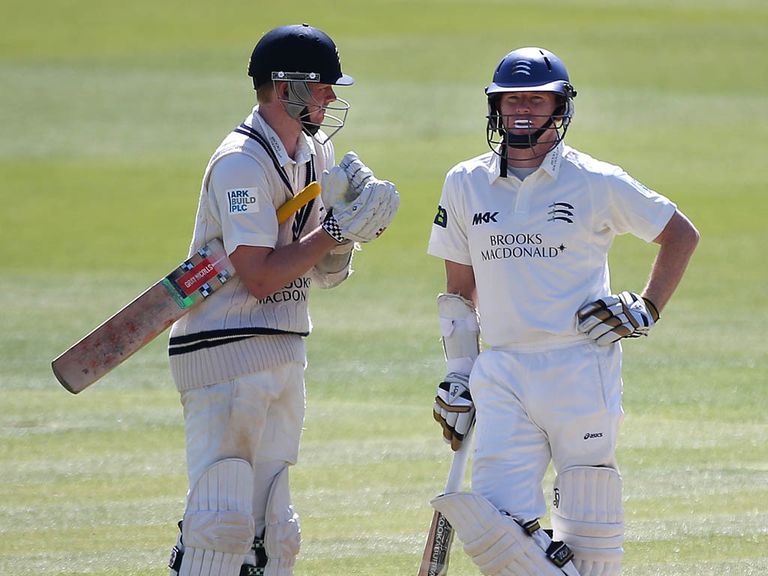 The Australia-born opener has been touted as the man most likely to partner England skipper Alastair Cook at the top of the order when the first Test against Sri Lanka starts on June 12.
The uncapped 24-year-old enjoyed a profitable winter with the England Lions and kick-started the domestic season with a first-innings 163 at Lord's this week.
That prompted his Middlesex skipper, and opening partner, Chris Rogers to suggest it was almost unthinkable that Robson would not be called up by England at some stage this summer.
Should Robson get the call, he thinks he is in perfect shape to grasp it.
"I think I'm ready for it [Test cricket]," Robson told www.lords.org.
"I feel in a good place. Test cricket is what every professional cricketer wants to play, because you want to test yourself at that level.
"I feel that I've improved during the last couple of years and over the winter, but there's a lot of cricket over the next couple of months so it would be foolish to look too far ahead."
Rogers admitted he would be "very disappointed" if Robson did not win his full Test debut against either Sri Lanka or India this summer.
Robson put on a 203 first-innings stand with Eoin Morgan in the Lord's victory that could prove "season changing", according to Rogers.
After his imperious 163 in the first innings, Robson added an unbeaten 41 in the second, producing a 112-run partnership with Rogers to ease Middlesex home.
"I'd be very disappointed if they didn't pick him," said Rogers, who notched 63 not out to guide his side to their first league victory of the campaign.
"I think Robbo's ready and I'd like to see him picked.
"He's got such a great head on his shoulders, and I think that's a great sign for a young guy.
"He has the game but he needs to also have the right mindset. I think he's got that and the rest is up to him really."
Sydney-born Robson swapped Australia for London after leaving school, and has spent the past six years driving through the Middlesex ranks.
Rogers jokingly conceded he would love to see Robson at the top of the order in Australia's ranks rather than with England.
Now the decision is made though, Rogers said he cannot wait to see his Middlesex opening partner thrive at Test level.
"I think it's pretty hard to take David's [Warner] spot at the moment, but maybe he should take mine!," joked Rogers.
"Behind closed doors I'd probably say to Robbo that I think he should be playing for us [Australia], but he's made his choice and good luck to him, and I'll support him whatever he chooses.
"I'm particularly happy for Robbo, I think he's showing everyone he's a class player and could be the answer as an opener.
"Nottinghamshire are a strong side, they've got a good attack, and I think the thing he does well is he plays all around the wicket.
"He doesn't have many weaknesses at all, and I see a very good future for him, that was real class in this game.
"As another opener that's the kind of innings you're desperate to play and Robbo's showing maturity at such a young age."
Middlesex slumped to an innings and 127-run defeat to Sussex at Hove in the season's opening round.
Rogers' men slipped to 19 for two in a lacklustre opening against Nottinghamshire, before Robson and England maverick Morgan stepped in.
Rogers said the duo's 203-run rescue act partnership could go down as an early-season turning point.
"It was a tough time, a couple of guys probably searching for runs under pressure from above as well, so against an international bowler, it was a fantastic effort," said Rogers.
"It showed a lot of character that, we knew we had to stand up.
"It could easily have gone badly, but for Robson and Morgan to put on 200, that's almost season-changing stuff that."
Steven Finn finished the match with nine wickets, including a first-innings five-wicket haul.
After such a wretched winter with England when he was sent back early, the lofty paceman has completely rebuilt his bowling action.
Rogers hailed his resurgence, but said it is too soon for the 25-year-old to be considered for England again, urging for Finn to be given time to rediscover his groove.
"I think he's been a little bit flattered as well," said Rogers.
"It's hard because I want to see Finny do well, I do.
"When your confidence is shattered and you hit rock bottom, you need time behind you, just to have consistent performances you can fall back on if things don't go so well.
"If he went and played Test cricket right now, he might very well do well, but equally if he bowled a bad spell and the media and public put the pressure on him, it may go the wrong way.
"There's an opportunity to give him some time and let him develop as a person and a bowler."
---
New Sky Bet customers: Free matched bet up to £30
---