Adams calls for improvement
Andre Adams has vowed there will be no repeat of Nottinghamshire's struggles of last season in the County Championship.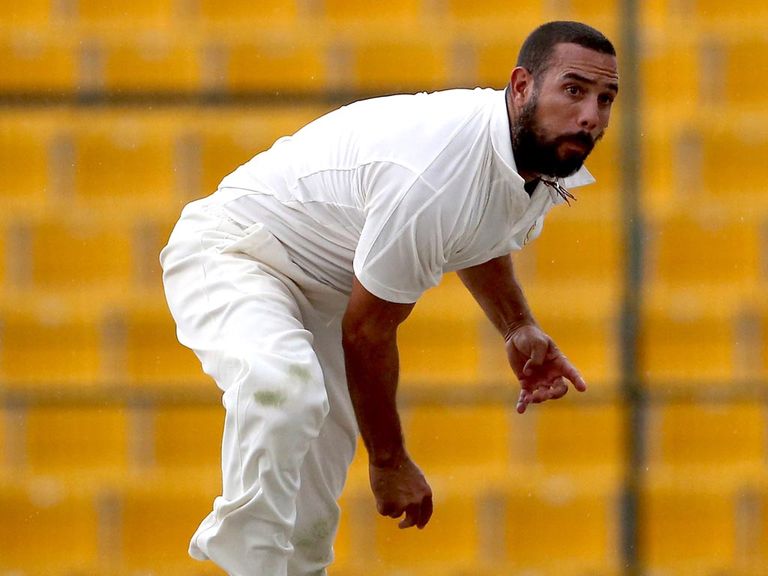 Despite starting last term as one of the favourites to win the Division One title, Nottinghamshire's fight against relegation went into the final game of the campaign where a tense draw at Somerset - coupled with defeat for Derbyshire - ensured they would start another campaign in the top flight.
New Zealand all-rounder Adams, who joined the county in 2007, admits everyone at the club was disappointed with a campaign that yielded just three wins from 16 games and saw them finish a massive 99.5 points behind eventual champions Durham.
"It wasn't a case of us underachieving last season, I think we got what we deserved," Adams told sportinglife.com in Abu Dhabi, where he was playing for the MCC in the annual Champion County match aghainst Durham.
"Expectations were high at the start. The bare minimum is to survive in Division One because it means you're playing in it again the following season.
"But that's not a good feeling - it's the first time it's happened to me [relegation battle] at Notts and I didn't like it. I see Notts as a really strong side and it didn't sit very well with me the way we played last year.
"I was injured for a spell but when I came back I simply wasn't very good so I want to do much better, as do the whole side.
"Notts are rebuilding but there are still enough senior players to stand up, set the example and show the way."
Adams has played 43 times for his country (42 ODIs and one Test) but after failing to make the impact he wanted with the Black Caps he fell into the cricketing doldrums before Nottinghamshire stepped in.
"My time at Notts has been superb and in many ways it really saved me as a person," said Adams.
"I would have left the game a very angry young man having achieved very little. I haven't achieved much on the international stage with New Zealand but in first class cricket I've done pretty well.
"But the most overwhelming feeling for me is that I was given an opportunity by [Notts coach] Mick Newell and [former NZ team-mate] Stephen Fleming and I had to repay that faith.
"Everything I do now from a playing point of view is based around making sure I can do the best I can for Notts and make sure I play to a standard that is acceptable for such a great club."
Notts start their County Championship campaign on Sunday with a home match against newly-promoted Lancashire at Trent Bridge.
Adams believes the standard in English county cricket's top flight is getting stronger each year.
"It's great for us to measure ourselves against each other in the county championship and I think it is getting stronger," he said.
"But shouldn't every county be serving the needs of the ECB in a way? If the county championship is really strong then you're preparing players for Test cricket. The smaller you can make that gap the better and if you can speed them up by even two years then you're winning the battle and your cricket will be strong again.
"It will be a really interesting time in the next couple of years for England because they have been very strong but now they have some cracks.
"They still have very good players but it's always how you deal with those hard times that is key. The media are always going to jump on it and put players under pressure so it's going to be a very testing time.
"If you get rid of too many senior players then you have no chance so while it's good to bring in young players as they're easily shaped and will mould, you must have a core of players who can lead those guys.
"If you get rid of the core then you're just leaving players to battle blind. It's clearly evident there has been a cleanout but they have to be very careful."
Adams was part of a strong MCC side that defeated county champions Durham by six wickets in Abu Dhabi where, for the fifth year running, the teams trialled a pink ball in the match which was played in day-night conditions under the floodlights at the Sheikh Zayed Stadium.
"After a little bit of practice the pink ball is no different to the red one," said Adams. "Essentially, once you have enough time with it then it doesn't make too much difference.
"My only issue was at the end of the day when it gets really dark I did struggle to pick it up around the boundary edges, but I'm 38 so it could just my vision!
"But going into the last session there was a huge difference - it swung and it kissed off the surface at little bit more so the lights did make a difference.
"Over five days I guess it would come down to how well the wicket was prepared. Under lights a lot more moisture will come out of the wicket and when it got colder the cracks opened up so a lot more balls went underground. It's going to take a lot of science and a lot of time to figure out how you are going to prepare a wicket to cope with five days of play."
---
New Sky Bet customers: Free matched bet up to £30
---