Finch: Openers to blame
Aaron Finch believes he and opening partner David Warner must shoulder the majority of blame for Australia's disappointing World Twenty20.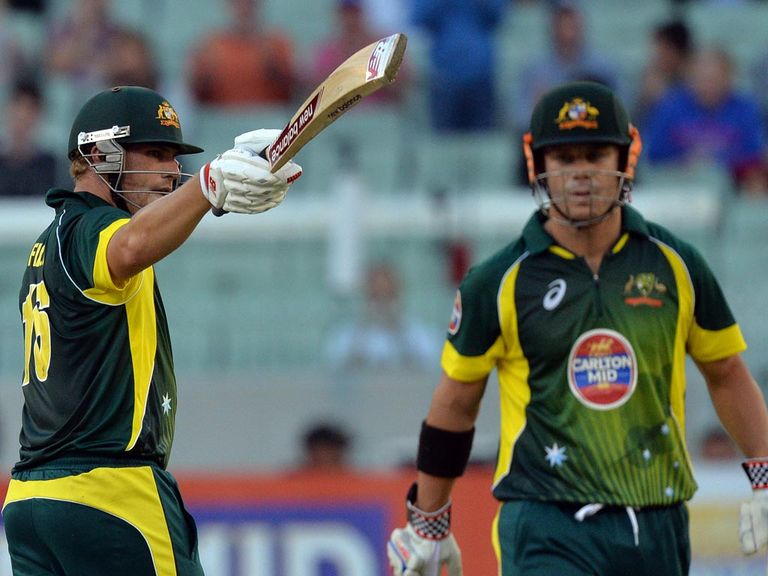 Australia arrived in Bangladesh as tournament favourites but managed just one win, against the hosts on Tuesday, to bow out at the group stage.
Finch thinks a lack of runs at the top order was the chief reason for that.
Finch began the tournament as the world's top-ranked Twenty20 batsman, while Warner was in white-hot form after the tour of South Africa.
But the duo averaged just 16.6 together in the first three games before a 98-run stand against winless Bangladesh, when their tournament was already over.
"Myself and Davey have both been disappointing in this tournament as a partnership," Finch told reporters after the seven-wicket win against Bangladesh.
"What makes it even more disappointing is that it took until the final game to have a big partnership.
"To be out of the tournament already and then provide a start for the team is very disappointing.
"It's frustrating because we came here with high expectations.
"I don't think we played particularly well in the first three games and in such a short format you have to rely on your openers.
"So we take a lot of responsibility."
Australia's problems were not restricted to the top of the order, with only Glenn Maxwell showing any consistency with the bat.
Finch thinks the all-rounder's performances - highlighted by a breathtaking 74 against Pakistan - were about the only positive Australia would take away from the tournament.
"It's been difficult. I think the way Glenn Maxwell has played throughout the tournament has been phenomenal," he said.
"It's the way everyone knew he could play, but this time he took it to a new level. That's a huge positive.
"There's a few positive to take out, but by and large not a whole lot.
"We came here to win the tournament and anything less we're not happy with. To win one out of four has been very disappointing.
"To not make it through to the semi-final stage has been really disappointing.
"I think we've let ourselves down in all three disciplines - and in such a format like this it really comes back to haunt you."
---
New Sky Bet customers: Free matched bet up to £30
---