Trott out cheaply on return
There were only four runs in Jonathan Trott's comeback innings after a stress-related illness - but otherwise it was "business as usual" for England's Test number three.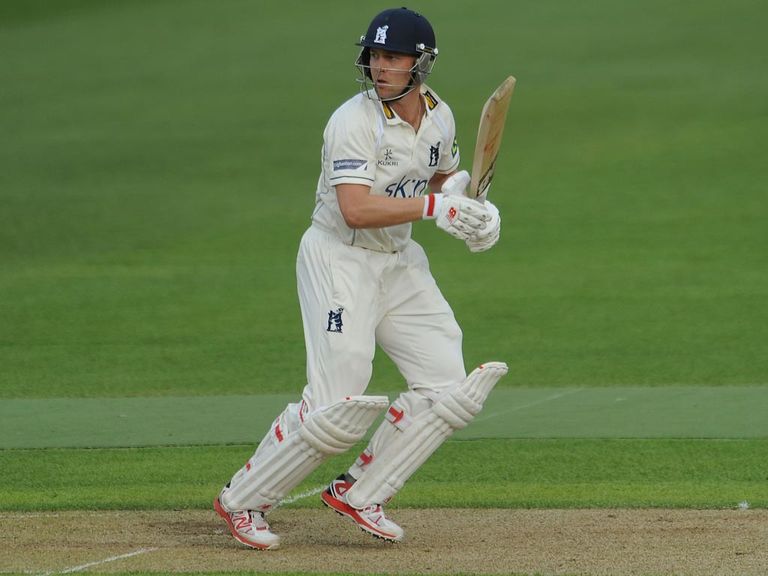 Trott was off the mark first ball yet managed only two more scoring shots from 19 balls, spread over 40 minutes, in Warwickshire's two-day friendly match against Gloucestershire at Edgbaston.
He is hoping to return to the international stage this summer - and Warwickshire team-mate Varun Chopra senses the initial signs, if not the end product on the scoreboard, are encouraging.
This was Trott's first step back into the unknown, having not picked up a bat in anger since flying home from Brisbane last November.
He played no further part after the first Test in England's descent to a 5-0 Ashes whitewash - but thanks to the ad-hoc arrangements for this practice match he will have a second chance here on Wednesday.
Warwickshire replied to 208 for nine with a stumps total of 112 for two, a mandatory 30-over declaration following Gloucstershire's in 60.
Stand-in captain Chopra did not see the delivery from David Payne which saw Trott off lbw.
But he was happy enough with what preceded it, and said: "He's fitted in really well, and it's business as usual.
"It's been refreshing. All the lads have enjoyed his company.
"He was full of energy. It's a shame he didn't get too many - but tomorrow he's got another opportunity, and then (in next week's match) at Oxford (University)."
There are more than 10,000 miles, and four months, between Trott's last venture into the middle and this one.
For the Gabba, in front of 30,000, read 100 or so Bears faithfuls at his Edgbaston home; for Mitchell Johnson, who dismissed Trott cheaply twice in that first Ashes Test, read Payne.
Both are left-arm pace. But unlike Johnson's unerring throat balls, Payne's opening gambit drifted compliantly on to the pads as Trott got under way with a trademark clip past midwicket for two.
After Gloucestershire had won the toss in sunny conditions, Trott had to wait a little longer before Payne had Chopra playing on to end a hectic opening stand of 75 in under 15 overs.
Trott's familiar crease-scratching rituals duly followed, and his productive first shot underlined little appears to have changed in his method.
But sadly, that was as good as it got before he was second out - lbw playing no shot to an inswinger from Payne, umpire Mansoor Qureshi confirming his fate.
Chopra is nonetheless satisfied Trott is back "in the zone".
"It's hard to tell in one day. But I'm sure he's fit, ready to go for the season and in a good space right now," he said.
"He plays his way ... and there's been nothing different from the last few years to what we've seen in the last few weeks."
His county colleagues are doing all they can to help, by making as little fuss as possible.
"As a team, we're carrying on as per normal," said Chopra.
"He's been through a difficult winter and has come back the other side of it and is ready to go.
"I'm not an expert in these things ... but I think that's how I would want to do it.
"I wouldn't want people to over-fuss over me, if it happened to me.
"So I think we're just trying to make it as natural and seamless for him as possible."
Gloucestershire's total owed most to a determined half-century from Will Tavare, who shared an opening stand of 93 with Chris Dent.
Trott's morning exertions were limited to a handful of simple stops in the infield and a solitary over of his medium-pace - a maiden to Dent.
He nonetheless did not reappear in the hour after lunch, apart from to take on drinks as Warwickshire rotated their personnel in this non first-class fixture.
Before tea, Trott was unable to make enough ground to take a low catch at mid off from a mistimed shot by Tavare - who therefore survived on 60, much to the evident frustration of teenage seamer Aaron Thomason.
Abundant consolation soon arrived for the youngster, however - with the wickets of Tom Smith, Tavare and then Graeme McCarter lbw first ball.
Trott returned before the declaration to bowl two more tidy overs and finish with figures of 3-2-5-0 - but when it eventually came to his day job, he left a little to work on.
---
New Sky Bet customers: Free matched bet up to £30
---