Finn ready for Middlesex return
Steven Finn is ready for his big comeback in the LV= County Championship season opener after a complete reconstruction of his bowling action, according to Middlesex boss Angus Fraser.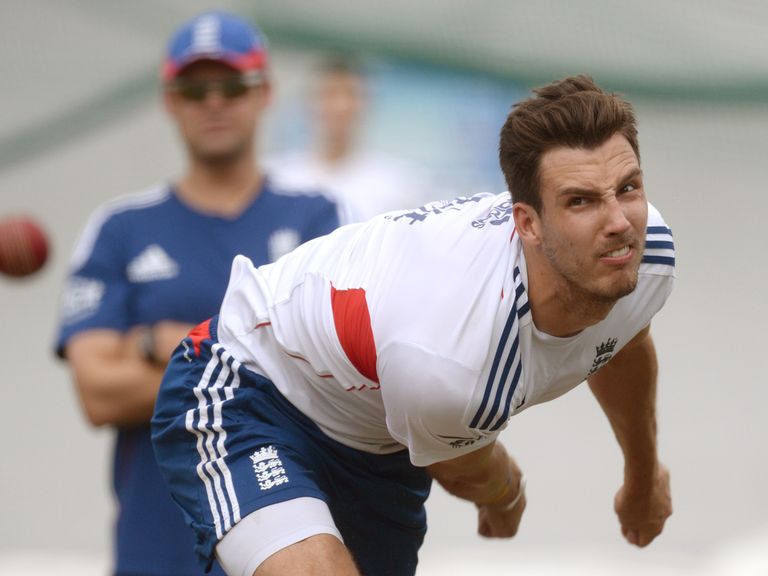 Paceman Finn left England's disastrous tour of Australia prematurely in January, with coach Ashley Giles confirming it was to "work on technical aspects of his game''.
Middlesex director of cricket Fraser admitted Finn had suffered problems with his bowling action ever since the 2012 controversy against South Africa when he continually struck the non-striker's stumps with his knee.
The ICC eventually introduced 'Finn's Law', classifying the delivery a no ball not a dead ball, in reaction to Proteas captain Graeme Smith's protests.
Fraser now expects Finn to face Sussex at Hove in Sunday's County Championship Division One season bow.
"I think the winter hit him hard, and he's making his way back, making some decent progress, and I think we're looking forward rather than back,'' said Fraser of the 25-year-old.
'"He won't think it, but I do wonder whether it was his knees hitting the stumps.
"South Africa did a bit of a job on him there to be honest.
"All of a sudden he's knocking the stump over with his knee, lots of bowlers do it, but it's the way the world is now.
"All of a sudden something as trivial as that becomes a big story, the laws of the game have to be changed.
"You then think you've got to make changes as a bowler, and before you know it you're quite a way away from where you want to be.
"It's sad that such an outstanding athlete has struggled for a period of time.
"We're confident he'll get back to where he wants to be, but it's not a question of pressing a button and it coming right.
"His form will come through bowling, going through the gears.
"He has done a lot of sessions without batsmen there, off a short run-up, building up step by step, building up, bowling in the indoor school.
"He would bowl a number of balls off five paces, 10 paces, 15 paces, then all of a sudden you add a batsman, then take it outdoors on grass, into open nets and then on from there.''
Fraser conceded conflicting advice in the wake of 'Finn's Law' had hindered the 6ft 7in fast bowler, until all parties sat down and plotted a clear way forward.
Finn struggled for rhythm after altering his run-up, something Fraser now believes can finally be solved.
"Everyone involved takes responsibility, we'd all do some things slightly differently, and that's including Steven as well,'' said Fraser.
"It's not an exact science and you don't get it right all the time.
"Knocking the stumps over, what do you do: contemplate a short run-up.
"The reasoning is clear, but it rushed a number of things, all happening
earlier than maybe it should be.
"Going back to a longer run, it's not so rushed, so that's what we did.
"It's going well, he gets frustrated at times because it's not always what he wants, but again, this pursuit of perfection, he did bowl bad balls before, but because he was happy with his game he didn't worry so much.
"He's coming along nicely now.
"At the start of last season we all sat down and talked it through so we were on the same page.
"He was cut up about what has happened after that, he's found it all frustrating, he's a perfectionist and he wants it right tomorrow.
"But he's made good progress in the last few months and is ready for the season.''
---
New Sky Bet customers: Free matched bet up to £30
---