Afghanistan can spring T20 surprise
Dave Tickner previews the first round of the 2014 World Twenty20, and backs Afghanistan to progress.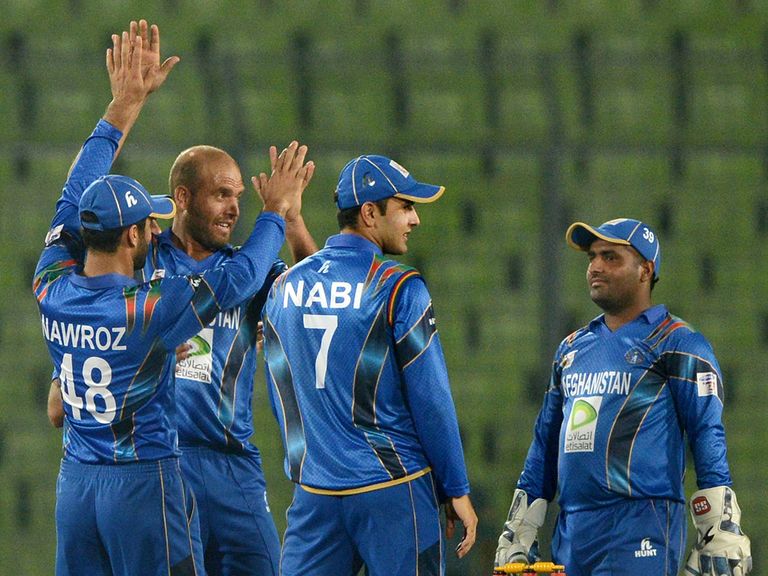 The 2014 World Twenty20 begins on Sunday.
It's easy to miss that fact, because the tournament is saddled with a truly horrific format designed to place financial gain above sporting integrity.
There are 16 teams in the tournament. Ten are the Full Members granted automatic access; the other six are the best of the Associate nations, who had to play 11 matches in 12 days to earn their seat at the top table for the event proper.
Except that's not quite true either. In the latest shocking example of the ICC placing cash first and everything else nowhere, those six teams - plus the smallest of the big beasts in Bangladesh and Zimbabwe - now play off in what is euphemistically called the "first round" but is in essence another qualifying round ahead of the 10-team main event.
Any pretence that this is part of the actual tournament is completely blown away by the fact the eight big guns will be playing warm-up matches while these "first round" matches take place.
The eight teams are split into two groups of four, with only the two group winners joining the elite eight. It's almost impressive to take a 16-team tournament - a perfect number for a sleek tournament - and make a mess of it in this way, but such is life for the ICC.
The whole concoction exists purely to avoid the risk of an early exit for one of the elite teams and to ensure India, England, Australia et al are guaranteed at least three matches against other Full Members rather than those pesky, upstart Associates.
Anyway, ranting aside, the fact is we have a tournament before the tournament, and there may be betting opportunities available.
The first of them comes in Group A, where Afghanistan are surely overpriced at 4/1 to come through at the expense of Bangladesh, Hong Kong and Nepal.
Afghanistan and Bangladesh come into this tournament on the back of the recently concluded Asia Cup. While that was an ODI tournament, it provides bang up to date one-day form in Bangladesh where this event takes place.
And Afghanistan, the feelgood story of the last decade in cricket, did not disgrace themselves in their first Asia Cup appearance.
Crucially, they beat Bangladesh, who lost all four matches to finish bottom of the table.
Should they beat Bangladesh again in the tournament opener on Sunday - Afghanistan are no bigger than 5/2 to do so - then they will be in great shape to progress.
Neither Nepal nor Hong Kong should be dismissed in this company given their recent improvement, but it would be a shock were they to get a result in their games against Bangladesh and Afghanistan.
The Afghans beat both Nepal and Hong Kong handily in the 2012 qualifier, and twice beat Nepal at the 2014 instalment.
Experience from the tough schedule of the qualifying tournaments means matches in quick succession against this calibre of opponent should hold no fears for Afghanistan, while Bangladesh will be under enormous pressure to reach the main stage of the tournament they host. Their Asia Cup failures will still weigh heavily.
Bangladesh should qualify from this group. But they do not look the good things the bookies believe and Afghanistan have to represent the value in the group at 4/1.
One more bet in this group is Mark Chapman to be top Hong Kong batsman at Sky Bet's 9/2. The 19-year-old has little top-level experience, but has a List A one-day average of 46.30 having scored five half-centuries in 11 innings.
That points the left-hander as a consistent run-scorer, and he has made two 50s - one unbeaten - in Hong Kong's warm-up wins over Zimbabwe and the Netherlands.
His latest T20 and List A scores in Hong Kong colours (most recent first) are: 50, 53*, 5*, 9, 64, 82, 30, 59.
This is not, with all due respect, the most competitive betting heat and it's undeniably a speculative punt on a player we know little about. But his numbers from matches against opposition comparable to that he'll face here stack up at the price available.
In Group B, Ireland will have plenty of supporters at 6/4 to take the main-event spot earmarked for Zimbabwe.
Ireland have plenty of big-tournament pedigree and have been the most impressive Associate performer against both other Associates and Full Members in recent times.
Zimbabwe's woes were highlighted by that warm-up defeat to Hong Kong and it would be no surprise were Ireland to pip them in a group also containing the Netherlands and the UAE.
But a better bet may be George Dockrell to be Ireland's top bowler at Paddy Power's 3/1. The left-arm spinner has massive experience at this level despite still being only 21 and should be Ireland's key man in these conditions.
His T20I record of 30 wickets from 23 matches at 15.60 puts him in elite company; only Sri Lanka's Ajantha Mendis has taken more wickets at a better average.