Heat is on for England
Captain Alastair Cook set the standard as England sweated through a four-hour training session in Perth on Tuesday.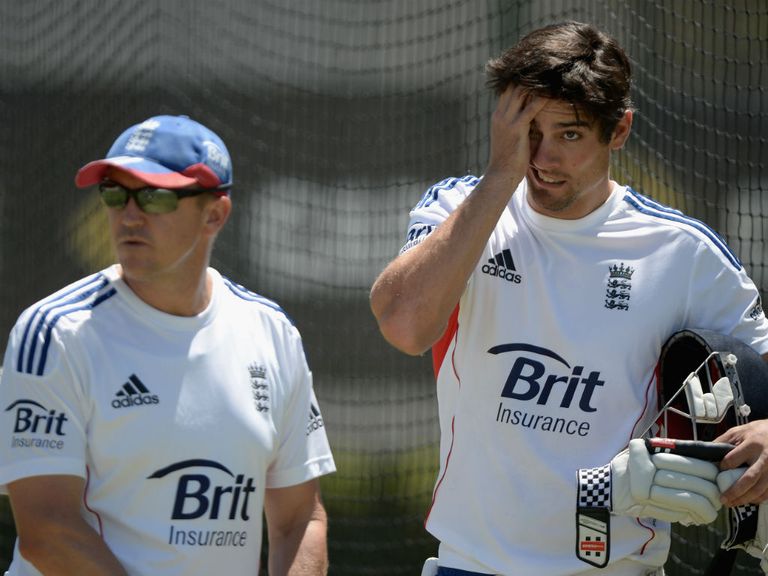 Forty-eight hours after admitting his captaincy was on the line, Cook led his team-mates through a complete workout in 35 degree heat.
A lengthy team discussion began the session, before England busily set about preparing for Friday's fourth one-day international against Australia.
Cook has just two more chances to secure a first win of a troubled tour before flying home, when he is set to make a call on his leadership.
The 29-year-old has been backed by his team-mates to remain, but victory in at least one, if not both, of the games that remain in the already-lost ODI series would provide a welcomed relief.
Hanging over Cook's team also is the threat of levelling England's worst ever run of defeats - a sequence of 10 losses set in 2001 and 1993.
England have lost nine games in a row in all formats - dating back to last summer - while another defeat at the WACA Ground would also match their longest losing streak against Australia.
It is a sobering thought for Cook who appeared glum-faced as he admitted his time in charge of the England team could be close to an end after the seven-wicket defeat in Sydney on Sunday.
It was an honest assessment of his situation that spinner James Tredwell believes all England's players must share if they are to turn fortunes around.
England have been outperformed in most categories this winter and, after their thorough practice, Tredwell said the players were ready to stand up to some brutal home truths.
"We're trying to be really honest with ourselves," Tredwell said.
"We understand that we've not been good enough on this tour.
"Our skills need to be better. We've not quite put them into practice over a period of time.
"We've spoken a lot about pushing back and giving Australia a bit of their medicine but that's not always easy when the skills aren't up to scratch.
"If we are really honest about it that's been the issue this winter."
England were able to find a pocket of relief in the picturesque surrounds of the University of Western Australia, and have three days to prepare for a weakened Australia line-up.
That offered them the chance to go over some self analysis and, most noticeably, work on the skills that have let them down.
While there was time for some fun also - a fielding drill was performed while the players were hosed with water as they slid along the grass - Cook then spent the majority of his time working away in the available turf and artificial nets.
"You get a few days like this when you get a chance to look at what's gone and where you want to go," Tredwell said.
"We've certainly done that this morning.
"That started today. We were all down after the last game there's no doubt about that.
"Alastair more than most. As captain you do tend to take a lot of that on yourself.
"He was down but we've had a really good chat today and he was at the forefront of that and we want him to take charge going forward."
While the series is lost England have plenty of reason to remain focused with the World Cup set to be co-hosted by Australia next year.
Tredwell is certain a young England team - in which the likes of Eoin Morgan, Chris Jordan, Jos Buttler and Gary Ballance have enhanced their reputations - will benefit from the difficult lessons they have learnt.
"In terms of this tour looking forward to the World Cup in 12 months' time it is a great experience in that regard," he said.
"No-one likes losing.
"We need to be strong and turn that around. Not only in the next game but looking forward to the World Cup. We're a young team, there's no beating around the bush there and we want to improve our skills as a group that we haven't brought into this series and go forward and take those into the upcoming games."
Australia are set to rest four of their key players for Friday's match, including skipper Michael Clarke.
David Warner, Brad Haddin and Shane Watson have also not made the trip west although Tredwell is not about to start under-estimating the home side.
"Maybe (this is a better chance to win), but we know how many good players there are in Australia as well," Tredwell said.
"The guys that are coming in for the guys that have been rested are no mugs.
"We know it is going to be a tough game. We'd like this to be the game."
England paceman Boyd Rankin has been ruled out of Friday's match due to a hamstring problem, while Ben Stokes is set to be available despite missing Tuesday's session to attend a family funeral in New Zealand.
All-rounder Stokes is expected to return to the squad on Wednesday.
---
New Sky Bet customers: Free matched bet up to £30
---