Thorpe questions Cook tactics
England batting coach Graham Thorpe believes captain Alastair Cook might have got his tactics wrong at the end of their dramatic one-wicket defeat in Brisbane.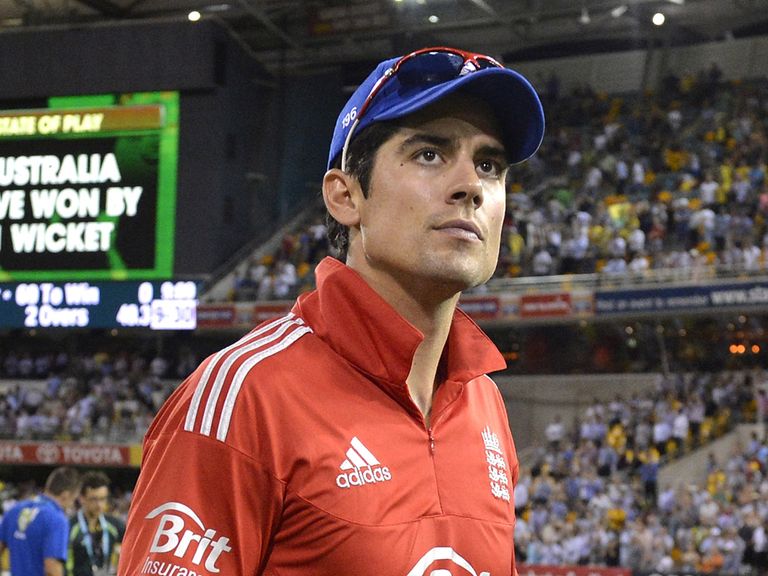 The tourists were on the brink of securing their first win over Australia this winter only for a stunning 57-run last-wicket stand, between James Faulkner and Clint McKay, to snatch away victory in the second one-day international.
Faulkner took the lead role as he smashed 69 from 47 balls, with all five of his sixes struck off Ben Stokes.
Faulkner was able to line up the Durham all-rounder, who bowled unchanged through the final 10 overs, and back-to-back maximums in the penultimate over reduced the task down to 12 from six balls.
Tim Bresnan's first three deliveries then all raced to the boundary to pile on yet more misery for Cook and his side as they slipped 2-0 down in the five-game series.
"I think if Alastair looked at it he'd be honest about it - maybe if he re-ran it again, the last part of that game, he may do things differently," Thorpe said.
"We'll chat later about it. At the same time you have to give an enormous amount of credit to Faulkner, who played fantastically well."
Thorpe has warned that England will find any score below 300 in Australia is not enough as they prepare for the must-win third match in the series in Sydney.
Cook, England's strategists and the players have again been left desperately searching for a winning formula following the demoralising Brisbane loss on Friday.
While they did manage 300, exactly, at the Gabba - thanks to a 94-ball Eoin Morgan century - Faulkner's heroics stole the game away.
Former England batting maestro Thorpe takes comfort in the fact Australia needed such an innings to continue England's winless run against them this winter, but thinks their score was still only the bare minimum.
"In this part of the world 300 is a score we have to be looking to achieve," he said.
"I thought 300 was a decent score but on that surface you can chase that down. That is something we are working on."
Thorpe's scoring targets may appear demanding, after England only twice passed 300 during the Ashes, but he believes the new regulations in the 50-over game, and conditions Down Under, mean standards must be raised.
The 44-year-old wants the team to adapt accordingly, admitting that the preferred method of building steadily before a late burst may have to be reviewed despite England reaching a Champions Trophy final on home soil last June.
"We have to evolve as a side," Thorpe said. "We had a formula that worked pretty well for us in England. We look at it over here and I think we can do things differently.
"You need to be adaptable as a team. I see that as something that will develop."
Cook's form with the bat has been far from impressive but Thorpe has backed the skipper, along with Joe Root, to provide early impetus.
The pair's struggles have meant England are yet to get off to a rollicking start - they were 178 for five in the 38th over in Brisbane, before Morgan and Jos Buttler thrashed 117 in 68 balls.
"I don't think we are that far away as an England team batting," Thorpe said.
"I think we can get better. We have a powerful middle order and we have to keep working at the top.
"Potentially we have players who can play more attacking (at the top of the order), but we also have a couple of players who are out of form - it happens."
Thorpe is not ready, however, to elevate a pinch-hitter to provoke a quicker start.
"I still think at this level where you play on good pitches, good players can just play proper cricket shots," he said.
"The guys who have been out of form at the minute, they're still good players. When they get their form back they can do great things for us in one-day cricket."
For now England's coaching staff must focus on lifting the players for three must-win games to save the series.
"The game comes again tomorrow. If we're not in the right state of mind it will be a very tough game for England," said Thorpe.
"If the guys are in the right state of mind and they're ready to look Australia in the eye again and play with pride, then we'll stand a good chance.
"It's not the time for us to sulk and feel sorry for ourselves. We have to stand up and keep going forward."
Stuart Broad is set to return, providing instant experience to the bowling department, while Morgan has pulled up well despite going off with a tight calf following his century at the Gabba.
"If we can win tomorrow's game it would be an enormous achievement and show enormous strength in the side," Thorpe said.
"We have to demand that from the players. When you put on an England shirt that's what you have to do."
Teams:
England (from): AN Cook (capt), GS Ballance, IR Bell, RS Bopara, TT Bresnan, SCJ Broad, DR Briggs, JC Buttler (wkt), MA Carberry, CJ Jordan, EJG Morgan, WB Rankin, JE Root, BA Stokes, JC Tredwell, CR Woakes.
Australia (from): MJ Clarke (capt), DA Warner, AJ Finch, SE Marsh, GJ Bailey, GJ Maxwell, BJ Haddin (wkt), JP Faulkner, NM Coulter-Nile, CJ McKay, XJ Doherty, MG Johnson, JL Pattinson, DT Christian.
---
New Sky Bet customers: Free matched bet up to £30
---