Lee tips Jordan for success
Former Australia quick bowler Brett Lee believes Chris Jordan is destined to have a long and prosperous England career.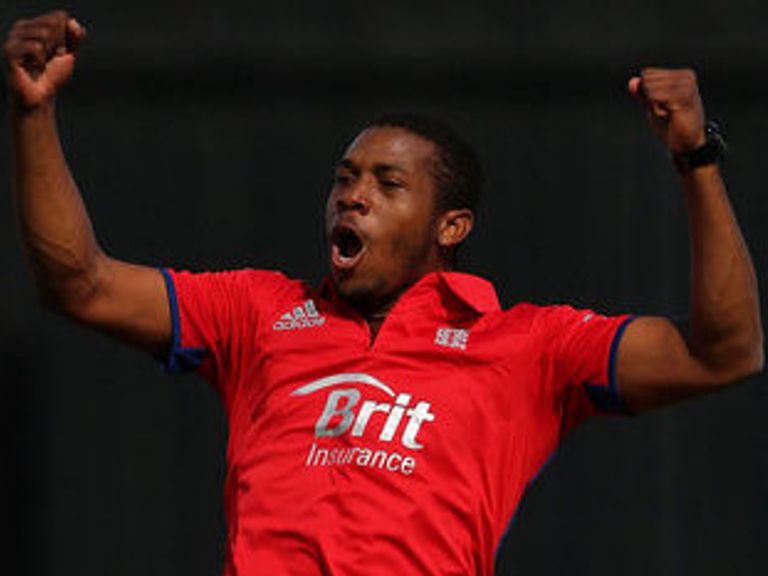 Lee was moved to make his strong claim after watching the 26-year-old Jordan for the first time during England's six-wicket one-day international series-opening defeat to Australia in Melbourne on Sunday.
"I thought he bowled extremely well, he bowled with good pace," said Lee, whose express bowling earned him more than 700 international wickets during a 13-year career.
"I like the way he runs in, he's got that aggression and pace.
"It was good to watch him bowl last night. It was the first time I'd seen him bowl live and I think he will gain a lot of experience from that game last night.
"Someone who has got serious raw pace and can swing the ball away is destined to get a lot of wickets."
Jordan, in just his second ODI, was unlucky to remove only one Australian after he caused the home batsmen the most problems, especially early, with his speed and movement.
He created plenty of chances with Gary Ballance crucially grassing an opportunity he got two hands to, when centurion Aaron Finch was on eight, while Jordan saw others go begging.
That was perhaps symptomatic of England's flagging fortunes on this tour, but the emergence of players such as Jordan - with the World Cup in Australia and New Zealand in a year's time - could provide the first sighters of the "new era" that has been spoken of post Ashes whitewash.
"He was very unlucky, he could have had three or four wickets early on," Lee added.
"I guess when your luck is down and you are not winning that is generally what happens - it tends to get worse and worse as the tour goes on."
Lee will get the chance to see Jordan first hand on Tuesday when he captains a Prime Minister's XI against England in Canberra.
The match looms as an obvious chance for England to end their winless run since landing in Australia, although temperatures in excess of 100 degrees Fahrenheit await.
Barbados-born Jordan is not fussed about that prospect as he looks to further establish himself for the country he moved to on a cricket scholarship in his late teens.
Indeed, the right-armer showed an unflappable nature - casually revealing his friendship with pop superstar Rihanna that dates back to his school days - in amongst conveying his desire to push for a place at next year's World Cup.
"When I go back to Barbados we see each other and stuff," Jordan said of Rihanna, who was his classmate in Barbados.
"(She's) a very good girl. I like her music very much."
While it is unlikely he will gain the global notoriety of Rihanna, who has sold millions of record around the world, Jordan hopes he has the X-factor to make his own mark on cricket's international stage.
Certainly in the environment of a World Cup on Antipodean soil, Jordan could provide the express option England may be more inclined to nurture following the devastation Mitchell Johnson enacted during the Ashes.
Asked if he thought the door was open for him, Jordan said: "Yes, I would like to think so.
"A lot of opportunities are presenting themselves at the moment and the guys who take them will find themselves on the team sheet so hopefully I am one of them.
"At the moment I just want to take each game as it comes, stay grounded and see where it goes at the end of the series."
While Jordan knows his speed has shone the spotlight on him, he is determined not to over-extend himself in the search of a few extra miles on the speed gun.
"It (pace) comes naturally and I guess the conscious decision was to stay natural even at this level," he said.
"I am pretty happy with the way I have started and hope it can continue."
---
New Sky Bet customers: Free matched bet up to £30
---