England must stick with KP
Our cricket writer Dave Tickner believes that beleagured England must stick with star batsman Kevin Pietersen.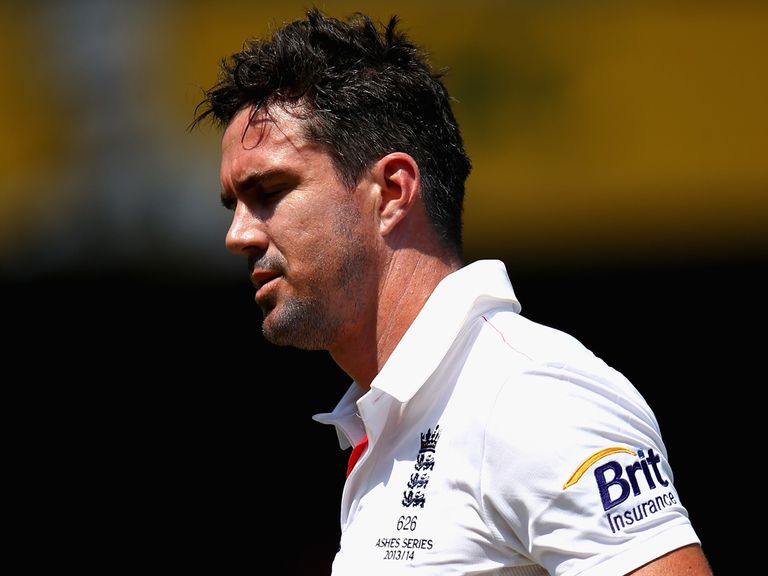 The fallout from England's disastrous Ashes tour was never going to be pretty. It was always unlikely to be dignified. Maybe we shouldn't even be surprised it has descended so rapidly into a farce more properly associated with the school playground than elite sport.
There was always a concern that the need for a scapegoat - it is unthinkable that England can just carry on, such was the scale and totality of their annihilation in Australia - would ultimately see the wrong victim identified and a bad situation made even worse.
And so it appears to be. As the main protagonists in England's defeat scramble to keep their jobs, the spotlight has settled - as it so often does - on Kevin Pietersen. The easiest target, at least in part due to his own failings, but the wrong one.
Amid claim and counter-claim, allegation and denial it is hard to know for sure what exactly has taken place. One thing that is certain is that Pietersen's England career is in the most dire jeopardy since 2012's Textgate Scandal.
After a series that has lurched from one disaster to the next, this would arguably be the biggest calamity of all. To recklessly discard Pietersen now is to damage England's chances of success for the next two years and possibly beyond.
Andy Flower denies issuing a "him or me" ultimatum over Pietersen, and it's to be hoped this is correct. Because for a coach to be issuing such a demand about the team's best player - and Pietersen assuredly is that - after overseeing a 5-0 defeat points to a staggering sense of delusion and entitlement.
This may be due to in no small part to David Collier's staggering decision to publicly back both Flower and Alastair Cook before the final grisly chapter of the Ashes series had even reached its predictably horrific conclusion. Any requests Flower makes right now should be coming from a position of almost laughable weakness; instead, it seems, he feels emboldened and empowered to steer his own course, a course that now appears doomed, more determinedly than ever.
Flower has been a superb coach for England. Like Duncan Fletcher before him, he was the right man at the right time, whose achievements should not be forgotten in the wake of an Ashes whitewash. But, again like Fletcher before him, it appears increasingly likely that such a defeat marks the end of his journey with the team.
It is hard for those of us outside the dressing-room bubble to judge these matters. Pietersen is almost certainly not the easiest person to work with; it may just be that he has become impossible for anyone to work with. But this seems vanishingly unlikely.
Pietersen has fallen out with dressing rooms before, but he has been enormously successful for England under four different captains. The 10 years of Pietersen's England career have been among the most successful in the country's history. He has scored over 8,000 Test runs. He is a four-time Ashes winner, a World T20 champion (and player of the tournament) and a driving force behind the team's ascent - however brief - to the top of the ICC rankings in all three formats.
Pietersen remains England's best and most exciting batsman. Despite being nowhere near peak form he was the team's leading run-scorer in Australia. But for his century at Old Trafford, England would have lost that Test and found themselves under pressure and facing a reinvigorated Australia in the last two games of that series with the Ashes still on the line. And we've seen what a reinvigorated Australia side is capable of.
The only one of five Tests where England competed at all in Australia was the fourth Test in Melbourne, and that challenge was built on Pietersen's runs. He looked imperious in both innings there before being left with the tail.
Even when Pietersen is not at his best, England are a better side for his presence. His potential to change a game and a series with one session of brilliance preys on opposition minds. It is an influence even if it doesn't come to pass. He is the one England batsman opponents around the world fear as well as respect.
Far from being jettisoned, he should be handed more responsibility in taking a new side forward. He was widely praised for the assistance he offered to inexperienced players in a new-look one-day squad last summer, while Nick Compton has spoken of the help and advice KP offered at the start of his Test career. Better surely to have KP repeating the Oval celebrations from inside the tent.
Cook's first and still best act as England Test captain was getting Kevin Pietersen back into the side. Cook's stand led directly to a Test series victory in India, as tough an assignment as exists for England cricket teams. He must fight again to retain the most valuable weapon at his disposal.
England face a period of inevitable flux. It is an uncertain time. They have lost one irreplaceable star of their recent successes in Graeme Swann. Another, Jonathan Trott, will not return soon and may never do so. To casually discard a third, who still has much to offer and remains committed to playing until 2015, amounts to a dereliction of duty. If, as seems certain, it is a case of Flower or Pietersen, there can be only one choice.
---
New Sky Bet customers: Free matched bet up to £30
---