Sydney Five-fer: Day One
Dave Tickner picks out the key points from day one of the fifth Ashes Test match at the SCG.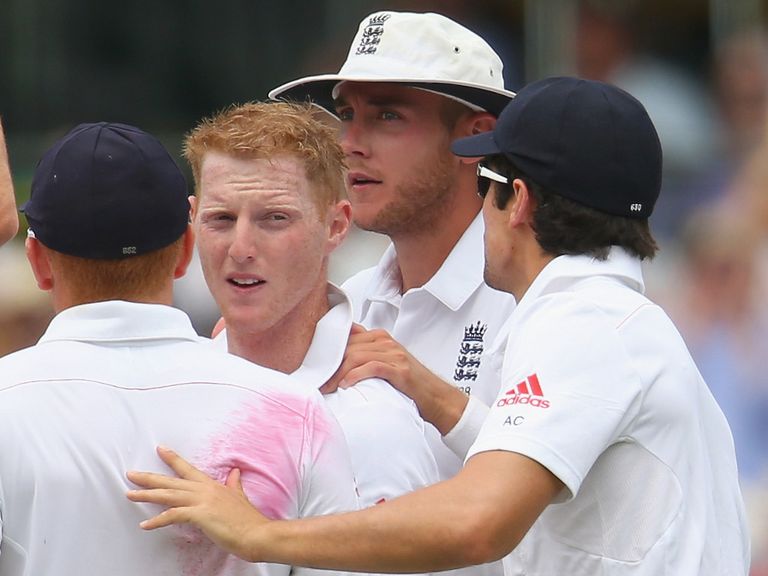 1. Muddle
A day that started with England selecting a number-three batsman as a frontline bowler and ended with a frontline bowler batting at number three.
On a tour that has at times seemed little more than a series of bad England decisions punctuated by Mitchell Johnson's moustache, Brad Haddin's top edge and David Warner's second-innings runs, the tourists finally scaled Mount Idiocy by picking a team for the final Test of the series that defied logic and reason. It was tantamount to a dereliction of duty.
England's decision to blood three debutants here drew superficial comparisons with their final-Test experiment in the summer at The Oval.
In truth, there is no comparison. While England's decision to select two spinners for that Test proved an error, it was a reasonable one to take. Having decided to do so, and with Monty Panesar on the naughty step, turning to a spin bowler who ended the season with 57 County Championship wickets at 21 was reasonable. In came Simon Kerrigan.
Two spinners, though, the selectors reasoned, presented too great a risk to be carried by just two seamers. With Jonny Bairstow struggling for runs in any case, a bowling option was sought at number six. The man averaging 58 with the bat and 23 with the ball in the top flight of the Championship looked the ideal kind of chap. In came Chris Woakes.
The plan failed, although Michael Clarke's attempt to prove some kind of point almost handed England a victory, but the reasoning behind both picks was sound. They were reasonable next-in-line picks for the identified roles. There was clarity.
There was, perhaps above all, the need to start planning for a post-Swann age that was clearly growing nearer then and is now upon us.
Today's selection of Scott Borthwick, Durham's number three batsman and occasional leg-spinner, as a sole frontline spinner was a gamble too far. It was nothing more than a punt, a desperate dart thrown in the dark. Picking a bowler who is not yet ready, may never be, to mask the ongoing deficiencies of the top six. It's a rotten, reckless selection.
His seven full-toss-laden overs of tentative legspin brought him the wicket of Mitchell Johnson, caught in the deep slogging, for a cost of 49 runs. Compare with Kerrigan's eight overs for 53 at The Oval.
His dismissal of Johnson saw Borthwick's Test bowling average briefly sit at 25, a fraction of a run below the great Shane Warne's. Steve Smith restored statistical order by blasting six and four in Borthwick's next over to reach his century.
Smith, the former legspinner turned top-six batsman and partnership-breaking occasional spinner, is pertinent here. Borthwick's career looks far likelier to follow Smith's career path than Warne's. The overwhelming likelihood, though, is that it will follow neither.
And it doesn't end there. While people bickered over whether Michael Carberry or Joe Root should make way for Gary Ballance, few stopped to consider the possibility that neither man should make way. The demand for change was understandable given England's batting woes throughout this series, but making change for its own sake is of a poor solution to any problem. Time will tell here, but, while neither Carberry nor Root has dazzled in this series, neither has been conspicuously worse than any other of England's batting miscreants. It seems doubtful that Ballance, with no cricket for a month will fare notably better.
And if a change is to be made, favouring the older man, Carberry, seems counter-intuitive. Only he will know if the debate over a muddled selection added to the pressure he felt before departing for a duck late on the opening day.
The third debutant, Boyd Rankin, whose fitness has been a concern throughout the tour, bowled eight nondescript overs before twice aborting after one ball of an over due to a hamstring problem that later turned out to be cramp.
2. Action replay
But the more England changed, the more things stayed the same. This was not the first time Australia's first innings has followed a familiar path. It's not even the first time that people have observed that Australia's first innings has followed a familiar path.
You know the drill by now: loose driving from Warner, an unexpected misjudgement from a watchful Rogers, Clarke falling on the wrong side of his 100 or nothing campaign, George Bailey nicking off.
And just to increase the sense of deja vu, the return of an old favourite as Shane Watson's Big Front Pad made its first triumphant appearance of the campaign.
For today's 97/5 see Brisbane's 100/5, Perth's 143/5 and Melbourne's 112/5. For today's 326, see 295, 385 and 204.
Brad Haddin, for the fifth time in the series, arrived in the middle with Australia in a spot - even Adelaide's 257/5 was not a position of total security. For the fifth time in the series, he wriggled off the hook and walked off with a game-changing fifty-plus score. The other four have contributed hugely to victories; this one is odds-on to join it.
He's had a remarkable series. He dominated the momentum-grabbing sixth-wicket stand with Steve Smith, counter-punching his way out of trouble with relish and skill that makes a mockery of the retirement talk that circulated ahead of the game.
He was perhaps fed more rubbish today than on previous occasions, with all England's quicks guilty of bowling too short on a surface consistently assisting a traditional good length. But it was perhaps also the best Haddin has batted in a series that has brought him 465 runs. There has been good fortune in previous efforts, but there were few of today's 75 runs scored other than as intended before a healthy nick off Ben Stokes found Alastair Cook at first slip. In terms of impact and importance, he rivals Mitchell Johnson for man of the series honours.
3. Stevie Wonder
As in Perth, Haddin's partner in rebuilding the innings was Steve Smith. It is time surely for the last of his doubters to start taking him seriously as a Test batsman after his third century in six Tests.
He is a curious batsman, with even defensive shots played with a flourish that highlights a key part of his appeal and what makes him so watchable. His batting is not conventionally pretty but is nonetheless curiously attractive nevertheless. This is particularly true of his pulls and drives, shots that England were also clearly keen to see more of today. The feet and hands seem to go in unusual directions at unexpected times, but the end result is nearly always pleasingly effective.
His average is clambering up towards 40 now - it currently stands a click above Shane Watson's and Chris Rogers' - and if he can continue that upward curve in South Africa his transformation from figure of fun is complete.
4. Stoke fires
Another familiar sight in this looping nightmare of a series has been Ben Stokes giving England fans something to cling to among the horror.
While generally impressing everyone with his attitude and aptitude, Stokes has now added a five-wicket haul to a century inside his first four Tests. If he plays a hundred Tests, it's hard to think he'll play four tougher ones.
It's all too easy to get carried away by an impressive display among several really terrible ones, to grab on to it as a sign that one day things will be better. But however hard one tries, it's becoming increasingly tricky to stay grounded about Stokes.
He is nowhere near the finished article with either bat or ball, but after the glorious strokeplay of Perth came some top-class wicket-taking deliveries here as he ended with figures of 19.5-1-99-6. Sometimes bowling figures can mislead; these tell the tale rather neatly. There were a great many loose deliveries sent to the boundary boards. But among them were some beauties. He accounted for Michael Clarke for the third time in the series and despite three late wickets in his haul ended up with four of Australia's top seven among his haul.
Perhaps most impressive of all was the way Stokes, so early in his career, stepped up to take on the added workload required by Borthwick's struggles and Rankin's injury. On days like this, the fifth bowler is more necessity than luxury and he played his part.
And most excitingly of all, his batting average (33.33) is now higher than his bowling average (33.07) propelling him, as we all know, into the Genuine All-Rounder class.
5. Hundred up
A final statistical landmark of the day, and one it was impossible not to enjoy: even as England's selection policy finally descended into outright names-from-a-hat chaos, their captain Alastair Cook was becoming only the fourth man in history to play 100 successive Test matches.
---
New Sky Bet customers: Free £30 matched bet
---