Melbourne Five-fer: Day Four
Dave Tickner picks out the key points from day four of the fourth Ashes Test at the MCG.
The Ashes. Click here to bet.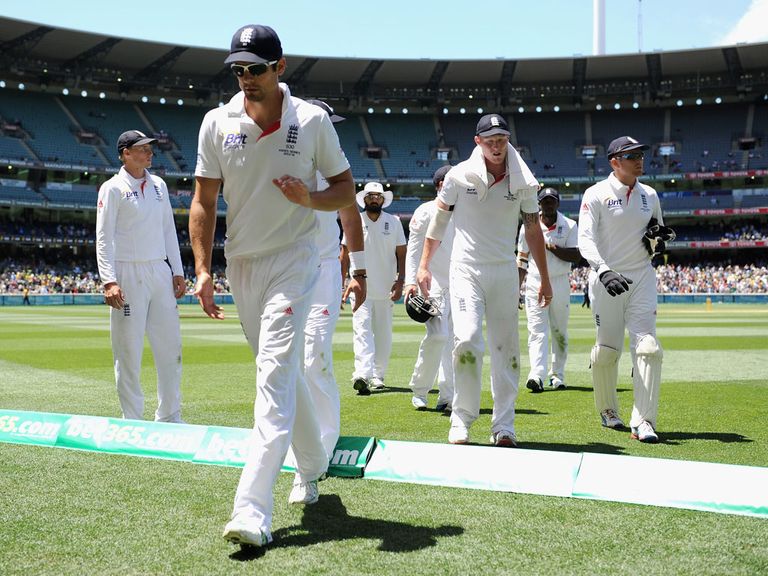 1. Low
This eight-wicket defeat may, statistically speaking, sit quite favourably against the vast run-margin defeats England suffered in the first three games depending on how you weigh up the relative value of cricket's two core commodities.
This was also a match that could have no influence on the series result. It was also the match in which England stayed competitive for longest.
But it is that last point that makes this defeat stand out as the worst of England's miserable tour. In the first three Tests, Australia played truly awesome cricket. England were poor, yes, but lost to a side playing outrageously well.
In this Test, with the Ashes safely in the bag, Australia were nowhere near those lofty standards for the first two-and-a-half days. Their captain, flushed with understandable confidence in his firing-on-all-cylinders attack, even made the wrong decision at the toss. Halfway through the Test match, England were more than 100 runs to the good in the third innings with all 10 wickets in hand. Barely a day later, they'd lost by eight wickets.
While it's harsh to be too critical of the bowling given the horror-show that has been the batting, they cannot escape criticism today; 231 may not have been the target they wished to be defending, but it was one that could have been made harder for the hosts.
Then of course, there's the fielding and - worst of all - catching. It's often said that a side's fielding is a window on their state of mind and a barometer of performance in general. It's a bit glib, a bit pop psychology and, on today's evidence, powerfully true.
Jonny Bairstow missed two chances, one of which he did not even go for. Alastair Cook dropped a sitter at first slip; it was hard to escape the cliched assessment that it was the result of a mind elsewhere.
Statistics rarely tell the whole story and can often be downright misleading. Here, though, they damn England and it's hard to argue. Quite apart from The Only Statistic That Matters, which is now on a seemingly inexorable path to 5-0, England also have no batsman averaging 40 in the series, and only one bowler averaging below 30.
Such widespread under-performance across a whole squad is simply staggering. That in the last two days it has been coupled with an almost total lack of fight is unacceptable.
This marks a low point not only of this tour, but of Andy Flower's England reign.
2. Captain Cook
While calls for Cook's head after four defeats here are a desperately premature jerk of the knee - there is no point pretending this was anything other than a disastrous day for the England skipper.
Aside from dropped catches, there were muddled, incoherent plans, bafflingly negative fields and poor decisions at every turn.
England were unable to 'bowl dry' as they had in the first innings and had nowhere else to go. Joe Root, who has 16 first-class wickets, was into the attack before Monty Panesar, who has 167 Test wickets, simply because there were two left-handers at the crease. It was muddled thinking. Root is a useful fill-in bowler, but if Cook truly feels he was more likely to dismiss left-handers than Panesar just because he's on off-spinner, then Panesar is in trouble.
One note, though. Cook's decision not to pack the slip cordon was correct - how many catches have been taken at third slip in this Test, and how many in front of the wicket? There is a tendency in cricket to value appearing to do the right thing over actually doing the right thing. It is a criticism that can be levelled at much of Clarke's 'funky' captaincy and field placing. Too often in England there were moves that appeared faux-aggressive, culminating in the near-backfire of the final-day declaration at The Oval. Funnily enough, he's made no such moves in this series when there has been less need to prove himself or a point.
But back to England. Their plans today were wrong. They were muddled. They used the wrong bowlers at the wrong times and were utterly unable to keep a lid on Australia's scoring. Cook got much wrong; putting another couple of slips in would not have righted a single one.
3. Jolly Rogers
Scandalously overlooked for man of the match, Chris Rogers was the star of the show on his home ground. Having grafted for 61 in the first innings as the rest of the top six faltered around him, he played with real fluency in the second innings to ensure a mid-range target never became ticklish.
His ability to play at two different tempos as the match situation demanded should not go unnoticed. He played beautifully.
His late-cutting brought him huge success today. It may not have matched Ian Bell's summer work for elegance, but it certainly had its effectiveness.
Match-winning centuries in the fourth innings of Test matches are rare; Rogers now has the same number of them as Sachin Tendulkar. It was assisted by England's generosity but the 36-year-old opener can rarely have batted better.
On a ground he knows so well, Rogers showed why he's scored so many runs here and, indeed, why he is so prolific in England. These conditions were not dissimilar to those in which he has starred for Derbyshire and Middlesex.
A match-winning century in a Boxing Day Ashes Test at the MCG. A career high for a worthy and likable cricketer relishing and grasping his unexpected second chance at the highest level.
4. Keep up
Jonny Bairstow had a bad day. It's hard not to feel some sympathy for him.
Having seen his development hampered, unwittingly but undeniably, by spending vast swathes of time not playing cricket on England duty, it's hard to escape the fact he's been sold a dummy by the selectors here.
He should not have been selected for this tour. Even less as back-up keeper. He should have spent this winter working on his glovework and the technical flaws that currently stymie his promising batting.
England, though, gambled on Matt Prior a) not getting injured and b) rediscovering his form. They just about got away with gamble a) before the Brisbane Test. Gamble b) failed.
Bairstow, then, was named in the squad as an unsatisfactory fudge. A quasi-back-up keeper. A sort-of reserve batsman. One man to half-fill two roles, neither of them satisfactorily.
Prior's continued collapsing form left England stuck. They felt, probably correctly, that Prior needed time out of the side - "out of the firing line" as Cook put it ahead of this Test - but had through their own short-sightedness only an inadequate replacement to call on.
Leaving Prior out for these last two Tests makes it easier to pick him next summer than having him struggle through the last two Tests shorn of form and confidence.
It is known that no player improves like one outside the side, and the Sri Lanka series is some way off. We are guilty of seeing only the flaws of the players in front of us, and remembering only the strengths of those who are absent.
It is hard to shake the notion that Bairstow has been sacrificed in these two games, at potentially damaging long-term cost to a promising career. In brutal profit-loss terms, it may prove worth it for England if the 31-year-old Prior is able to pull out of what was starting to appear a career-threatening tailspin. We've seen in this series what a motivated 36-year-old wicketkeeper can do and Prior is making all the right noises about getting back to his very best. Certainly, he is too young and has been too good to be written off. But it all seems desperately harsh on Jonny.
5. Home and Away
And so ends 2013, a year that has shown the best and worst of these two teams. Australia have won all their home Tests and none away. England have won five and drawn two of seven home Tests. And won none away.
Australia have the admittedly daunting chance to put their away-day blues to bed against South Africa next year. The Proteas for all their recent success have, strangely, often appeared more vulnerable at home than on their travels and will be entering the uncertainty of the post-Kallis era.
It is a chance for Australia to show how much of this now likely whitewash is down to their own excellence and not just England's capitulation.
For England, there will be post-Sydney rebuilding and change both in the team and backroom staff before looking for home comforts against Sri Lanka and an India side that looks far more likely to compete than the 2011 rabble.
---
New Sky Bet customers: Free £30 matched bet
---