Melbourne Five-fer: Day Two
Dave Tickner picks out the key points from day two of the fourth Ashes Test match at the MCG.
The Ashes. Click here to bet.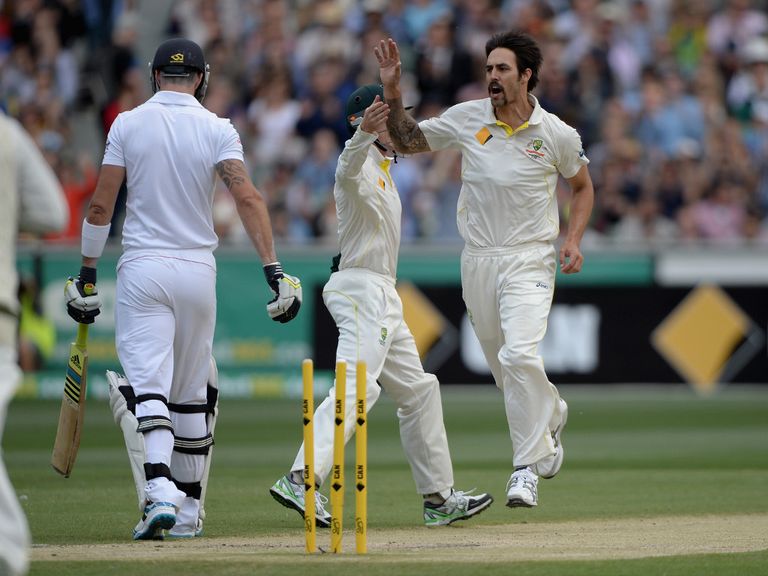 1. Dry
It was like the return of a long-lost friend for England today as the strategy that took them to the top of the Test pile was once again deployed to put them in control of this game. For the first time in the series they were able to dry up the runs as well as pick up wickets, and it will take Brad Haddin's most dramatic intervention yet tomorrow morning to prevent Australia ceding a substantial first-innings advantage.
England may have mastered the strategy of Bowling Dry during their peak years, but it's a plan Australia have adopted to superb effect throughout this series as a back-up to the all-out pace and aggression of Mitchell Johnson, who once again performed his customary trick of obliterating the tourists' lower order.
The Aussies have scored a run an over quicker than England throughout their series. Today they managed just 2.23 an over as a sequence of batsmen played the sort of ill-judged shots that happen when run-scoring suddenly becomes difficult. It was the Australians' turn to become first becalmed, then frustrated and finally dismissed.
As with Australia's success, England's was built on a gang of bowlers rather than individuals.
The four quicks all got wickets. They, along with Monty Panesar, ensured the pressure was not released even when Haddin was counter-attacking with the casual easy freedom of a man entirely at ease with his game and his form.
2. KP
Ah, Kevin. Kevin, Kevin, Kevin. Kevin Pietersen. His dismissal today was almost art. Having been criticised for batting recklessly, then criticised for batting too slowly, today he got out to one of the most ludicrous slogs Test cricket has ever seen.
Clearly, the shot cannot be defended. It was a low-percentage option against the last bowler you should be trying to second-guess.
But the intent at least was sound. It seems bizarre to criticise Pietersen when the other batsmen had left him with only the tail for company, a tail that has been blown away in every England innings to date. Expecting Stuart Broad to last more than 10 balls at the moment is beyond optimistic and there were two number 11s to follow.
Pietersen took a decision: that the tail could not be relied upon to stay around for any length of time. He then took a gamble: that Johnson would continue to bowl short and set himself up accordingly.
The intent and reasoning behind the first part of the plan was sound. The second, not so much. A better plan surely would have been to take as much of the three further overs Johnson would bowl in the spell and play these sensibly, while trusting Broad and the 11s to cope with whatever came their way at the other end.
Pietersen could still have had aggressive intent against Johnson, who even at his absolute best is a bowler who will offer scoring opportunities without the need for the batsman to innovate or, worse, premeditate. Premeditation would have been easier to justify against the more consistent, predictable lines and lengths of Harris, Siddle or Watson.
It's not a perfect plan. It comes with no guarantee of success. But it would surely have had a greater chance than the path Pietersen chose.
But any criticism has to be on these terms. Criticise the plan, but acknowledge its existence and suggest an alternative. Play the ball, not the man.
And above all, don't lose sight of the fact that Pietersen's hard-earned 71 runs still count however displeasing his mode of dismissal. They are runs that looked important at the time and have only grown more so given what has transpired since.
3. Leaves
Viewed in isolation, this Test match has featured some truly bizarre dismissals, with a string of batsmen dismissed attempting extravagant attacking shots and, among that mess, three dismissed attempting no stroke at all. Michael Carberry's day-one error against Shane Watson was joined today by similar misjudgements from a pair of peas in a batting pod: Monty Panesar and Michael Clarke. Both were staggering decisions, with Panesar apparently so confident Lyon would spin the ball a foot that he didn't even feel it necessary to put his pad anywhere near the line of the ball, and Clarke shouldering arms to a gentle in-ducker from Anderson, the movement of which meant the ball thudded into the off stump rather than merely clipping it.
At least KP was trying to smash the thing.
4. Take five
England's biggest problem with the bat may have been their bottom five's inability to see off even a dozen overs, but across both sides the top order have had poor series. Especially in the first innings when the match is there to be shaped. The fifth wicket has fallen in the first innings during this series at 112, 202, 190, 143, 117, 257, 87, 100. This was the third time in four Tests that Australia have been <150 for five. Haddin has masked Australia's top-five deficiency in this series every bit as effectively as Ian Bell did England's during the summer.
Across both top fives, only Clarke and David Warner are averaging over 40 in this series, with the combined average languishing in the mid 30s.
5. The Cordon
If this England side is, as seems inevitable, heading for significant regeneration then it could be seen in the slip cordon. Bairstow, Cook, Bell, Root is not a familiar sight for England fans. Alastair Cook has been at first slip only since Andrew Strauss retired, the other three are all new. None of England's four from the 2010/11 tour - Prior, Strauss, Swann, Collingwood - are in place.
And how did it go for the Next Generation? As a first day, it was hard to fault. Bairstow took three catches, one of them via DRS, two close lbw shouts were wisely not referred - a key part of Prior's job description in recent years - and Bell clung on to a sharp one at second slip as Steve Smith flashed hard outside off stump.
Bairstow was busy behind the stumps, but there were fumbles. It remains easier to accept that a clearly struggling Prior was dropped than the identity of his current replacement.
The Yorkshireman will surely keep the gloves in Sydney. But the identity of England's keeper for the first Test of next summer remains a tantalisingly open question.
---
New Sky Bet customers: Free £30 matched bet
---