Cook desperate to stop rot
Birthday boy Alastair Cook has a pressing Christmas wish, to stop Australia's bid for another Ashes whitewash, in the Boxing Day Test.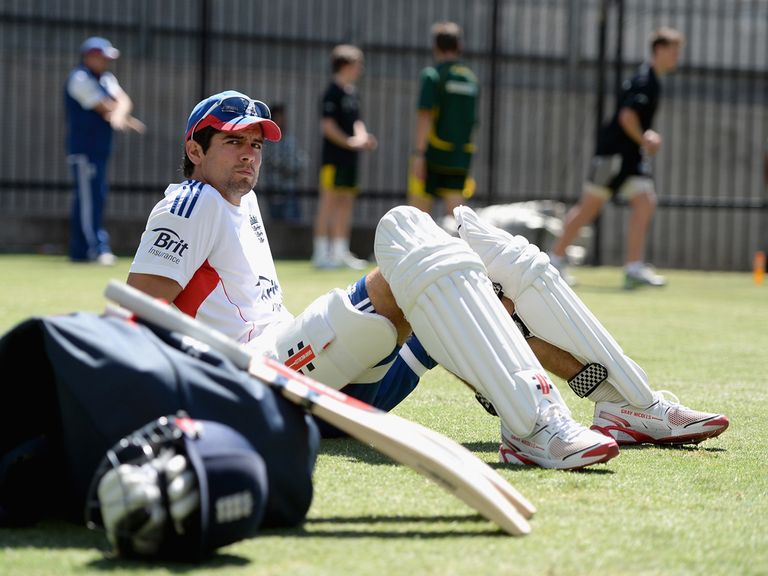 Captain Cook has played in two previous Melbourne Tests, in entirely contrasting circumstances - on the way to a 5-0 series defeat seven winters ago and then, in 2010/11, in the victory which helped to propel England to a first Ashes series success down under for almost a quarter of a century.
If he allowed himself to wonder, before the start of this tour, about his big-match preview press conference here on his 29th birthday, he might have envisaged a very different occasion to the reality.
England arrived in Australia with a fourth successive Ashes series victory on the agenda; instead, the urn is lost already on a trip which has unravelled with three landslide defeats and a stream of attendant setbacks.
So it was, on Christmas morning, that Cook found himself reiterating previous acknowledgments that his own captaincy is a work in progress, and fire-fighting the latest distractions emanating from Graeme Swann's surprise mid-tour retirement.
He spoke of self-belief coming from within, and of "matter closed" after Swann's reassurances that his remarks about arrogant cricketers were not meant for anyone in the current England team.
Uppermost in Cook's mind, though, is the urgent need to take a second whitewash in the space of three tours off the new year calendar.
"It's very important," he said. "You don't want to lose many games of cricket, and you certainly don't want to lose five in a row.
"We're desperate not to let that happen this time."
Little has gone right for England from the outset, but Cook knows it is only they who can turn the tide of events.
"We've been dealt some pretty bad cards on this tour, and we haven't played the cricket we're capable of.
"Obviously, when you lose games of cricket, your confidence does slip.
"But the way the guys have stuck together in the dressing room has been excellent.
"We're desperate to turn it round."
Cook is insistent that, as captain, he must take the major responsibility for England's performances.
"I think when you win games of cricket it papers over some of the cracks that have been developing lately - and when you lose, it hits you with stark reality exactly what you think needs to improve," he said.
"There is no hiding place - you can't hide behind the fact that you are winning.
"So I do believe this is a chance for me to really stamp my authority.
"Maybe by losing 3-0, I've really had to look into myself and see where I need to improve as captain."
England have been a distant second best so far in Brisbane, Adelaide and Perth.
"We know we're up against it, in terms of the last three results, but you've got to keep believing in yourselves," the skipper said.
"No-one else will keep believing in you if you're playing badly - it's got to come from us first."
It will have to come without Swann too, of course.
It is a moot point whether the off-spinner, a cornerstone of England's last three Ashes victories, would have been dropped here had he not chosen to retire instead.
Cook, diplomatically and predictably, was not about to settle that argument.
Instead, he said: "Graeme gave up a lot for that England shirt and he had no more to give.
"He could have just hung on for these two games... whether he had played or not would have been pretty irrelevant.
"To me, once a guy is in that situation, there was no point hanging around because he will only drag energy from the group - whether you want to or not."
It appears increasingly likely that another major player, Stuart Broad, will be fit after all for the fourth Test - having bowled without apparent discomfort at nets for the first time since being hit on the right foot by a Mitchell Johnson yorker at the WACA.
"We're a lot more hopeful than I was two days ago, watching him walk round the hotel," Cook said.
"The signs are good, a lot better... Fingers crossed."
Cook is optmistic too, in the long as well as immediate term, about Kevin Pietersen's contributions.
Pietersen has made a meagre 165 runs in three Tests.
But his captain said: "I think he has a huge part to play in the future.
"He's another guy I've talked to quite a bit over the last couple of days, and his hunger and determination to play a lot more for England and help England win games of cricket is as high as ever.
"I know... he's desperate to turn it round.
"He loves the big stage, and there's no bigger than a Boxing Day Test match."
Cook knows that much from his varied personal experience.
"I've played a couple of these games now - one where it started off as a full house and ended with just the English in here," he said.
"That was a great day.
"Another time, the noise with Shane Warne taking his 700th Test wicket was something I'd not heard before."
England will be well advised to brace themselves for more sound and fury - signifying plenty, for them - one way or another at the MCG.
---
New Sky Bet customers: Free £30 matched bet
---