Perth Five-fer: Day three
Dave Tickner picks out the key points from day three of the third Ashes Test at the WACA.
The Ashes. Click here to bet.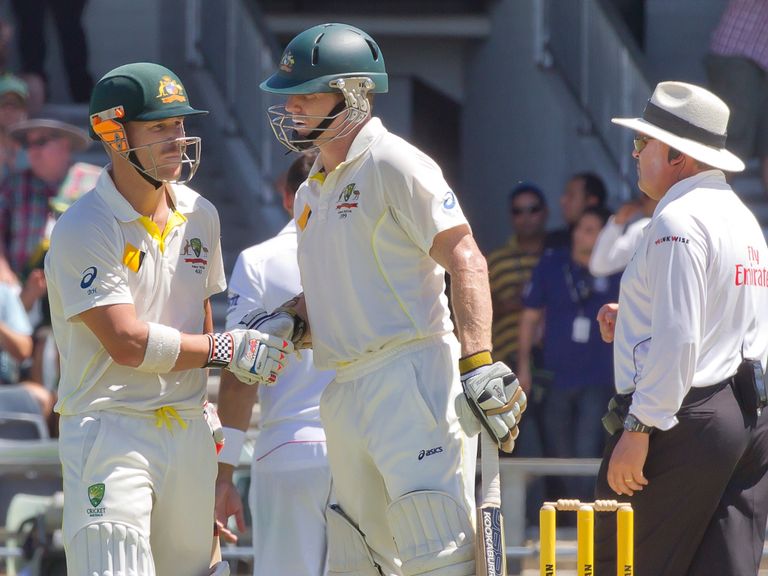 1. Wheels: off
It's debatable whether the wheels have ever truly been on England's Ashes 2013/14 wagon. But if they have, this was the day they finally and totally came right off. There are no wheels.
Today, England batted abysmally, bowled lethargically, fielded atrociously and lost a key player to injury. The Ashes have just about gone too.
In fairness, England's disaster-ridden tour has been threatening to go nuclear for some time now. Today was the day, the perfect storm, when everything came together to go spectacularly wrong.
After two days spent generally on the backfoot but with just enough punches landed to stay in the contest, England started day three with six wickets in hand and the new ball 12 overs away. By the time it was taken they'd lost both overnight batsmen and Matt Prior for good measure.
The new ball then accounted for Stuart Broad and his right foot as 190/4 became 251 all out.
England then took to the field and, albeit with Broad's absence a notable caveat, allowed Australia to disappear over the horizon with an opening stand of 157. Prior missed two stumpings and left Cook to drop a catch that should have been the keeper's.
England's day was horrific from Bell falling lbw to a chancer's review at the start of the day to Joe Root attempting to snare Shane Watson the same way despite the ball pitching six inches outside leg at the end. There was almost no respite, no crumb of comfort to cling to. In a series of low after low, at a venue of low after low, England managed to find new depths.
2. Credit
But it's too easy to make the sole narrative of this series England's woes without giving due credit to the magnificent cricket being played by Australia. It's almost impossible to know where the balance lies, how much is Australia being allowed to dominate or how much is England not being allowed to break free, but there is almost certainly more weight on the Australian excellence side than most English observers would believe.
They were laughed at in the English summer, by me as loudly as anyone, when it emerged that they were treating the series in England as a learning exercise to help them regain the urn later in the year.
It still seems a bizarre thing to say, but my word they learned. England don't appear to have picked up as much.
Australia, though, have clear plans for every England batsman, even if those batsmen do seem intent at times on making the plans even clearer by obligingly stumbling into most of the traps laid by Clarke and his team.
With all five of them performing as they are currently, Australia possess something close to the perfect bowling attack. Mitchell Johnson's raw pace. Ryan Harris' relentless aggression. Peter Siddle's probing and ability to remove Kevin Pietersen and Prior seemingly at will. Watson's maidens. Lyon's wily, under-rated offspin. It's a combination that has time and again proved too much for England.
For all the focus on Johnson, the bowling has been a real team effort. The batting on the face of it less so, but they have still had four different century-makers, while only Siddle and Lyon are yet to pass 50 with the bat in the series.
Again the batting is varied, with Warner's squashed-Hayden aggression, Rogers' calm accumulation, the easy class and grace of Clarke and Haddin's consistent ability to clean up any problems the top order may have left behind.
This is not a perfect Australia side, but it's pretty good and playing at a level and intensity that is hard to stay with. England have not simply handed the Ashes over; they have been ripped from the grasp.
3. What now?
Assuming, as seems powerfully likely, that England lose this Test and lose it heavily, there will be much wailing and demand for wholesale changes to the England team. They have been poor in this match and series. But I'm not sure dropping everyone and replacing them with players who are not as good will really solve anything.
4. Warner gain
Mitchell Johnson has been a fundamental difference between the summer and winter series, but he wasn't involved at all in England.
No the player who truly encapsulates the story of these two series, who best represents the turnaround in fortunes and, let's be honest, genuine unpleasantness and distaste the sides have for each other, it's David Warner.
He started the English series as a suspended, punchy outcast. He ended it a dreadfully unconvincing opener whose major contribution to the series was reviewing a catch after smashing the cover off it.
He was, like Australia, pretty much a laughing stock. He is now cock of the walk, the embodiment of Australia's bullying domination of this return series. He has now made 49, 124, 29, 83*, 60 and 112 in his six innings this series.
Today was made for him. A dominant scoreboard position. A weary, broken - literally and figuratively - opposition with little to gain.
He started his innings determined it seemed to give England a break. He was, briefly, the old Warner. Looking to hit everything a bit too hard. He could have fallen to a couple of inside edges. He should've been stumped by Prior on just 13.
But gradually he took control. The boundaries came, the technique tightened and the shots grew crisper.
He got involved in some chat with the England fielders. Of course he did. But there was little doubt who came out on top in those exchanges. From figure of fun to cock of the walk. Warner is in his element.
The next test for the left-hander is to make Test runs overseas. The struggles in England and success in Australia this year are merely continuations of his career to date.
His five Test tons have all come in Australia, where he averages 60. Away from the parched, parched grass of home, that number drops to 25. If he can bring those figures closer together - ideally be lifting the second figure rather than reducing the first - he will prove himself a Test opener of true quality.
5. Bell tolls
The lbw of Ian Bell in the third over of the day was an odd moment, one whereby one of the ICC's stranger and rightly criticised recent tinkerings with the rules actually helped produce a correct decision.
The current regulations that see teams have their reviews topped up to two after 80 overs make absolutely no sense. They have created a gamble window where the previously precious DRS reviews suddenly become almost worthless.
When Ryan Harris struck Bell's pad most people thought it would go over the top. Certainly few could argue with Marais Erasmus' decision to say not out. The ball was good length from Harris, surely it had to be going over the top? Australia certainly didn't appear aggrieved at the decision but Clarke decided he might as well have a look.
From the first replay, it was clear Bell was in trouble. The ball had kept a fraction low - almost no other ball on that length from Harris was going on to hit the stumps - and had hit him on the knee-roll, not up around the thigh as full speed pictures seemed to suggest. Sure enough, Virtual Eye had the ball hitting below the bails and Bell was gone. A side-on replay would later confirm the ball was most certainly not going over the top.
If DRS is, as it should be, about increasing the number of correct decisions and not just eliminating the rare "howler", then this was the system at its best. Erasmus' decision may have been understandable, but it was still wrong. That this wrong decision was corrected is a Good Thing.
But that it was corrected because of an odd rule about the topping up of reviews still feels odd somehow, and perhaps shows that DRS remains an imperfect system, one still in the infancy of its evolution, that is nonetheless being trialled and tested at the very highest level of the game.
---
New Sky Bet customers: Free £30 matched bet
---