Adelaide Five-fer: Day five
Dave Tickner picks out the key points from day five of the second Ashes Test at the Adelaide Oval.
The Ashes. Click here to bet.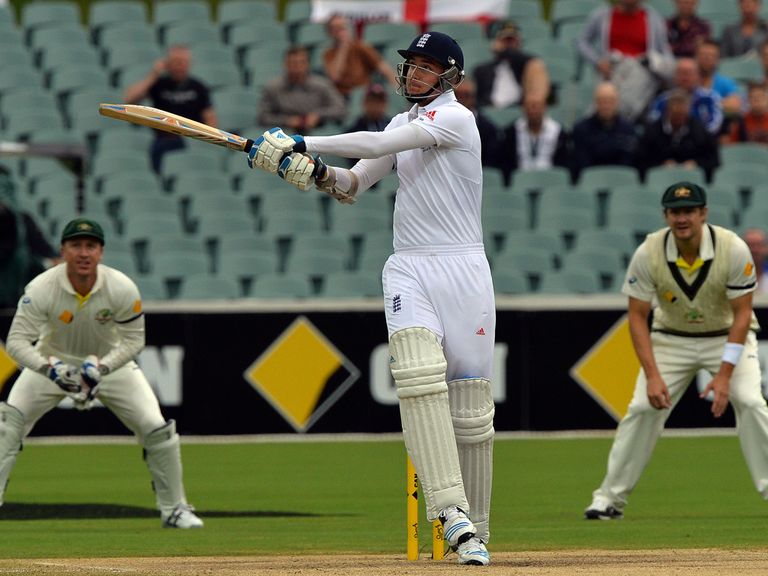 1. Brief encounter
Once the rain proved as uninspiring and as fleeting as an England innings, there was only ever one result possible today. The England tail at least ensured a quick kill, allowing weary supporters to get to bed at the vaguely civilised hour of 1.20am. Far better, far less painful, than the drawn-out, interminable agony of the Test That We Don't Mention.
England also took care to sap Mitchell Johnson's confidence by carefully getting out to other bowlers, a strategy they employed to devastating effect throughout the second innings after Cook had handed him the first wicket. Always thinking ahead.
2. Leg trap
Stuart Broad's first-innings dismissal was a fantastic, much-needed moment of comic relief and pantomime farce during the gripping, powerful yet draining theatre of Mitchell Johnson's match-winning spell.
His second-innings dismissal almost topped it. There was nothing like the tension of day three but following up a hoiked six off Peter Siddle with an attempted repeat the that merely picked out Nathan Lyon on the fence was powerful stuff.
Never have two dismissals been more predictable. He appears to have forgotten which side he's meant to be trolling; it would not be a surprise were at least one British tabloid to refuse to mention his name.
But while very funny, his wicket was another entry in perhaps the most damning statistic on this tour of England batting ignominy. It was the 20th - Matt Prior would later add the 21st - English wicket in this series to fall caught on the legside. Think of that. Over half the wickets England have lost in this series have been caught on the legside.
As they attempted the admittedly almost impossible task of batting two days to draw the game, half their top eight were caught hooking between deep square and long-leg and another at mid-on trying to smash a full-toss.
Not one of the 10 England wickets in the second innings fell to a ball that would have gone on to hit the stumps. Pietersen's bowled was high and wide until a crooked inside edge got involved.
Perhaps after their first-innings surrender England were too keen to show they did not fear the short ball and were prepared to take it on. If so, it's an understandable reaction, but misguided. There is no shame or cowardice in ducking and swaying, in bobbing and weaving, in riding the bounce and taking blows.
Show a bowler your aptitude against the short ball and he will swiftly learn he cannot easily dismiss you that way and change tack.
It is no coincidence that this was the approach taken by Joe Root, by far England's most adept batsman against the quick, short stuff in this Test.
3. Keep up
There was one crumb of comfort for England today. Meaningless in the match, but perhaps not the series and beyond, Matt Prior made his first 50 in 17 Test innings since a series-saving century in New Zealand.
There was never any real prospect of Prior losing his place in the team, with Jonny Bairstow the nominal back-up keeper in the squad, but uncomfortable questions were starting to be asked about both that squad selection and Prior's lengthening run of poor form. (Of those 17 innings, this was only the sixth to reach double figures.)
But here was the Prior England have come to depend on: pugnacious, aggressive, free-scoring. England will dearly hope this was a man counter-punching his way back into form and not a mere blip in a futile fourth-innings situation.
But it has, like Joe Root's efforts at number three on the fourth day, at least shortened the list of unpleasant questions that need addressing.
4. No balls
Australia's moment of victory was delayed by a few seconds that none of us can ever get back as the umpires, not for the first time in this match, checked for a no-ball. Sure enough, also not for the first time, the bowler had almost his whole foot behind the line.
Several, but by no means all, wickets in this match have been referred. One was indeed a no-ball. Most, however, have been obviously fine.
Checking several wickets and discovering that a great many were absolutely fine, while other wickets that were okay but close and not checked (I remember specifically Michael Carberry's first-innings dismissal coming into this category) suggests that umpires no longer - if they ever did - routinely, ball after ball, watch for no-balls live.
While there should be no sympathy for a bowler 'denied' a wicket by a no-ball, this umpiring policy does impact on the game. Had Ben Stokes, who had Brad Haddin caught behind off a no-ball, been overstepping before and just not been called because the umpire wasn't looking? Had the umpire looked earlier, and called a no-ball, is it not possible that Stokes would have corrected his error sooner rather than discovering it only because he was foolish enough to take a wicket?
The official line is that the umpires checked the no-balls because they could not see the front foot, but this creates only further confusion. In the simplest terms, a ball is no more special because it happens to take a wicket. And it is certainly no more of a no-ball. It may more significantly impact the game, but at the fundamental level it is just another delivery.
If an umpire can check the no-ball because he can't or didn't see the front foot land when there's a wicket, he should have to do it for all other deliveries when he can't or didn't see the front foot land. Wickets are not a special case.
This would obviously be ludicrous, but we spend enough time checking whether it should be three runs or four after a fielder makes a sliding save.
Is it time, then, to take the front foot no-ball completely out of the standing umpire's hands? To have the third or fourth umpire watching the fixed camera and buzzing a message down to his colleagues when a bowler oversteps? It's one option that would at least avoid the current fudge.
5. Changes
Surely not even Michael Clarke could be confident enough to name England's side for Perth. Even the balance is uncertain. Stokes again as fifth bowler? Six batsmen? The batting ballast of Tim Bresnan? The bounce of Rankin, Finn or Tremlett?
Australia, though, instantly named another unchanged squad, albeit with a couple of spare quicks on standby in Doug Bollinger and Nathan Coulter-Nile.
This, along with Mitchell Johnson (the 'uncommon denominator' as Gideon Haigh called him on Sky Sports), is the most significant change between these teams since the summer.
---
New Sky Bet customers: Free £30 matched bet
---