Adelaide Five-fer: Day three
Dave Tickner picks out the key points from day three of the second Ashes Test match at the Adelaide Oval.
The Ashes. Click here to bet.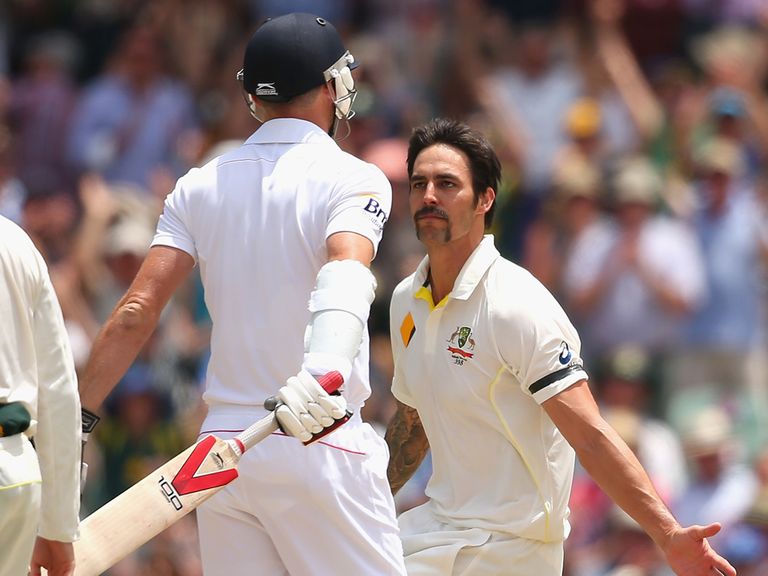 1. Magnificent seven
Stunning. Simply stunning. One of the finest spells of fast bowling for a generation.
After his match-winning performance in Brisbane, the only doubt against Mitchell Johnson was whether it was another brilliant outlier in a rollercoaster career or whether he could back up in Adelaide and match it or at least show it was no fluke.
He didn't match it. He bettered it.
His post-lunch spell topped even his best moments in Brisbane as its sheer terror-inducing, heart-racing brutality married with precision and control left England's lower middle-order a gibbering, terrified wreck. This was territory only Dale Steyn of current bowlers has reached with any kind of consistency.
Ben Stokes and Matt Prior, gone in a flash. Stuart Broad lasted slightly longer, but only thanks to some pantomime delaying tactics over some problem with the sightscreen followed by one of the more hilarious golden ducks the great game has served up. Graeme Swann and James Anderson also fell in successive deliveries as Mitch twice found himself on a hat-trick and England's re-found propensity for comical collapse scaled ever greater heights.
Johnson's send off to Anderson was superb, and an early frontrunner for the series' defining image. With the middle stump on the floor, Johnson simply stared as his vanquished foe walked past refusing to make eye contact. No words. No sledging. No need. It had all been said by the 93mph rocket that had just careered through inadequate defence. Get ready for a broken f***en stump.
Monty hung around gamely against the other bowlers, but once Johnson returned the end was swift. Seven for 40. Six for 16 between lunch and tea. England not just beaten but broken and humiliated.
He now has the positively Victorian series figures of 16 wickets for 143 runs. He is taking a wicket every 20 balls and terrifying a batsman far more often.
This is on course to be Mitch's Ashes. England won 3-0 in the summer and little else has changed. From the moment he walked to the crease at 132/6 on day one in Brisbane he has been utterly central to the astonishing, now surely decisive, shift in the balance of power.
2. Gifts
And yet. For all the excitement of Johnson's brutal, clinical demolition job, and the richly deserved plaudits bestowed on a player who could so easily have been finished as a Test cricketer, he didn't remove a frontline batsman today.
Joe Root slogged his first ball from Nathan Lyon to deep square-leg. Kevin Pietersen plonked Peter Siddle to midwicket to fall into a trap every bit as insultingly obvious. Michael Carberry, who had made an increasingly assured 60 before once again becoming becalmed, middle a pull shot off Shane Watson only to see David Warner come up with a ripper of a left-handed catch.
Root and Carberry had played Johnson well, both on the second evening and this morning. Ian Bell, too, would later play him with great assurance.
While Carberry's dismissal can be excused, those of Root and Pietersen cannot. Had they not so carelessly helped Australia on their way, things could've been so very different. England, unforgivably, have yet to force Johnson to show how his pace and body hold up to serious resistance. Today they had that chance. They blew it.
Root's is the more significant dismissal for England to ponder. He played Johnson and the other Aussie quicks with great composure and, unlike some colleagues later in the piece, looked up for the fight and willing to go toe to toe with the opposition.
But he had made only 15 runs from 79 balls when he attempted to tame the Lyon. His dismissal cannot be viewed in isolation, more as a result of desperation to grab what he saw as a rare chance to score some runs.
Root's error was less in shot choice than in execution, falling between a paddle sweep and the full-blooded slog that might, even with a poor contact, have got the ball over the man on the ropes. An even better choice would've been to aim more towards midwicket, where no fielder lurked. And it would probably not have done any real harm, after all that effort against the quicks, to at least take a cursory glance at the turn and bounce the bowler is getting.
Whichever way it's massaged, and however understandable the thought process behind it, it was a shocking error and one that, along with Pietersen's, prepared the stage for the Johnson Show.
3. Bell
Above is a sub-heading and, perhaps, an option for England. Root and Carberry have both shown the ability to counter Johnson, but both too easily get bogged down. This failing proved terminal to Nick Compton's England career.
In both first innings of this series, Carberry has played nicely before falling after a sustained period of non-scoring. Root we've covered.
Promoting Bell, who has always had a game suited to number three and now appears to have the temperament to go with it, would provide a more counter-attacking option. Someone to take the game back to Australia's bowlers who have been given little to think about thus far.
His 72 not out today was a superb effort. The defence was solid. The attacks were frequent, and calculated. He took on Lyon and won. He had a method to deal with Johnson, and got away a couple of uppercuts against the short ball to give him a high percentage scoring option. When Bell played his trademark cover-drives, it was possible - for just fleeting moments - to forget the score and imagine that everything, somehow, was going to be okay.
In many ways it was the most embarrassing aspect of England's day, showing up his team-mates' inadequacy every bit as much as Johnson did.
Bell's easy brilliance also further highlighted the quality of Johnson's display on a pitch still good for batting, and in that afternoon session the game took on the bizarre appearance of a crucial end-of-season third XI game where each side has craftily sneaked in their first-team pro.
Yet to survey the wreckage of England's batting and think that the problem is Bell not batting at three seems glib. Shuffling the batting order (again) looks like rearranging the deckchairs on the Titanic.
Is Bell making yet more runs at number five really a compelling case for moving him to three? Is weakening a middle-order that has just lost four wickets for single-figures for the third innings in a row really an ideal solution?
And would it make even the slightest bit of difference? Carberry and Bell made 132/1; the other nine managed 32/9. Unless Bell can bat at three and five, and six, four and two, then the other players are going to have to show more to make the batting order a serious factor.
4. Keep out
When Matt Prior was an injury doubt for the first Test, his possible absence was seen as a huge blow for England. A Test-and-a-half later, England's current player of the year's place looks in real jeopardy.
He has made nought, four and nought in three innings and his glovework has been poor. For all his previous superb work for England, his game right now has totally fallen apart as he struggles to even maintain the low base of a poor summer.
Prior will likely survive, his fine record and standing within the squad highlighted by the absence of a genuine back-up keeper in the squad. That faith right now looks like an error of judgement for England, who are faced with the unpalatable but very real prospect of considering the merits of Jonny Bairstow keeping wicket in Perth. What a tour this has been.
5. Follow on
A shocking day for England, but a bad one too for the humble follow on.
As New Zealand were denied victory in Dunedin by Darren Bravo and rain after putting the West Indies back in, and Michael Clarke declined to enforce it when the events of the previous two hours created the very real prospect of a three-day finish, its standing drops still further.
There were some grumblings about Clarke's refusal to enforce the follow-on here, but his decision makes perfect sense.
Johnson, Harris and co now get another night to rest up and recharge before the fourth-innings. While England's bowlers get yet more miles put in already weary legs. The Perth Test is only days away.
Australia have, in any case, earned the right to win this match anyway they choose and preserving and protecting his own bowlers while further exposing the opposition's seems as sound a route as any.
---
New Sky Bet customers: Claim free £5 bet every week
---