Voges backing for Johnson
Australia are confident Mitchell Johnson will continue responding to the jibes of English crowds by simply taking more wickets in the NatWest Series.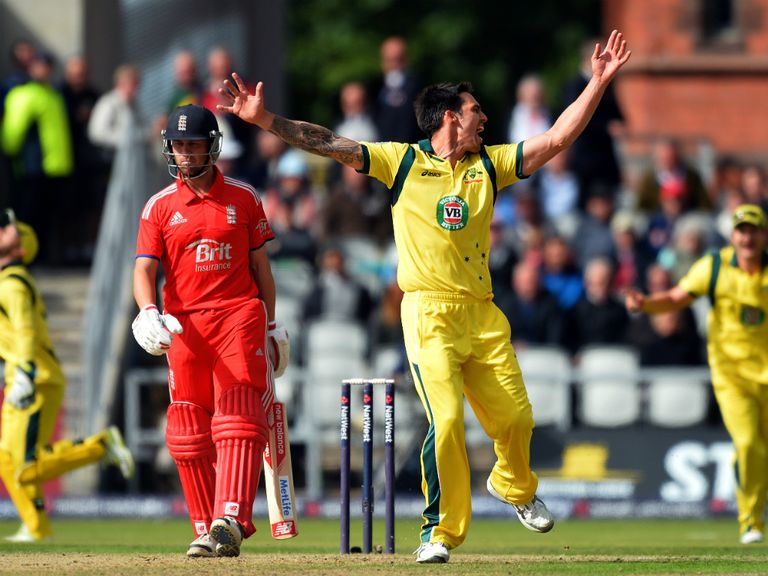 It was Australia's batsmen who set up their crushing victory over England at Emirates Old Trafford, giving the tourists a 1-0 lead with three to play - starting at Edgbaston on Wednesday.
But Johnson was no slouch either as he undermined England's reply to 315 for seven, with a 90mph-plus new-ball spell, and he could easily have been better rewarded than by figures of two for 36.
The brute of a delivery he produced to dismiss Jonathan Trott for a duck was a notable shot across England's boughs, and a far cry from some of the hapless displays which have interspersed the left-armer's career.
In Ashes series, although conspicuously not in Perth in 2010/11, Johnson has often under-performed - to the delight of Englishmen in the crowd, who have made it their business to lampoon him.
His team-mate Adam Voges nonetheless believes that these days, Johnson can feed off the mockery and turn the tables.
"The crowd don't miss him, do they?" he asked.
"Every opportunity they get, even when we were up in Scotland they didn't miss him up there either.
"But I actually think he relishes it."
The indications so far are certainly that Johnson, left out of Australia's Ashes squad this summer, is capable of making a major impact in the ongoing one-day international series.
"He's been outstanding," added Voges.
"When you're bowling 90mph-plus and swinging the ball, I think that's a challenge for any batsman - no matter who you are.
"If he can do that consistently throughout this series, then I hope that will go a long way towards us winning it."
Johnson's inconsistency is an enigma to many - including Voges, it seems.
"You'd have to ask him. But facing him in the nets and watching him over these last few games, his pace is right up," Voges said.
"He's bowling fast, swinging the ball and making life for England's top order tough work.
"I know there's been a lot of talk about Mitch possibly playing in the (Ashes) series (this winter). He's doing everything right at the moment."
However Johnson fares, Australia have a chance to prove a point against England - after their Ashes disappointment, and before the start of the rematch in November.
"It's obviously been a tough few months," said Voges.
"But we're very pleased after the way we played in Manchester the other day.
"We'll take a lot out of that, and it gives us the opportunity to take that into tomorrow and really apply some pressure on England in this series.
"There's no doubt that, in this one-day squad, we've got a real responsibility to try to win as many games as we can in this series. Any wins we can take back to Australia, for our home summer, will be really important."
---
Sky Bet Free Bet Club: £10 free bet - £5 free every week
---