England young guns target Ashes
England's clutch of young NatWest Series hopefuls have the opportunity to press their Test as well as one-day international claims in the next 10 days.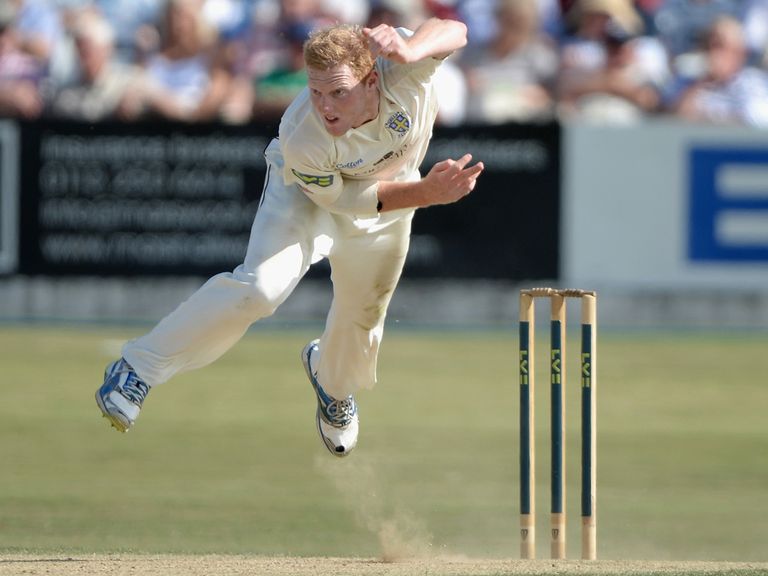 Bowling coach David Saker rightly points out a "huge difference" between the skills needed for limited-overs cricket and the pinnacle longer format.
Even so, his watching brief in four remaining one-day internationals against Australia - starting at Emirates Old Trafford on Sunday, after the washed-out opener in Leeds - will be undertaken with an eye too on the Ashes squad to be announced this month.
Prominent among those who could yet sneak a seat on the plane with the full Test party is Ben Stokes, a fast-maturing talent at the age of 22.
The Durham all-rounder already has 10 limited-overs caps to his name but appeared to do himself no favours last winter when he had to be sent home early from a Performance Programme tour down under because of errant off-the-field behaviour, reportedly a few too many late-night drinking sessions.
Those indiscretions appear to be behind him, and Saker acknowledges Stokes is an especially enticing prospect as a cricketer who may in time be able to bat in the top six in Tests and bowl plenty of overs too.
Genuine all-rounders are notoriously hard to find at the highest level. But Stokes appears to be in the frame for England - along with Chris Woakes, who took on the task in last month's drawn Ashes Test at the Kia Oval.
New Zealand-born Stokes is one of several of particular interest to Saker in the current squad - among whom teenage fast bowler Jamie Overton, uncapped Sussex all-rounder Chris Jordan and Irish seamer Boyd Rankin also fall under his remit.
"I'm sure everyone will be looking at these games a little bit with that (Test) squad in mind," he said.
"You can't always read a lot into white-ball cricket for red-ball cricket - but because there are some exciting players in our group, we're going to have a good look at them."
Stokes is an outstanding case in point, having just hit a century for title-chasing Durham against rivals Yorkshire at Scarborough and taken 37 county championship wickets too.
In his previous incarnation, he appeared to be thought of as a batsman who could bowl - but that skills balance has changed. "His bowling has improved - there is no doubt about that - and we are searching for players who can play that multi-task role," added Saker.
"The more all-rounders you can have in the group, that's great.
"If they can do one of the roles really well - ie for him, it's bowling - that's a huge bonus."
Stokes was not required to bat in England's victory over Ireland last week, when Eoin Morgan and Ravi Bopara shared an unbroken double-century stand, but his very presence bred confidence.
"In Ireland, with Stokes coming in at eight, even at 40 for four there still was enough power and class there to win us the game," said Saker.
Those skills could even be enough, in time, to balance the Test team. "You'd hope so. That's the ideal sort of cricketer we want," he added.
"It's a great scenario to have, that one of your top six batters can bowl.
"Chris Woakes showed signs he could probably play that role as well.
"With our (ODI) attack, we have two recognised seamers and Ben - and that means, whether it be in the powerplay or at the end, he is going to have to do it.
"It's a really tough ask now, with the limited fielders outside the circle - but he's good enough to do it."
There will be inevitable ups and downs, of course.
"No matter how good a bowler you are, you will have days when it's not easy - because you are up against world-class batters.
"But all our bowlers know they might have to play those roles. He can handle it."
As for Stokes' spot of bother last time in Australia, Saker at least is happy to wipe the slate clean.
"With us, he does all the right things.
"He's a good kid - he has that cheeky side to him, and that's really good to have in a changing room."
The learning curve is about to get steeper - a prospect Saker for one relishes with his new crop of rising stars.
"You can start coaching again, I suppose.
"With the Jimmys and Stuarts [Anderson and Broad], you've probably done all you can with them pretty much.
"So to get new guys is exciting - especially when they're bigger guys.
"It is about getting to know them for one, getting some trust that way, and then just passing on cricket knowledge more than techniques.
"I like to see how they think about the game, and get to know how they think they can get wickets, how they work out batsmen, how they talk about things ... find out what they are about."
---
Sky Bet Free Bet Club: £10 free bet - £5 free every week
---