Johnson vows to bounce back
Australia quick Mitchell Johnson has promised to put fear into English eyes as he aims to reclaim his Ashes spot this winter.
The Ashes 2013/14 Series Winner Series Winner: Australia 1/14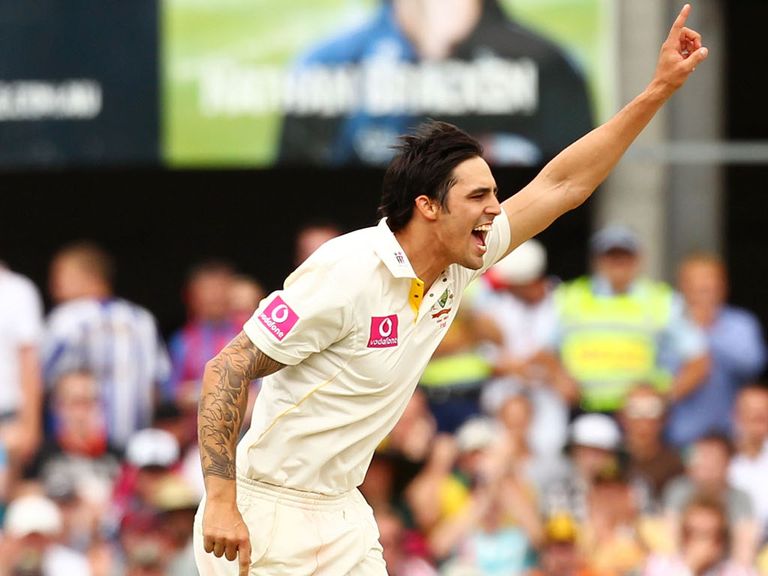 Johnson is regarded as a figure of fun amongst England fans for his past Ashes exploits and was overlooked for Australia's 3-0 defeat this summer.
The 31-year-old is, however, determined to force his way back into the reckoning for the return series Down Under.
Johnson has targeted the current limited-overs series against England as his chance to prove a point - to the Australia selectors and the English.
The left-armer began that process in Thursday night's 39-run win in the first NatWest Twenty20 international when he took two wickets and topped 93mph on the speed gun.
Afterwards Johnson warned he is ready to ruffle a few feathers in the upcoming matches against England - five one-day internationals follow Saturday's final Twenty20 - in order to get one last chance to win an Ashes for the first time in his 51-Test career.
"To be honest, I'd love to get back playing Test match cricket and get playing in the next Ashes series," he said.
"I'd love to win an Ashes, I haven't won an Ashes.
"I've felt like my bowling is exactly where I want it to be now. (I'm) bowling with good pace and when the conditions are right I can swing the ball. I can bowl that good short ball again.
"When I first started playing cricket one of the main reasons I wanted to play was to get out batsman - and to be able to hopefully put a bit of fear into their eyes.
"That's why I want to play. At the moment I'm really enjoying myself."
Former quick Brett Lee has called for Johnson's return - claiming Australia's well-regarded bowling unit lacks an enforcer of his pace.
Johnson has fallen down the pecking order in Australia's attack following the emergence of young bowlers such as James Pattinson and Mitchell Starc while a toe injury kept him sidelined for most of last year.
But Johnson, who has 205 Test wickets, believes he can still play his part in the Baggy Green.
"I think you look at all the past teams, there's always been that one bowler that can do that (aggressive role)," Johnson said.
"Brett Lee was one himself and we've had Shaun Tait, Brad Williams, Dennis Lillee, you can name a lot of guys that are intimidating fast bowlers.
"I think it definitely comes into it.
"I just want to go out there and do that kind of stuff. That's just how I bowl. Keep it simple but be aggressive."
Johnson has played just four Tests since the start of 2012 and in his absence this summer Australia's quicks impressed as they combined good planning with patience and skill.
The left-armer has been criticised for his wayward lines in the past, but his record at venues in Australia - especially Perth - and the recurring injury problems over Australia's bowlers ensure he remains in selectors' minds.
"It was a bit strange watching the first session of the first Test," he said.
"It was a little bit strange sitting on the couch. I enjoyed it as well, seeing it from a different point of view, but obviously would have loved to have been a part of it.
"I thought the bowlers did a pretty good job throughout the series. They obviously bowled a lot of overs and they stood up and just kept running in and doing a good job.
"It's nice to get over here now and see a few of their faces, to see the guys that are here now and hopefully the win on Thursday night will cheer them up a bit and we can continue our form going into the one-day series.
"At the moment my focus is the shorter form."
---
Sky Bet Free Bet Club: £10 free bet - £5 free every week
---