The Oval Five-fer: Day five
Dave Tickner picks out the key points from day five of the fifth Ashes Test at The Oval.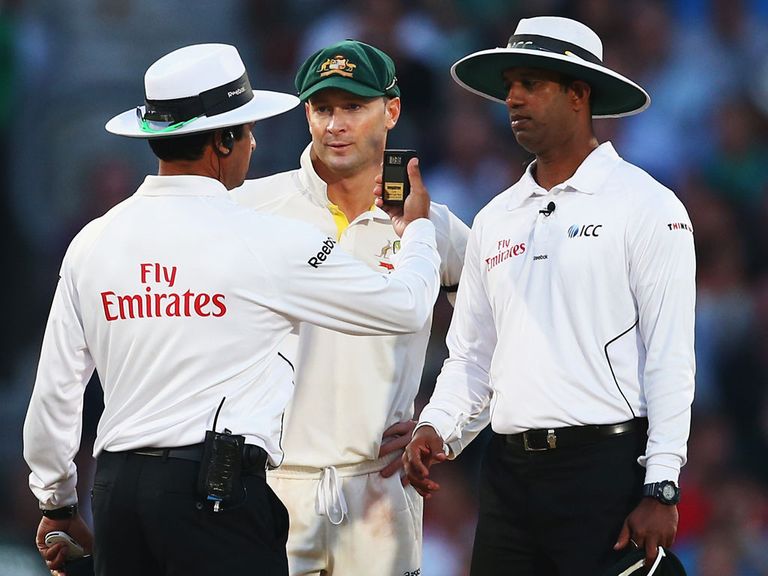 1. Light the way
Cricket. What a thing it is. Today was another to show that the only certainty in this glorious, rich, unique and silly game is that it is never too far away from picking up a shotgun and aiming the thing squarely and unerringly at its own foot.
At the start of the day, everyone settled in for the formalities. A draw to confirm an admirable 3-0 victory for England over an Australia side able to compete but lacking a smidgeon of quality and a bit of killer instinct. An astonishing 447 runs - an all-time record for the fifth day of a Test match and the highest in any day's Test cricket in England since 1954 - and 17 wickets across three innings later England were on the cusp of sealing the most unlikely non-draw in Ashes cricket since Adelaide 2006.
And then, with England on a seemingly irrepressible and unstoppable charge, and needing 21 runs from four overs to complete this astonishing, tell-the-grandkids victory - and Australia a not-impossible five wickets given the one-day nature of the chase and the madness that had already occurred - the umpires took the players off the field for bad light.
Infuriating, maddening, and the only predictable thing to happen all day. Cricket inflicts these wounds on itself like no other sport.
After a Test curtailed by weather and in which England especially had attracted (unfairly extreme) criticism for their conservatism, here there appeared a day for all to revel in. Even in defeat, Michael Clarke and his team would've earned praise for entertaining a full house and setting England a stiff, unlikely but clearly feasible run-chase.
Instead the focus lingers on the officials and the laws that led to a high-farce conclusion.
The umpires are blameless by the letter of the law, but the consensus response from an Oval crowd whipped into a frenzy by great cricket and bad beer, that headiest of all combinations, required four letters rather than one.
The ICC have created a nonsense of a bad light regulation that denies umpires the option to deploy what they call cricket's Law 43 (common sense) and ignores the considerations of context and - as is so often the case - the paying public.
The crowd's booing of the umpires was unedifying, misplaced and wrong. But it was nevertheless understandable. Their ire should really be taken as an attack on the ICC rather than the two officials left with the thankless task of implementing a wrong-headed law.
2. England win Ashes, friends
But it would be very wrong to let a farcical conclusion sour an already underappreciated England victory in a series that has only occasionally caught fire.
This England side is not so good, nor Australia so bad, that a 3-0 Ashes victory can be seen as anything other than a fine, noteworthy victory.
Alastair Cook's side have not played their best cricket. This team has slipped back - especially with the bat - from its 2011 peak.
But they have played the better, more consistent, more efficient - that, perhaps, is the word to define this victory - cricket and are not flattered by a three-Test margin of victory.
They won a close game, they won a one-sided game, and they grabbed another by the scruff of the neck in a dizzying two hours at Durham to stop it becoming close.
They had, in Ian Bell, the undoubted star of the series but behind him was consistency. Three bowlers with 20-plus wickets, and a batting line-up that, although seemingly misfiring and unable to amass huge totals, was always able to wriggle clear of disaster's clutches and avoid the collapses that so often undid Australia's best efforts.
And although they were unable to get over the line to win the final Test, an unloved side may have won some hearts and minds with a surprising, giddying late rush for the line.
If nothing else, it should put a stop to the nonsensical, Aussie-whingeing-driven narrative that England have somehow not won this series the right way.
3. The illusion of aggression
Today was a mythbuster of a day. England played truly aggressive cricket of a kind apparently beyond them, and Australia were forced to adopt many of the tactics they find so unsavoury when England adopt them.
Clarke deserves some credit for his declaration, but it should be tempered. There is a growing sense that his apparently aggressive captaincy is mere smoke and mirrors. Grand but ultimately irrelevant gestures. A bowling change here, a funky field there. It seems to be for appearance's sake.
Today's declaration fitted the bill. It was the most defensive attacking declaration he could make, and it felt like point-scoring. An attempt to end the series not with victory but by coming out as the aggressor to Cook and England's timid victors.
Clarke may have dangled a carrot, but only at what he was certain was a safe distance from a contentedly satiated England . Their hunger spooked him, and he panicked.
He did not expect England to chase the runs. Few did. And he quickly adopted negative tactics to increase his chances of avoiding defeat.
This may read as stinging criticism of a man who still, all that said, did more than was required of him to make this last day soar above the dreary. It is not meant as such. More it is meant to highlight how wrong-headed the criticism of England's conservatism has been.
Any captain, any team, will adopt the tactics that suit their ends at that time. England's conservative gameplan has clearly rattled Australia - one of many reasons not to so readily decry it - and their bravura bravado was hastily exposed today by their opponents' sudden change of gear.
4. Australia: Where next?
While England's debutants in this Test have struggled - although Woakes did enough to suggest a career as a batting fifth bowler at this level may be within his compass - James Faulkner ostensibly excelled.
Unfortunately for Australia, he excelled in disciplines where his ability was not in doubt: as a one-day all-rounder. His runs and wickets all come in situations more typical in coloured clothing than white, and he looked utterly innocuous with the ball during Friday's play.
The upshot is that three months out from the start of the return series in Brisbane, England remain far more certain of their best team than Australia who have chopped and changed throughout this series and never settled on a winning formula.
Injuries permitting, England know 10 of the 11 they will pick at the Gabba. Only at number six is there doubt.
Only Shane Watson, Clarke and Steve Smith can be certain of top-six spots for Australia, with Ryan Harris, Peter Siddle and Nathan Lyon making up three-quarters of the bowling attack. The rest is perhaps more up in the air than before this campaign.
5. Haddin's record
Brad Haddin's achievement in breaking the world record for number of catches in a Test series is noteworthy for a couple of reasons. First, because it is a record that will take all the beating due to only English and Australian glovemen having a realistic chance of overhauling it, and second because of how big an achievement that actually is for a keeper.
Haddin has kept well enough in this series. Better than his opposite number, certainly. But only two of his catches have truly caught the eye as being demonstrably more his work than the bowlers - legside grabs to dismiss Alastair Cook and Ian Bell.
It's a record that says Haddin has not made too many mistakes while keeping to a bowling attack that has created chances. Without the efforts of Harris, Siddle et al, Haddin could have performed his duties just as admirably but with no record.
There is, in truth, no meaningful statistical method by which to measure and compare wicketkeepers.
And by extension, the same is also true of fielders.
Batsmen and bowlers have averages and strike-rates. The recorded keeping and fielding data is inadequate. In a game that so loves its stats, it just seems odd that one of its three core disciplines is so unhelpfully recorded. There must, though, be a long list of fielders - and keepers - who are relieved that no baseball-style tally of their errors exists on their official records.
---
Sky Bet Free Bet Club: £10 free bet - £5 free every week
---