The Oval Five-fer: Day three
Dave Tickner picks out the key points from day three of the fifth Ashes Test at The Oval.
The Ashes. Click here to bet.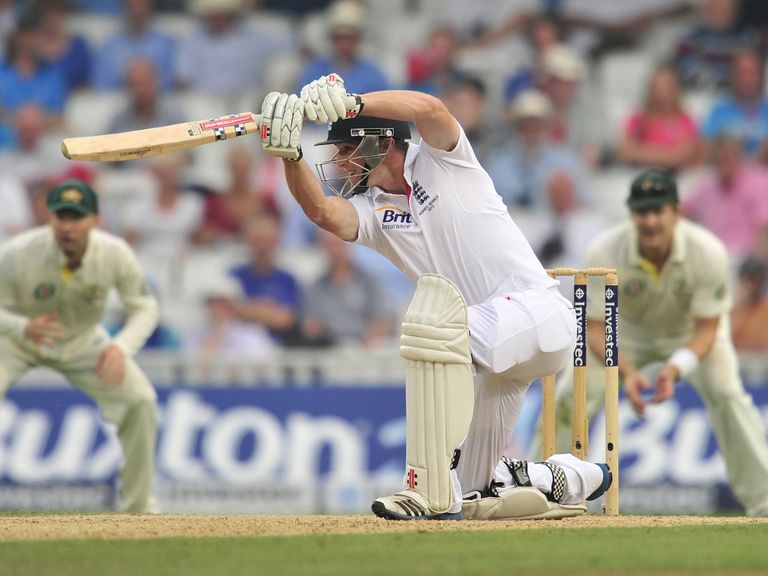 1. Pace
What a day: 98.3 overs, 215 runs, and four wickets as England staged a day-long dig-in at The Oval.
It wasn't well received, with every (rare) single greeted by ironic cheers long before the evening session was out.
It was not enormously entertaining. But should that matter? Because it was undoubtedly effective. England, having decided they could not win the game, set about making sure they didn't lose it. They are, after all, 3-0 up in the series and determined not to give Australia any freebies ahead of the reverse series. This is an Australia side no longer familiar with winning. England have no desire to encourage them.
But should England worry about the reaction from the spectators? Should entertaining the masses enter their thinking or should their focus be solely on results?
Has to be results, doesn't it? Today's play was a world away from yesterday's shenanigans with the over-rate; there, England were robbing spectators by actively seeking to reduce the amount of cricket they saw. Today they sought to reduce the amount of wickets they saw. And they did it entirely legitimately.
Those paying big money for tickets have a right to make their frustrations known, but one of the beauties of Test cricket is its range of possibilities. Your ticket should entitle you to, weather permitting, the full quota of overs. But there is no such quota for runs or wickets.
There have been days of Test cricket like this one for as long as the game has existed. Batting for a draw is part of Test cricket. It might not be pretty, but it has a place.
2. Compliant Australia
Almost all of the criticism of the day's play has been aimed at England. This is strange as Australia were complicit in allowing the day to meander. Michael Clarke - whose captaincy style has so often been portrayed as the innovative aggressive alternative to the safety-first conservatism of Alastair Cook's - did little to try and burst England out of their bubble. Men were deployed on the boundary almost all day.
England were happy to let the day drift by. It suits their purpose. You may not like it, you may not even believe their plan is the right one. But a plan it was, and it was effective.
Australia's bowling was admirably disciplined but lacked spark or verve. They never looked likely to break the game open. And they do not have the justification that a day of drifting suited their purpose.
3. Root beds in
A tame end notwithstanding, there were promising signs for Joe Root today.
He has at times in this series batted himself into a strokeless standstill, but today he timed the ball better than he has at any time since Lord's and his 68 was by some distance the day's standout innings (although Kevin Pietersen's awkward, playing-against-type half-century was meritorious) and in a series where he's come in for plenty of criticism he now has 328 runs at an average above 40. It's at worst a passing grade for a first series as a Test match opener.
4. Cook off
Another disappointment, though, for Root's opening partner. Alastair Cook appears to have lost the knack of keeping the percentages of any shot in his favour.
Cook's greatest strength as a batsman is not one particular shot but his ability when all is right with his game to play the right shots to the right balls at the right time more often than almost anyone else.
Today he pushed a defensive bat at a ball well outside his off stump. The percentages of this shot were not in his favour. The risk-reward unfavourable. The Cook Machine has not completely malfunctioned - he still has three half-centuries in the series despite never looking close to his best - but it's certainly not performing at maximum efficiency.
5. Boundary bow
On a day when the run-rate was two-and-a-bit throughout, the highlight perhaps came in the latter stages when Chris Woakes, batting at six and boasting a first-class batting average of 50 over the last three years - became only the fourth England batsman to dispatch his first ball in Test cricket to the boundary. It's a list that includes David Gower and Richard Johnson, so the quality is varied, but Woakes looked comfortable and at ease. More so than he had with the ball.
His three boundaries, driven square on the offside, glanced off the toes to fine-leg and punched down the ground off the back foot were all of high class and his game looked well organised.
He bowled okay, but did not look like a third seamer at Test level. But a legitimate fourth seamer who can bat in the top six would be a very welcome addition to England's options.
He has a fine chance tomorrow to further his claims to be considered for that role down the line.
---
Sky Bet Free Bet Club: £10 free bet - £5 free every week
---