The Oval Five-fer: Day one
Dave Tickner picks out the key points from day one of the fifth Ashes Test at The Oval.
The Ashes. Click here to bet.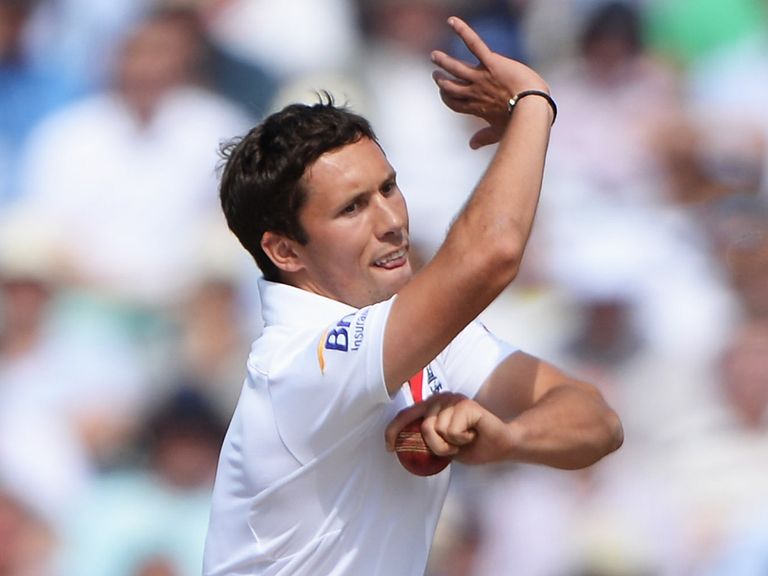 1. Wat power
A red-letter day for Shane Watson. Finally he converts a start into a hundred (and a big one at that) after three years of waiting. Finally he correctly reviews an lbw decision.
With Australia continuing to rearrange the deckchairs long after hitting the iceberg, Watson found himself continuing his tour of the top six at number three today, and played an absolute gem of an innings.
First he launched a calculated brutal assault on England debutants Chris Woakes and Simon Kerrigan. At one point it looked like he might even reach a hundred before lunch.
After the break, and in the face of some excellent, hostile England bowling, he showed the guts and technique to get through that difficult period. Never was that more apparent than in his recovery from a fearful blow under the ear as a perfect Broad bouncer proved once again that a cricket ball's ability to miss all protection a batsman may be sporting should never be underestimated.
Having reached his century, Watson enjoyed a moment of good fortune when Alastair Cook spurned a straightforward chance at slip.
Watson capitalised, using his quickfire start as a base that allowed him to knock the ball around for ones and twos but taking the boundaries on offer. His driving was, predictably, a feature, but it was his legside play that really stood out. For all that Kerrigan and Woakes struggled, Watson was relentless. He rarely missed an opportunity to put bad balls away to the fence.
By the time he successfully reviewed another poor lbw decision from Kumar Dharmasena it seemed that all was right in the Watson world. Even Lara's record looked within range.
But then he miscued a pull shot for the first time in the day and fell victim to a magnificent catch in the deep from Pietersen.
But the point had been made. A truly magnificent innings sullied only by its rarity and insignificance to the series result.
2. Debuts
It was a bit like the old days, wasn't it? The days when right up until the toss you might as well try and predict the weekend's lottery numbers as the England XI.
In recent years, England have generally been resolutely predictable in their selections.
The last time they pulled a rabbit out of the hat to rival the twin debuts handed to Simon Kerrigan and Chris Woakes here was the Darren Pattinson incident of 2008.
While it would be wrong to reach a final judgement, today's returns suggest it will be as long again before England try some similar out of the box thinking.
After one day, the experiment is failing. Both Woakes and especially Kerrigan helped fuel Watson's rocket-powered start and their combined figures of 23-5-103-0 make for ugly reading.
But criticism of both the players and the selection should be tempered.
Both men were bowling better by the end of the day than at the start of it (although harsh critics might suggest it was impossible not to). And both men have superb first-class records. It's hard to imagine a better time to take a look at two such players at the highest level than in the final Test of a series you already lead 3-0.
If - and it can't be stressed enough that we do not yet know this - they fail completely or - and we very much do know this - they take time to adjust to the tough school that is Test cricket, better it happen now than at the Gabba in November.
Woakes is the nearest thing to a like-for-like replacement England have available in the absence of Bresnan and didn't look out of place after a chastening first spell, while England are in unexpected need of a second spinner after Monty Panesar's recent adventures.
Kerrigan's day was far worse than Woakes, and a clear case of the yips. In his first two overs he barely looked able to let go of the ball, an impression that isn't helped by a gentle run-up and release that contrasts wildly with the snap and verve of, say, a Graeme Swann. It was painful viewing. But he too kept going and will have the chance to make amends later in the game.
3. The Rise of Steve Smith
Shane Watson's apparent solution to the Problem Number-Three Position was bad news for the likes of Ed Cowan, Usman Khawaja and Phil Hughes.
But another man doing his bit to keep that trio out of the game is Steve Smith, who is surprisingly close to completing the transition from leg-spinner to specialist batsman.
His 66 not out here is his third 50-plus score of the series - only Chris Rogers can match that for Australia - and if he can stretch that contribution past three figures tomorrow he will have had a solid series given the mess that has been Australia's batting during this series.
He has had some ugly failures along the way and survived an ugly swipe at his first ball today, but his unorthodoxy makes him a compelling part of the Australian line-up.
He's particularly strong against the spinners, his sojourns down the pitch not the most elegant but among the more effective whether he attempts to hit over the top or merely defend.
Smith was something of a figure of fun when England last toured Australia, but he is on the way to making himself a key plank of the Australia batting line-up. That may say much for their current weakness, but he is a resourceful cricketer not to be written off.
4. Nightwatchman
Good to see it's not only England who are capable of defensively employing a nightwatchman at a moment of dominance.
But, if the nightwatchman is to be deployed, then it must at the very least be used properly. England never do, but Peter Siddle did the job perfectly this evening.
The nightwatchman's job is not only to protect the batsmen below him in the order, but also the fellow at the other end. It's an illogical concept, but that is the job.
Siddle walked to the middle with 17 balls remaining in the day. He faced 15 of them. Almost perfect, and he even chipped in with 18 runs along the way.
5. Coach trip
Some astonishing statements from Australian coaches past and present today.
First came Mickey Arthur's revelation that Australia's plan was to try and compete in England rather than win, in order to gain intel on their opponents and have a proper go at regaining the Ashes at home in the winter.
A plan that was not shared with the fans or, more importantly, the hashtag department at Cricket Australia's Twitter account. Not so much #ReturnTheUrn as #LearnToReturnTheUrn.
Then came Darren Lehmann's Kevin Keegan moment on Australian radio. This was an incredible piece of confused nonsense, the logic-mangling ramblings of a man watching things go very badly wrong and looking for someone, something, anything to blame.
It shouldn't need saying again, but a reminder is apparently required that at Trent Bridge Stuart Broad neither a) cheated, nor b) nicked the ball to first slip. We've done this.
Accusing an opponent of cheating when they have not cheated is an astonishing move, and one that must surely bring censure for the coach from his employers.
---
Sky Bet Free Bet Club: £10 free bet - £5 free every week
---