Broad hails England mentality
Stuart Broad insists England have adopted a win at all costs mentality that has transformed them into an "unpleasant" team to face.
The Ashes. Click here to bet.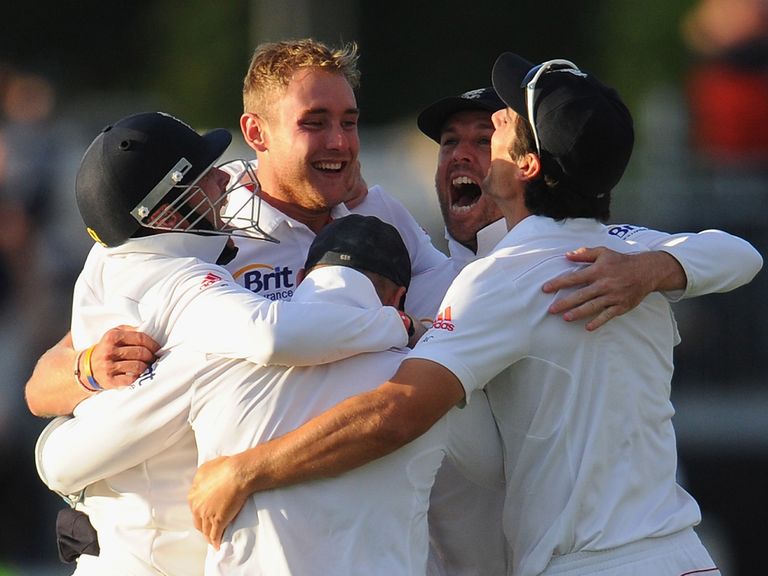 England enter the final Test of the Ashes series at the Kia Oval with an unassailable 3-0 lead and are hoping to inflict another psychological blow on Australia with their winter tour Down Under looming.
Broad, the hero of the thrilling 74-run victory at Chester-le-Street with match-winning figures of six for 50 on the fourth day, believes they have developed a ruthless streak during a series that has been beset by controversies.
"There's one thing for sure about this England team and that's we're tough," Broad said.
"We've come through tricky times and stand up when we need to be counted, which is quite an un-English thing. We want that to continue.
"There's no doubt the country is proud of this team and what we've achieved because fans like winning teams. We want to win and make them happy.
"We do have a win at all costs mentality. I think we're quite an unpleasant team to play against at the moment.
"Teams won't play against us and enjoy the experience. That's what we want.
"You always have a responsibility to the fans and youngsters because you're role models. You have to play hard but fair, that's how the spirit of the game is defined.
"We've been accused of all sorts, but those things aren't remembered, it's winning the series that will be remembered."
England are one victory away from a first 4-0 Ashes triumph on home soil and Broad highlights the importance of keeping their foot on the throat of a team reeling from a dispiriting defeat at Chester-le-Street.
A fourth successive series win beckons when the rivals meet again over five Tests, starting in Brisbane on November 21, and Broad knows what happens over the remaining weeks of the summer will help set the tone for their tour to Australia.
"It's been amazing to have been part of three Ashes series and won three. Matt Prior, Graeme Swann and myself have not been on the losing end of an Ashes series and I'd like that to continue for as long as possible," he said.
"We met last night to discuss that and the perceived danger that we will just enjoy this week.
"We have Twenty20s, ODIs and another series against these boys. We need to keep throwing punches and keep damaging them.
"There's a lot of cricket to be played against them and if we give them momentum they're dangerous enough to hurt us.
"Four-nil is on our minds, but looking ahead is on our minds as well and we need to keep the cricket we've been playing going."
Broad's intent of damaging Australia's psyche was fulfilled at Chester-le-Street, where the tourists collapsed from 147 for one, chasing 299 for victory, to 224 all out in a morale-sapping defeat with one day remaining.
"Australia will definitely have felt they could have won that game. At tea you must have thought we were in trouble and certainly wouldn't have thought we were winning that night," Broad said.
"There was only one team that could have won it that night so for us to turn it around like we did shows the character we have.
"They're moments we can draw on in the future because there might be moments in Australia when we're behind.
"It's what we'll remember when we find ourselves in tough positions, it's certainly that sort of communication when we're out there. Remember this, this is the sort of fight we need to show."
:: Stuart Broad is an Investec Test Cricket Ambassador. The specialist bank and asset manager is title sponsor of the Ashes. Investec.co.uk/cricket or @investeccricket
---
Sky Bet Free Bet Club: £10 free bet - £5 free every week
---