Willey fired up by Dernbach
Northamptonshire all-rounder David Willey revealed a heated on-field exchange with Jade Dernbach inspired his match-winning heroics in Saturday's Friends Life t20 final against Surrey at Edgbaston.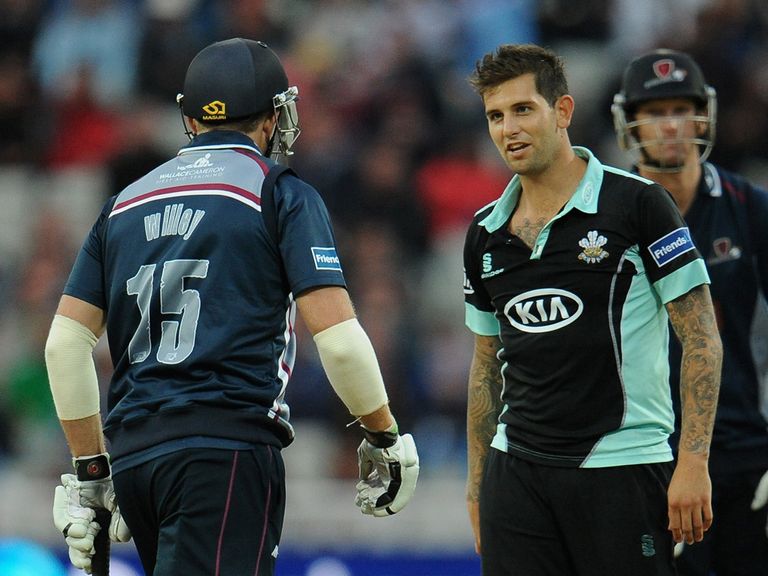 Willey produced one of the most complete Twenty20 performances in the decade-long history of the competition as he followed the fastest half-century in this year's tournament with figures of four for nine - including a hat-trick - to seal the Steelbacks' first major title in 21 years.
A direct-hit run-out from long on and a catch on the ropes completed a "once in a lifetime" night the 23-year-old claimed was mostly engineered by his clash with Dernbach.
Asked what was the key to his performance, Willey said: "Him.
"I'm a bit of a strange one. Sometimes I don't enjoy it (a verbal battle) too much and I just like to be quiet and not get involved.
"Other times it gets me going and today it got me fired up nicely.
"The adrenaline got going after a few words were exchanged with him and it went from there."
Willey was only promoted to open the batting after Kyle Coetzer injured his wrist in the semi-final win over Essex but blasted 60 from 27 balls while reserving his hardest hitting for Dernbach - whose figures of none for 55 were the second most expensive on a finals day.
"I quite enjoyed clearing my front leg and whacking him to be honest," he said.
"I don't think he enjoyed it so much as he seemed to think I was a slogging something-or-other, which is probably pretty accurate."
Willey did half-heartedly attempt to play down any animosity with Dernbach, whom he could conceivably share an England changing room with in the future.
Willey is due to meet up with the England Lions squad to play Bangladesh A in three 50-over matches later this month and after Saturday night's performance was tipped for international honours by his skipper Alex Wakely.
The all-rounder, with more than a hint of tongue in cheek, said: "It was in the heat of the moment. Me and Jade get on really well.
"I'm sure we'll have a drink in the hotel room. It was a bit of banter in the middle and I thoroughly enjoyed it.
"It was lovely to shake his hand at the end."
Dernbach was at the non-striker's end when Willey completed victory with the first hat-trick of his career.
After Zafar Ansari and Jon Lewis picked out the field, last-man Chris Tremlett edged behind to diving wicketkeeper David Murphy as Surrey fell 102 runs short of their target.
"It was my first hat-trick - I didn't realise we'd won," he said.
Despite the performance Willey played down the suggestions of his skipper that he might be in the England selectors' minds - pointing to his figures of none for 43 in the semi-final as proof work was still to be done.
"Did you watch the semi-final? I'm probably lacking a bit of consistency," he said.
"I don't think I'm ready for it yet but ultimately I'd like to play international cricket.
"If I keep doing the right things the chance will come one day.
"I will try and have more days like that and I might get there quicker. I just try and perform for the team I play for and if that happens so be it. I don't think about it too much."
Beaten skipper Vikram Solanki was phlegmatic in defeat after a vastly-improved Twenty20 campaign.
Surrey had failed to get out of the South Group the previous six seasons before beating Somerset and defending champions Hampshire en route to the final.
"Regardless of where we've been or what we might have done, the very fact that we've got to the final is something in which we can take a great deal of pride," he said.
"We've worked extremely hard throughout our T20 campaign. That South Group is a tough group. There are some very strong sides.
"To come out of that group, to beat a strong Somerset side in the quarter-final and then go on and beaten the champions in the semi-final is something we can be quite proud of, but unfortunately we've fallen at the last hurdle."