Finn works on shorter run up
Steven Finn has already tested a shorter run-up which he hopes will eradicate the "technical flaw" costing him and England wickets.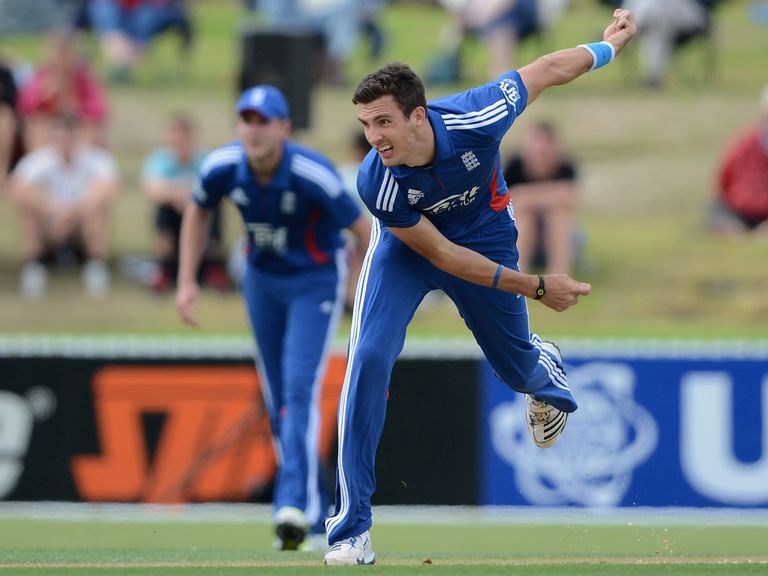 England's 6ft 8in fast bowler has twice had an international wicket chalked off - Graeme Smith in last summer's Headingley Test, and Suresh Raina in last month's one-day international series in India - when an umpire has called dead-ball because his knee has knocked over the non-striker's stumps in delivery.
The concern is that the unexpected impact might conceivably put off the batsman on strike, and therefore perhaps contribute to his dismissal.
Whether that is the case is a moot point, but Finn knows he needs to stop kicking the stumps over if it is going to mean he and England both suffer.
After much discussion and hard work in the nets, it seems he and bowling coach David Saker have decided shortening his run - from more than 25 yards down to 20 or so - may help to solve the problem.
"It's a technical flaw in my bowling action," he said, adding he has no hard feelings against Smith for the complaint which resulted in that first dead-ball call rather than a raised finger after the South Africa captain was caught at slip.
"Eradicating it can only help me, so I can't feel aggrieved.
"We don't want it to cost us wickets. That's the most important thing, because it's detrimental to the team."
Finn, who has already had his one and only final warning for the ongoing Twenty20 series against New Zealand, was even contemplating the possibility of transferring his experimentation with the new run-up in the nets out into the middle for Friday's deciding match at the Westpac Stadium.
"There's a chance I might be shortening my run-up at some stage to try to eradicate it, and I don't think that would affect my pace," he said.
"I think that might give me more control and bounce too.
"I worked on it [yesterday] in the nets, and it felt really good - but whether [this match] is the right time to try that shorter run up, I don't know.
"[This] was the first day I've really bowled a session with the shorter run-up."
Other highly-successful international bowlers, including Finn's Test and ODI team-mate James Anderson, have shortened their runs to telling effect mid-career - but none to combat the idiosyncrasy of kicking over the stumps.
---
Click here for completely free £10 bet with Sky Bet & £5 free every week
---