Finn aims to conquer fear factor
Steven Finn spends most of his career attempting to put the fear into opposition batsmen but even he admits that playing in India can be "intimidating".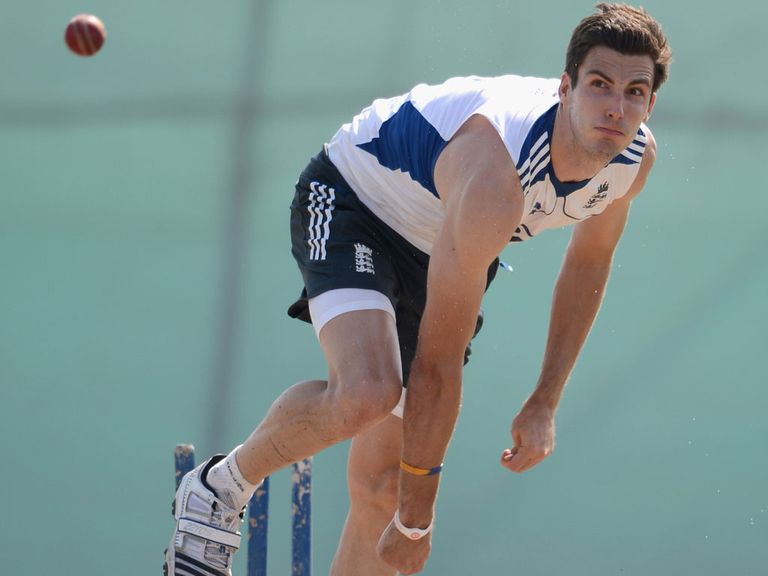 Finn is one of the sport's most imposing figures, a 6ft 7in opening bowler who delivers the ball with a distinctive grimace and no shortage of pace.
But the fervour of the fans in India, especially for limited-overs cricket, can be unsettling for all touring players.
England had first-hand experience of that in Kochi on Tuesday, where in excess of 60,000 raucous fans cheered their side to a resounding 127-run victory that levelled the series at 1-1.
Finn believes the atmosphere in the match was unique not just to cricket, but to all sport, yet remains confident that the tourists can flourish in such an environment.
"To play in front of close to 70,000 people with that sort of noise going on all day was incredible," said Finn.
"It's something you don't experience anywhere else in the world. The atmosphere yesterday is like nothing you get in any other sporting event in the world, anywhere.
"It can be quite intimidating I suppose but I don't think that's something that would have affected us.
"I think we embraced it and even though we lost there was something to savour.
"It's exciting and amazing to be out there in an environment like that.
"To be able to come here and have this many people who are passionate about the game you're playing and so many people in the ground watching is great.
"It's phenomenal to be part of."
As England's strike bowler in the absence of the rested James Anderson and the injured Stuart Broad, Finn is one of the players most obviously in the limelight.
He takes the new ball, bowls in the crucial powerplay overs and is usually called upon to finish his spell at the end of the innings, when bowling can be at its toughest.
But he is at ease with his role in the side and happy to perform under pressure.
"It's a real shame we didn't win but we're at 1-1 and I'm sure everyone is keen to show all these people who are so passionate about the game what we can do," he said.
"It's going to be up to whoever bowls the first over, if it happens to be me, or whoever faces the first ball to front up and really set the tone.
"I really enjoy having the added responsibility of bowling in the important phases of the game. I feel like I'm developing and learning all the time.
"We're looking forward to the next challenge. It's great to be out there playing one-day cricket in front of so many people and crowds that are are passionate about the game.
"It's a great opportunity and a great shop window to be able to show what we can do."
Captain Alastair Cook spoke after Tuesday's result about the importance of opposite number Mahendra Singh Dhoni.
Dhoni is in some of the best form of his career at present and took the game away from England with a boundary-strewn 72.
Finn was among those who came in for punishment at the close and he accepts that the Indian skipper is a key scalp in the remaining three matches.
"He's probably the best player in the world at the end (of an innings)," said Finn.
"We have to find a way to stop him scoring or get him out before that. We'll come up with something in the next few days, I'm sure.
"We'll reassess and look at ways to move forward.
"They outskilled us at the end of our bowling innings and that's something we have have to address.
"But we'll work hard, come up with different plans and nail them in the next game."
---
Click here for completely free £10 bet with Sky Bet & £5 free every week
---