England ignore media criticism
Alastair Cook's England will waste no precious energy or concentration, before the second Test against India, fretting about media criticism following their defeat in Ahmedabad.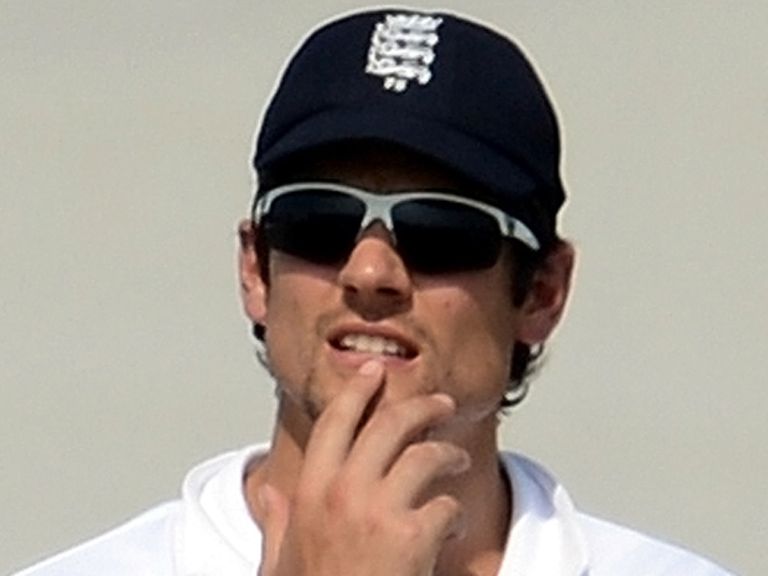 Cook, on his first tour as permanent Test captain, was at pains to stress that the opinions of experts, former players and other pundits will not distract his team from the important business of trying to level the four-match series in Mumbai.
A near full XI of English cricket luminaries have lined up, since the tourists lost by nine wickets on Monday, with varied critiques - some directed at individuals, others the collective - for what went wrong at the Sardar Patel Stadium.
Cook himself made sure he could receive only praise, for his defiant and memorable second-innings 176 in a losing cause.
But Stuart Broad - who felt "under the weather" and had to miss training on Thursday - became embroiled in an exchange of views with Ian Botham on Twitter, after the England great suggested in his guise as a broadcast pundit that the vice-captain should be dropped.
Jonathan Trott, part of a misfiring middle order who could muster only 68 runs in eight innings between them in the first Test, was also singled out in some quarters.
Cook insists, however, neither he nor his team-mates have any gripes with forthright views expressed in print or vision - because they are part of the game, and something international players need to be able to handle.
"That's what the media is," he said.
"You know as players that if you perform well you get praised; if you perform badly there's criticism.
"That is one of the challenges."
The stakes rise according to a cricketer's profile.
"It's slightly different for an international player than for a county player - you get far more scrutiny," added Cook.
"It's how you deal with that and the extra pressure that determines how you perform out there.
"Everyone has got a right to criticise when you play badly. That's your job; that's what punditry is."
Cook does take issue with suggestions of perceived impunity in the consistency of selection which England prize highly and was associated with an era of conspicuous success before their seven Test defeats this year.
"I disagree wholeheartedly with that.
"I think that's someone just speculating and throwing a comment out there because they want to. That's not true."
He has no worries either that any of his players may be distracted by public criticism.
"Not really. I'm concerned about what happened in the last game.
"I'm concerned we learn from that; I'm concerned that we improve on the field.
"Every player has slightly different ways of coping with the media.
"But I know that when we turn up to train today we will be fully focused on that, and that's the only way you can do it."
Broad's inability to do that this afternoon is a worry, for a team already without another injured first-choice fast bowler in Steven Finn.
Should Broad be unavailable, the uncapped Stuart Meaker - called up initially as cover for Finn - is perhaps a more likely selection than Tim Bresnan.
The Yorkshireman was part of a three-man pace attack in the first Test, but may be vulnerable to the expected return of Monty Panesar as a second specialist spinner.
However England eke out their resources, Cook is right that there are more pressing concerns than media coverage.
"Last week was tough for confidence, when you get beaten in such a heavy manner.
"First-innings runs are vital.
"I spoke about it when we lost the game, and we have been speaking about it ever since.
"We know how important that is - and we have the opportunity now."
Kevin Pietersen has so far escaped major scrutiny, despite a lack of productivity in his comeback Test following his summer of discontent and 'reintegration'.
Cook is swift to endorse the mercurial batsman's world-class standing nonetheless.
"He held his hands up and he didn't perform very well last week.
"You don't need to tell him that.
"He knows that, and anyone who has ever written off KP in the past has been proved very wrong very quickly.
"He is a world-class player and he has scored hundreds everywhere around the world.
"Yes, he had a bad game - like we can all have bad games - but you write KP off at your peril."
Similar sentiments apply, as far as Cook is concerned, to his entire team.
He acknowledges the tourists must start to prove themselves again, but will not dodge those critics whatever the outcome in the remainder of the series.
"We have some world-class players with fantastic records.
"We have to hold our hands up - in these conditions we haven't played well enough to get the results.
"There's no one else who we can blame."
---
Click here for completely free £10 bet with Sky Bet & £5 free every week
---