Ashes marathon has Broad appeal
The Ashes. Seems ages ago, doesn't it? England frightening the life out of Australia on the final day at The Oval before having to settle - and I use the word settle quite incorrectly there - for a mere 3-0 series victory.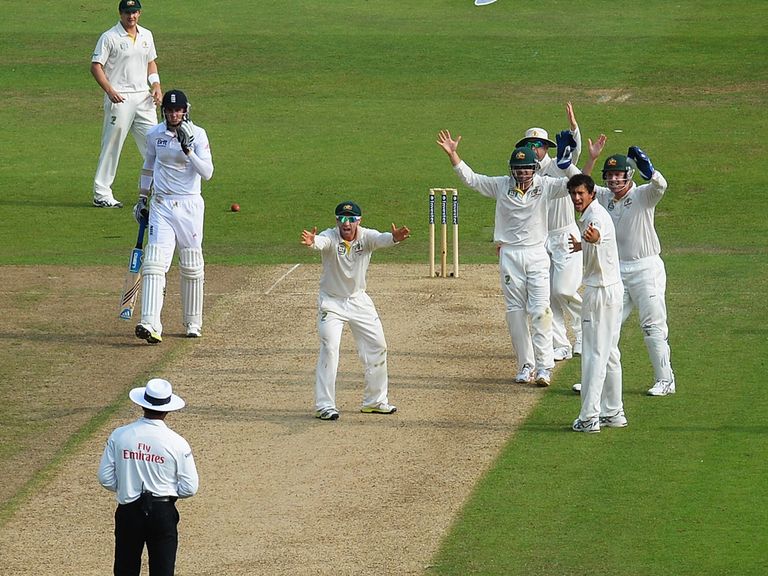 So much time has passed. So much has happened. There was Aaron Finch. There were some one-day games, where some rain proved you shouldn't play cricket in England in September. Australia played some ODIs in India, where a good deal more rain proved nothing of the sort about playing there in October.
England picked a largely predictable squad and the players have completed the now traditional pre-tour preparations: attending a Mysterious Gruelling Boot Camp and tweeting pictures of the progress (or lack of) being made in packing several small plastic bags full of new kit into a couple of much larger bags ahead of the three-month jaunt Down Under.
But now, an excruciating, interminable two months on from England's grass-watering late-night celebrations at The Oval, we're on the countdown to a renewal of Ashes hostilities. Just four weeks to go now. England's Test squad is in Australia. The same can't be said for much of Australia's but never mind.
Much has been made of this 10-Test back-to-back Ashes series marathon. Is it overkill? Too much of a good thing?
Certainly, it would be far from ideal for every home-and-away Ashes cycle to be completed with such indecent haste. There is an air of apathy around the build-up which one hopes will dissipate once the talking about batsmen not walking stops and the batsmen not walking starts.
But there are benefits to an extended tangle between the same two teams. They are seen already in the longer Test series, which now means those played by England against high-profile opponents unless there's an Olympics on.
One such benefit is the way players and teams can work each other out over a five-match series rather than the two- and three-Test encounters that dominate the calendar now. Techniques are probed and exposed in five-Test series in a way not possible in shorter encounters.
This effect will only be exaggerated by effectively extending the series to 10 Tests. Jonathan Trott can expect plenty more short stuff. Shane Watson's front pad will continue to have a metaphorical target painted on it. Will Australia, in the three-month break between series, have come up with a way to stop Ian Bell? These and many more storylines will develop.
But even more fun is that familiarity breeds contempt. By the end of the summer series, it was abundantly clear that each side had very little time for the other.
This is a good thing. In this age of globe-trotting superstar-laden franchise cricket, international contests appear to have become friendlier occasions. These players may be international opponents, but increasingly often they are T20 team-mates somewhere in the world.
There is nothing wrong with a bit of needle in a sporting contest.
And this winter's Ashes promises to have more simmering lingering resentment than any in recent memory. I can't wait.
The central figure in the pantomime is, of course, the villainous Stuart Broad. England's Aussie-baiter in chief. What a summer he had.
In pure cricketing terms, Broad was perhaps England's second most crucial player of the summer after Bell. Broad took 22 wickets at 27 and weighed in with 179 runs at 25. His explosive match-winning spell at Durham confirmed the series would be emphatically England's.
But cricket exists not in a vacuum. Broad's wider contribution made him England's standout performer.
It was Broad who exposed decades of Australian hypocrisy about "whingeing Poms". It was Broad who inspired the Australia coach to make a complete fool of himself and undermine his authority and even his suitability for the job. It was Broad, in short, who riled up Australia in a way few have managed since Douglas Jardine came up with a capital scheme to stymie Don Bradman.
The true genius, though, lies in the manner in which Broad achieved this mental disintegration.
Broad, brilliantly, managed to get himself labelled a cheat for edging the ball to first slip despite neither cheating nor edging the ball to first slip.
The facts are these: with England building a third-innings lead but still somewhat precariously placed in the crucial opening Test of the series, Broad edged a ball that was subsequently caught at first slip after a further deflection off wicketkeeper Brad Haddin's gloves. He knew he'd edged it, and he knew the catch was clean. Despite being fully aware of both these things, Broad stood his ground and awaited the umpire's decision. Aleem Dar said not out, Australia had no reviews remaining, and Broad was free to continue his innings. This, and it really shouldn't need saying, is not cheating. The same Test match's denouement saw England win only after Brad Haddin was given out caught behind on review after edging to Matt Prior. Chris Rogers has admitted not walking after gloving the ball en route to his maiden Test century.
Broad's only crime, like Rogers and unlike Haddin, was to get away with it. Nothing in the game's laws requires or expects a batsman to give himself out; the laws merely give the batsman the option to do so.
But facts are no use when there is anger - furious, hypocritical, one-eyed anger - in the air. And thus a zombie fact emerged. Broad "edging the ball to slip" became central to the narrative, used to differentiate and separate Broad's not walking from the thousands of other non-walkers throughout the history of the game.
Even if he had nicked to slip, it remains a ludicrous piece of logic. The idea that there exists an arbitrary angle of deflection at which point a batsman must walk for an edge is a fanciful enough concept; the fact Broad's edge actually went to the keeper only made this argument doubly flawed.
It's simplistic to say this one act alone sparked the fury. It mattered that it was Broad and not his batting partner Bell who committed the dastardly deed of playing entirely within the laws of the sport. Broad had, in fairness, put in years of groundwork to make himself more unlikeable - petulance, doing that face whenever a decision goes against him, DRS misuse, and so forth.
Resentment rumbled on throughout the summer as England wore down their committed but inferior opposition, and Broad will now be on the receiving end of heaps when he gets to Australia.
The swiftness of this return series means there has been no time for the resentment to fade. If anything, it has grown during the blurry no-man's land where Ashes 2013 fallout and Ashes 2013/14 build-up have been indistinguishable.
Two things appear certain. One, that Broad's every involvement during the series - every time he fields the ball, every time he walks out to bat, every time he starts a new spell - will be greeted by booing and barracking. And two, that Broad will revel in it. He'll enjoy it nearly as much as we will.
Broad appears blessed with the security of the unshakably self-confident. This very self-belief is shown in those reactions to decisions that go against him. When the world refuses to bend to his will, he appears genuinely confused. That sense of entitlement that so grates is his greatest weapon.
He has, brilliantly, already cheerfully whipped up the Aussie anger further with a well-judged radio interview in which he revealed he had no regrets about standing his ground, because "if Belly and I hadn't put on those runs, we wouldn't have won the Test match, so we would only have won 3-1 or something", and that he had little interest in Lehmann's subsequent apology for calling him a cheat.
Broad is clearly playing up his role as a lightning rod for all Australia's anger and frustration at their fall from greatness. His latest interview suggests someone very happy in the role.
Australian barracking of Broad will only make him grow stronger. His is not the fragile mindset of a Mitchell Johnson, or the love-me bravado of a Kevin Pietersen. He will not care that a nation despises him, especially if he once again has the urn in his hands come the series' end.
---
New Sky Bet customers: Claim free £5 bet every week
---