Tendulkar sets retirement date
India great Sachin Tendulkar will bring the curtain down on an illustrious international career after his 200th Test against West Indies next month.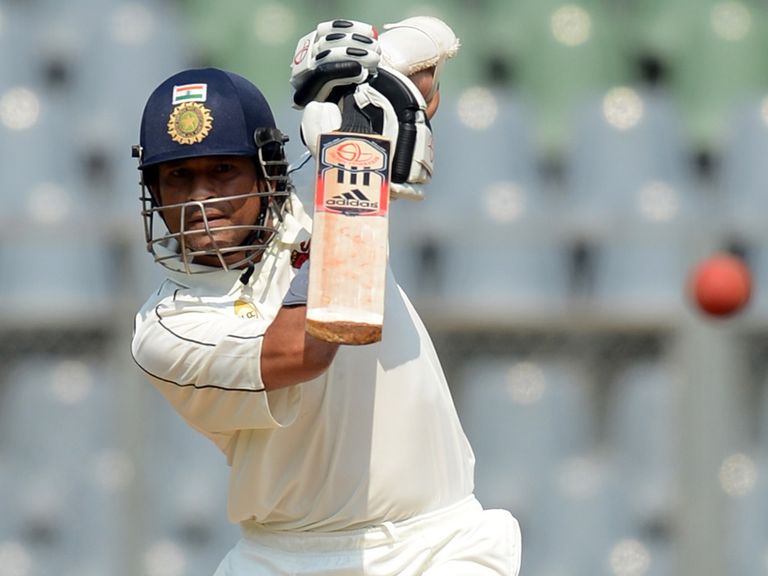 The Little Master has transcended the game both at home and abroad since his international debut in 1989 as a fresh-faced 16-year-old, going on to become the all-time leading run-scorer in Tests and one-day internationals.
But Tendulkar, who retired from one-day internationals in December last year, announced on Thursday that the two-match series with the Windies on home soil will be his last involvement in Tests.
It promises to be an emotional affair for the 40-year-old, who is widely regarded as the greatest living batsman and whose record-breaking achievements in his 198 Tests and 463 ODIs arguably outweigh anyone to have ever played cricket.
He will bow out of the game as the only player to register 100 international centuries and his record of 15,837 runs in Tests - which is over 2,000 more than nearest rival, fellow great Ricky Ponting - at an average of 53.86 will surely never be surpassed.
But reaching the 16,000-run landmark against the Windies will prove an alluring target for Tendulkar, who will be aiming to end his career on a high note.
Perhaps unsurprisingly for someone who has dedicated most of his life to becoming one of the best players in cricket, Tendulkar has admitted he will struggle to adjust to life beyond the game.
But Tendulkar, despite being idolised in India for his mastery with the bat, was typically humble in a short statement on the Board of Control for Cricket in India website.
"All my life, I have had a dream of playing cricket for India. I have been living this dream every day for the last 24 years. It's hard for me to imagine a life without playing cricket because it's all I have ever done since I was 11 years old," he said.
"It's been a huge honour to have represented my country and played all over the world. I look forward to playing my 200th Test Match on home soil, as I call it a day.
"I thank the BCCI for everything over the years and for permitting me to move on when my heart feels it's time! I thank my family for their patience and understanding.
"Most of all, I thank my fans and well-wishers who through their prayers and wishes have given me the strength to go out and perform at my best."
His announcement has not come as a surprise to most observers, given his poor international form over the last couple of years.
Indeed, Tendulkar has not reached three figures in 21 Test matches since an innings of 146 against South Africa in Cape Town in January 2011.
Nevertheless, that should not detract from an illustrious international career that began when he was just a teenager against Pakistan in Karachi in November 1989.
He made the first of an unprecedented 51 Test centuries in his ninth match the following year, against England at Old Trafford, although his now infamous failure to reach three figures at Lord's will remain a rare blot on his copybook.
The former India captain became the first batsman to reach 50 international hundreds in 2000 and went on to surpass former West Indies batsman Brian Lara as the leading Test run-scorer eight years later.
While he largely thrived under pressure to deliver match-winning performances for India, there have been instances when it appeared the pressure may have taken its toll - perhaps most noticeably in his struggle to reach the landmark of 100 international centuries.
An innings of 111 on March 12, 2011 in an ODI against South Africa was his 99th ton in all international competitions, although it took him just over a year to register another hundred for India in a low-key encounter against Bangladesh in Dhaka, his penultimate 50-over match.
There will be much clamour for his final Test match to be played in Mumbai, the domestic team Tendulkar has represented since 1988, although the BCCI has yet to make an announcement on either venue for the Windies series.
BCCI president N. Srinivasan led the tributes to Tendulkar, hailing him as "the greatest cricketer India has produced".
"I have been an ardent follower and admirer of Sachin Tendulkar from the days he came to play Buchi Babu in Chennai," he said in a statement.
"He is without doubt the greatest cricketer India has produced. In fact one should really say he ranks among the top of all time great sports persons in the world. No one has served Indian cricket as Sachin has.
"He has truly been an ambassador for India and Indian cricket. He has been an inspiration for generations of sportsmen, not just cricketers. We respect his decision to retire, although many of us can't imagine an Indian team without Sachin."
Former Sri Lanka spinner Muttiah Muralitharan, who is still the leading wicket-taker in both Tests and ODIs, was also quick to pay tribute to a player with whom he had many battles over the years.
"I think it's a bad day for Indian cricket, world cricket as well," he said to cricinfo.com.
Former India captain Sourav Ganguly told NDTV: "At the age of 14, all he knew was batting and he would bat all day; the coach would actually have to pull him out of the nets.
"I think that's the reason he has been successful. It's not just the talent he was born with but what he did with it."
England batsman Kevin Pietersen wrote on Twitter: "Sachin £10dulkar - Undisputed Champion of Cricket! #SachinTheGreat."
Sachin Tendulkar factfile:
1973: Born April 24, Mumbai.
1988: Scores 100 not out in his first first-class match for Bombay against Gujarat in the Ranji Trophy becoming the youngest cricketer to score a century on his first-class debut, aged 15 years and 232 days.
1989: Makes Test debut for India against Pakistan in Karachi at the age of 16.
December: Makes ODI debut against Pakistan but is dismissed by Waqar Younis without scoring a run.
1990: Scores maiden Test century against England at Old Trafford.
1992: At the age of 19 he becomes the first overseas-born player to represent Yorkshire.
1994: September 9 - Claims his first ODI century against Sri Lanka in Colombo after 79 one-day matches.
1996: Leading run scorer at World Cup played in India, Pakistan and Sri Lanka with a total of 523 runs.
August: Takes on the India captaincy although suffers two relatively unsuccessful stints during a four-year period, winning only four Tests and 23 ODIs.
1997: Named Wisden Cricketer of the Year.
1998: Scores his first double century for Mumbai against Australia in the Brabourne Stadium.
1999: November - Involved in India's highest run-scoring ODI partnership with Rahul Dravid as the pair put on 339 against New Zealand. In the same match, he records the highest individual ODI score in Indian history with an unbeaten 186.
2000: Gives up the captaincy of India after the two-Test series with South Africa.
2001: Given a suspended ban of one game in light of alleged ball tampering during a match against South Africa at St George's Park, Port Elizabeth. The ban is later lifted by the International Cricket Council after an investigation.
2003: Named the Player of the Tournament at the 2003 Cricket World Cup and scores 673 runs, the highest by any player in the tournament.
2005: Overtakes Sunil Gavaskar's record of the highest number of Test centuries by claiming his 35th against Sri Lanka in Delhi.
2006: Overtakes Kapil Dev claiming the record for the highest amount of Test appearances for India with 135.
2007: January 3 - Edges past Brian Lara's world record of runs scored in Tests away from home with 5,751 runs.
June: Becomes the first player to score over 15,000 ODI runs during a match against South Africa in Belfast.
2008: March - Plays a record-breaking 417th ODI match against Australia.
August - Becomes just the third player in Test match history, and the first from India, to play 150 matches when he is selected in the third Test against Sri Lanka.
June: Nominated as the 'Icon Player' of IPL franchise Mumbai Indians, signing a deal worth US Dollars 1,121,250 per season.
October 17 - Becomes the highest run scorer in Test cricket, passing Lara's previous mark of 11,953, when he reaches 16 in the first innings of the second Test against Australia.
2010: February 24 - Scores the first double century in one-day international history, hitting an unbeaten 200 against South Africa.
April - Named player of IPL3 after finishing as the tournament's top run-scorer.
August 3 - Becomes most capped player in Test history, making his 169th Test appearance in the third Test against Sri Lanka in Colombo to overtake former Australia captain Steve Waugh.
December 19 - Becomes first batsman to hit 50 Test centuries, achieving the feat against South Africa in Centurion.
2011: March - Hits two tournament centuries as co-hosts India win the World Cup.
November: Becomes the first man to score 15,000 Test runs during Test series against West Indies.
2012: March - Scores his 100th international century in an Asia Cup match against Bangladesh, the first player ever to do so.
December 23 - Announces retirement from one-day international cricket.
2013: October 10 - Announces he will retire from Test cricket after playing in his 200th Test against the West Indies in November.
---
New Sky Bet customers: Claim free £5 bet every week
---