Watson fears for Ashes place
Australia batsman Shane Watson admits he is not guaranteed a spot in the Ashes squad this summer on the back of a lacklustre showing in India that saw him average just 16.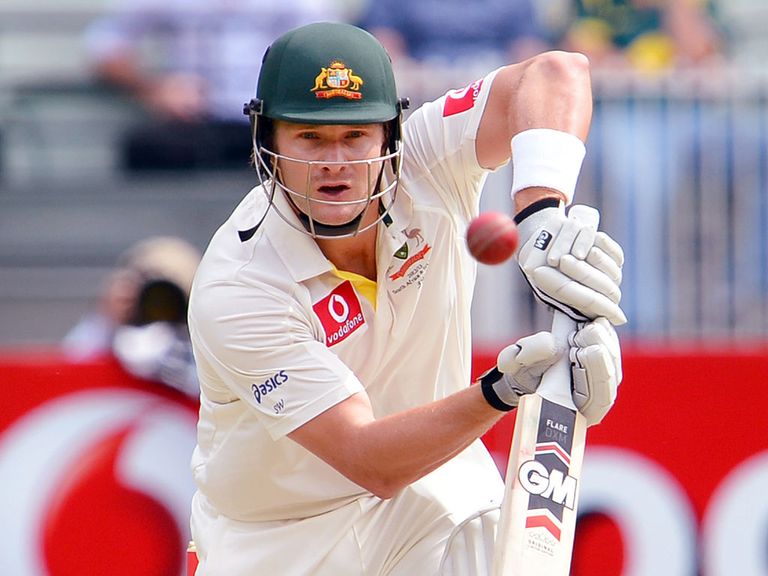 Watson scored just 99 runs in three Tests, missing the third match due to being dropped as well as flying home for the birth of his first child.
He had been promoted to number four and relieved of his bowling duties, but the promise of a big score did not pay off.
Watson wasn't the only batsman to fail in India, with none of the top order doing particularly well and only Michael Clarke scoring a single century in a series which India won 4-0.
"There is no doubt that I need to score runs. As a batsman who's batting in the top four at the moment, I need to score runs," said Watson.
"Unfortunately, during this series (in India I've scored nowhere near the [amount of] runs that I've wanted to, to be able to contribute to the team's performance.
"There's no doubt cricket's a performance-based game. If I'm not scoring runs or taking wickets, then you can't expect to be picked. There are no secrets about it. You can't hide behind anything, apart from your performance.
"In this series I've not performed anywhere near where I've wanted to. I'm looking forward to being able to continue to play and hopefully get some continuity with my game over the next few months, and be in some good touch when the selectors announce the Ashes squad."
Watson had previously admitted to being frustrated by not being able to bowl, especially when he could see the side struggling to contain runs, and again said he wanted to get back to being an all-rounder, provided he could stay fit.
He continued: "One thing I have realised is how much I do miss bowling, and it has been a plan over the last two or three months to get my body to a position where I can get back into bowling again, and hopefully hold together for the cricket we have coming up.
"There is no doubt coming here as a specialist batsman has not worked out anywhere near where I wanted it to. It didn't work in that regard, but in the end I am an allrounder, I love being an allrounder.
"At times it has been hard not to bowl knowing what I can contribute to the game. I know I won't always be able to score runs or take wickets, but if I'm an allrounder, I've got more [of a] chance to contribute to the team's performance and success.
"I have to stay on top of my body so that I can play the amount of cricket I want to."
---
Click here for completely free £10 bet with Sky Bet & £5 free every week
---