Finn it to win it
Dave Tickner is backing Steven Finn to make a successful England comeback in the fourth Test against India.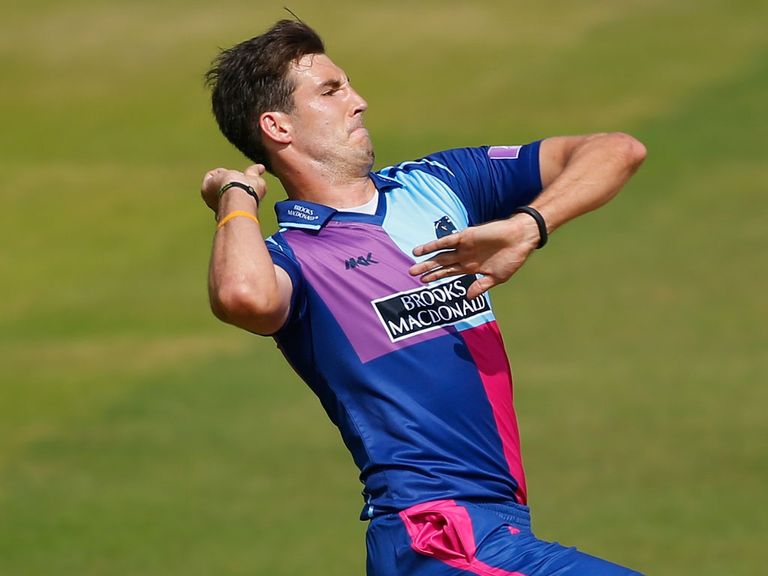 As the immensely entertaining Ravi Jadeja-James Anderson spat rumbles ever on, it's easy to forget that there's still a Test series going on and, while it may not be quite as entertaining as two grown men and all their friends arguing over who pushed who when and whether anyone was acting in an aggressive way with a cricket bat in a corridor, it's actually a series that is fascinatingly poised.
The pitch won the first Test at a canter, but since then we've had two decks that offered something to the bowlers and as a result two excellent matches.
As you might expect from two sides defined by boasting plenty of good players but fragile confidence, it's honours even with both sides having recorded a thumping win. In both games, the key has been getting in front. At Trent Bridge both sides had the chance to make decisive moves that may not have allowed them to force victory on a painfully flat pitch but would've handed them control.
In the third innings at Lord's and the first innings at the Ageas Bowl, such chances were taken. And in both those matches, the beaten side capitulated pretty tamely in the end. The consensus now seems to be that England, having ended a year without a Test win, will now stride on and take the series.
I'm not convinced. One Test, however encouraging, does not a recovery make and England still have plenty to do. The fact that two of their five frontline bowlers failed to take a wicket at the Ageas Bowl has to be a concern, despite the return to form of all four remaining senior figures in the side.
India, though, are still waiting on meaningful contributions from their key men, Che Pujara and Virat Kohli, and the bowling looks heavily reliant on Bhuvneshwar Kumar.
The match market, though, has been skewed by a poor forecast which has sent the draw odds-on in places. It looks an overreaction. The forecast for day one, by definition the most reliable due to the proximity, is actually pretty good and while there will almost certainly be delays later it would need a bat-dominated opening day to force the draw price shorter than it already is.
The draw looks too short, and opposing it with England, India or both at the current prices looks a reasonable piece of business.
The concern for me is that even the threat of rain can do funny things to a market. It's possible the draw price refuses to budge so those looking for back-to-lay opportunities may be disappointed.
It would be staggering if India don't bring in Ravichandran Ashwin as a proper frontline spinner. Jadeja simply is not that, and his two biggest contributions to the series have been his celebration upon reaching 50 at Lord's and getting sworn at by Anderson.
Ashwin has a poor overseas record, but from only four games. He's also a fine lower-order batsman and with all the bowlers bar Kumar struggling for penetration his selection is something of a no-brainer; it's almost impossible for him to come in and weaken the attack.
He will replace either Jadeja or Rohit Sharma, while Shikhar Dhawan is likely to suffer the axe after making just 122 runs in six completed innings. Gautam Gambhir offers India a straightforward like-for-like replacement.
It'll be interesting to see what England do with their team for Old Trafford. Victory in Southampton allied to runs in both innings means the talk around Alastair Cook's position has died down for a week, but it would be a surprise were there not to be at least one change in the bowling attack.
Chris Woakes may have gone wicketless, but he did offer Cook control. He went at under three an over, and was probably a touch unfortunate not to get something in the wickets column. His contribution should not be ignored, and he deserves to retain his place.
Chris Jordan, though, struggled horribly. He would almost certainly have been replaced by Liam Plunkett at Old Trafford, where a bowler with extra pace is key.
Plunkett has been forced to pull out due to injury, and England have made a big call by bringing Steven Finn back into the fold.
By the end of the winter in Australia he was a wreck, barely able to bowl in the nets and described by then ODI coach Ashley Giles as "unselectable".
That he is back just six months later is remarkable, but 44 wickets in 10 Championship matches for Middlesex is an eye-catching return to form.
It will be a leap of faith for Cook to put his trust in a bowler whose struggles he saw first hand in Australia, but it's an appealing opportunity.
Most would've thought Finn would need longer - very probably this whole summer - outside the set-up to get back on track.
But a combination of circumstances and his own form make a compelling case.
India's batsmen are not in great form. Stuart Broad, Anderson, Woakes and even now Moeen Ali offer England and Cook plenty of control, certainly enough control for the fifth bowler to be something of a wildcard selection.
And if selected, Finn is one to look at from a punting perspective. He has not always convinced when playing for England, but he has always taken wickets. He has 90 from 23 matches. He has taken four or more wickets in an innings nine times.
And while his only Test at Old Trafford was back in 2010 before the rotation of the square and against Bangladesh, he did take six wickets in that match so should be happy enough to make his comeback here.
If England are prepared to gamble, the rewards could be significant. His record makes him well worth backing at 4/1 to be top England bowler, while the fact bowlers have led the way in the man of the match market in this series (Anderson twice and Ishant Sharma the winners so far) and the obvious narrative appeal of a redemption storyline makes him an interesting 20/1 runner in that market.