Time up for Captain Cook
Dave Tickner says Alastair Cook cannot continue as England captain after Monday's defeat to India.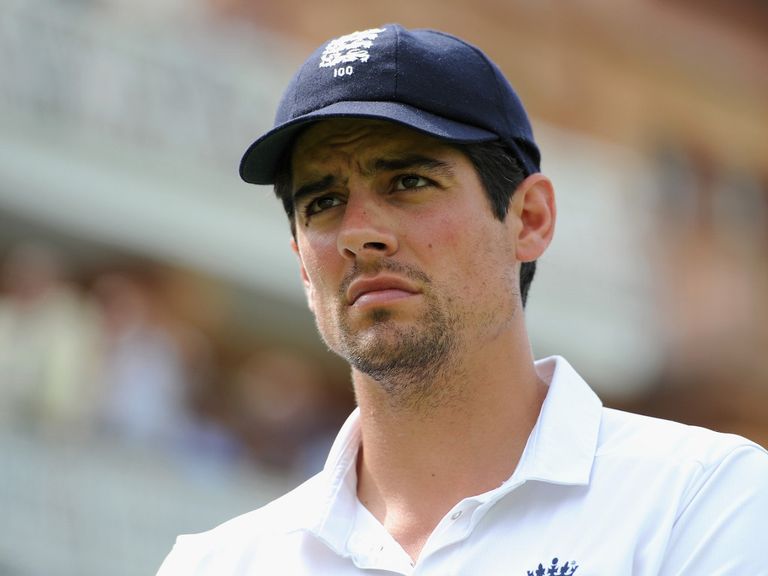 The collateral damage is starting to mount as the ECB go to extraordinary lengths to preserve the now utterly untenable captaincy of Alastair Cook.
First - and still most recklessly, arrogantly and damagingly - they unceremoniously halted the career of England's best and most destructive batsman because he dared to speak/whistle out.
Now they have broken Matt Prior, recalled to the side as a trusted lieutenant to prop up the captain despite having neither the form nor fitness to perform his primary tasks as wicketkeeper and batsman.
And the next man sacrificed on the altar of this bone-headed, stubborn wrongness may well be Cook himself as his game falls apart because no-one will admit they have made a mistake.
He is determined not to quit. Admirable in its way, but in another it's the sort of selfish elevation of the self  above the needs of the team with which Kevin Pietersen was charged by a regime that deemed him a bad influence.
Where Prior was concerned, the selectors and vast backroom staff were apparently unable to see what was clear even to those outside cricket: he is not currently fit for purpose. Cook insisted immediately after the 95-run defeat to India at Lord's that Prior was the best keeper-batsman in the country despite all evidence to the contrary and guaranteeing the gloveman's place for as long as he wanted it.
A troubling decree on many levels, suggesting both that Cook's mind is now even more scrambled than we feared and that he had the authority to make such a pronouncement on a player's place in the team.
With the top brass unwilling to act, Prior fell on his sword. A noble and correct decision, but one that should, like a series of missed chances in this series, have been out of his hands.
But Prior's decision to take a break from the game should free up plenty of time for England to make the other call that is staring them in the face.
Cook must be relieved of the England captaincy. For the team and for himself.
The numbers are damning, with seven defeats in the last nine Tests while his own game has collapsed.
He is averaging just 14 with the bat this summer and has produced some of the worst sessions of captaincy ever seen from an England skipper. Most damning of all, he keeps making the same mistakes with the bat and the same mistakes as captain suggesting lessons are simply not being learned. As a batsman he has lost his off stump; as a captain he appears to have lost his mind.
He defends away from his body and nicks off. He spreads the field when a tailender is in and gives up crucial, infuriating runs. He defends away from his body and nicks off. He forces James Anderson's battered body to produce another eight-over spell. He defends away from his body and nicks off. He fails to trust any spinner who is not Graeme Swann.
It cannot go on. England cannot keep telling themselves there is no problem. They cannot keep hoping that Cook's form will magically return and that he will become a fine captain because of his family.
They must act. Paul Downton was only too happy to pat himself on the back for making the big, brave and utterly incorrect decision to axe Pietersen. Some of that decisiveness – if it can be called such given this decision has been necessary for at least two Test matches now – would be welcome here.
There is no convincing argument for keeping Cook in the role.
Even at his absolute best, he is no more than an average captain. The same is not true of his batting. He has over 8000 Test runs and more centuries than any other England player. He is not yet 30. He will become the first Englishman to 10000 Test runs and could go way beyond that.
But the inaction is weakening him, as every other decision the ECB have taken to try and support him in the last six months has done.
Cook the captain is already spent. If England don't act, there will come a time when even Cook the batsman can no longer be salvaged.
Someone, anyone – whether it's Downton, Giles Clarke, Peter Moores or even Andy Flower in his Loughborough lair – needs to take Cook to one side and explain that the current situation is no good for anyone. That the team needs a new leader, and that he needs the freedom to rediscover his own game.
Some would argue that once the captaincy is taken from Cook then his place in the side must also go. I disagree. Cook's record as a batsman should earn him the chance to at least see out the summer and see if lifting the weight from his shoulders frees up the movement of his feet.
England need their world-class opening batsman back. If that means sacrificing an average captain, then that looks a fair trade.
The problem for the ECB, of course, is the sacrifices they have made in order to preserve Cook as leader. They have not only placed all their eggs in the Alastair Cook basket, but insisted it is the only egg basket available.
This idea that Cook must be retained as there is no other option simply doesn't hold water. There are always alternatives, and Cook is struggling to such an extent it's hard to see who England could hand control too and not see at least a dead cat bounce.
Ian Bell has more captaincy experience in county cricket than Cook. Joe Root could be an English Graeme Smith, and this summer has very much carried the air of a senior player as he settles in at number five in the order. Stuart Broad is the T20 captain, while  James Anderson does a great deal of on-field leadership and is – by Cook's own admission – the architect of many of the 'funkier' fields England deploy.
A common but to me curious criticism of Cook – and other captains - is that of 'following the ball'. As a ball is edged through a gap in the slips, the captain bolsters the slip cordon. "He's following the ball," comes the inevitable complaint.
While it would be best to have predicted it and had all the pieces in the right place at the outset, it's surely better to see what has happened and react accordingly than stubbornly stand by the original decision even once events have proved it to be a poor call.
It's time for England to follow the ball.