Cook has bases covered
Three debutants, a recently-dropped vice-captain and a bowler back from a seven-year hiatus may all be part of England's "fresh start" at Lord's - but Alastair Cook is confident he has all bases covered.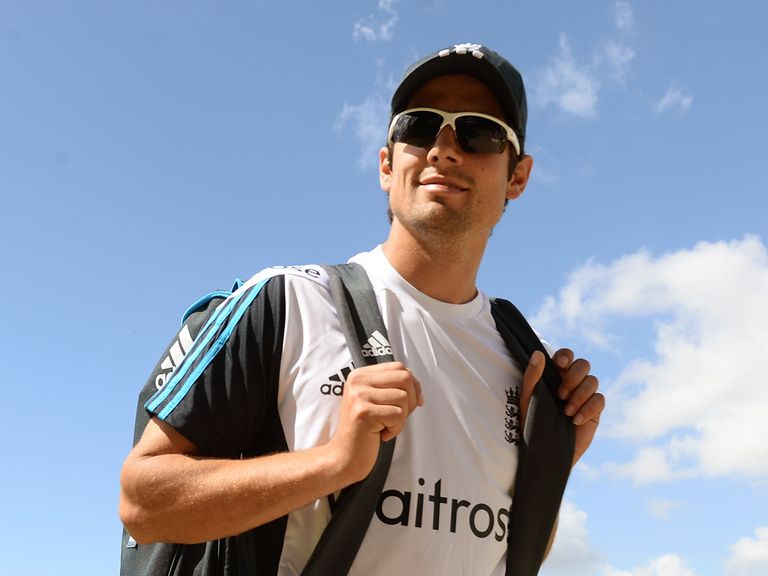 There is arguably a motley ring to the outcome of exhaustive deliberation to deliver the squad to launch Cook and returning coach Peter Moores' much-discussed new era in the first Investec Test against Sri Lanka.
Cook has spelled out Sam Robson and Moeen Ali's positions in England's top six, along with that of Gary Ballance at number three after his solitary Test to date, and it is highly likely all-rounder Chris Jordan will be the third new man.
Matt Prior, dropped in favour of Jonny Bairstow during England's descent to Ashes whitewash last winter, is back but not as vice-captain - a role currently unmanned, although Ian Bell would lead the team should Cook have to leave the field for any reason.
The extra question still to be resolved by confirmation of the final XI is whether England opt for the potential pace and bounce of 29-year-old Liam Plunkett, who played the last of his nine Tests in June 2007, or recall Chris Woakes from a much shorter absence since his one cap last summer.
Either way, if it seems Cook might have plenty on his plate - to keep a captain's eye on one and all - he shrugs at the suggestion.
He said: "It's been a pretty heavy load for every England captain. There are always different challenges."
Cook is keen, as he must, to accentuate the positive.
"It feels like a fresh start," he added.
"I'm a pretty open guy, and people have had pretty good chats with me.
"They can walk up to me, rather than me walking up to them. I hope people are feeling ready to go."
He acknowledges the high stakes, but has no doubt England's selectors have chosen wisely.
"All the newcomers will want to prove they are international players, and they deserve to be here.
"I've been impressed by these guys coming into the dressing room."
Robson, Moeen and Jordan will begin their Test careers not just at a watershed time for England, but in circumstances which may prove trying between teams who fell out only last week when Sri Lanka enforced the dismissal of Jos Buttler with a 'Mankad' run out as he backed up out of his ground.
Cook accepted, amid that controversy, it was an incident which might "spice up" this series.
On the eve of the first match, he said of the tourists: "They are incredibly competitive.
"I think they have always punched above their weight.
"It's in their character."
England will be taking no backward steps either.
"At the time it happened last week, I was quite emotive," Cook added.
"It was frustrating at the time, and what happened is still frustrating.
"There have been a lot of comments about it. But he was within his rights to do it, so the bottom line is you can't really argue.
"I think both sides will play a hard brand of cricket.
"We have a responsibility to play it the right way - because there will be a lot of people watching us, a lot of kids - but they want us to play it hard too."
Cook found himself called to account too not just about those chosen for this Test, but the omissions of Ben Stokes and Buttler.
England satisfied themselves with the fitness of Prior, despite an Achilles injury which has badly curtailed the start of his season, yet decided Stokes was not sufficiently recovered from his self-inflicted broken wrist.
"Stokesy wasn't quite ready," Cook added.
"He's only bowled 30 odd overs, and when he bowled he was a bit rusty.
"We've got no doubt how good Ben Stokes will be for England - but unfortunately with that injury... and it's a big ask to come back quickly from something like that at this stage of his development."
Buttler was passed over because England retain faith in Prior, despite his Ashes blip.
"I've no doubt Jos is an exceptional talent who will play Test cricket for England," said Cook.
"But we've got a guy in Matt Prior who averages over 40 in his Test career.
"He's an outstanding batsman who had a tough six months. I'm backing his ability at the moment, and the quality we know he's got."
Plunkett, a dramatically resurgent force since his move from Durham to Yorkshire, has also impressed his captain.
Cook added: "I think he understands how to get the best out of himself - he looks a different guy around the camp from the one I met in 2006.
"He's really relaxed, matured... and certainly knows his cricket.
"If he gets his opportunity he's raring to show people how lucky you are to play for England.
"He's seen the other side. Life isn't that bad if you aren't in the England side, but he just wants to prove how good he is."
Plunkett is not alone in that as England seek to set a new tone this summer.