Ali ready for true test
England have had many travails against mystery spin - but at Lord's this week it will be they, rather than Sri Lanka, who have a doosra in their armoury.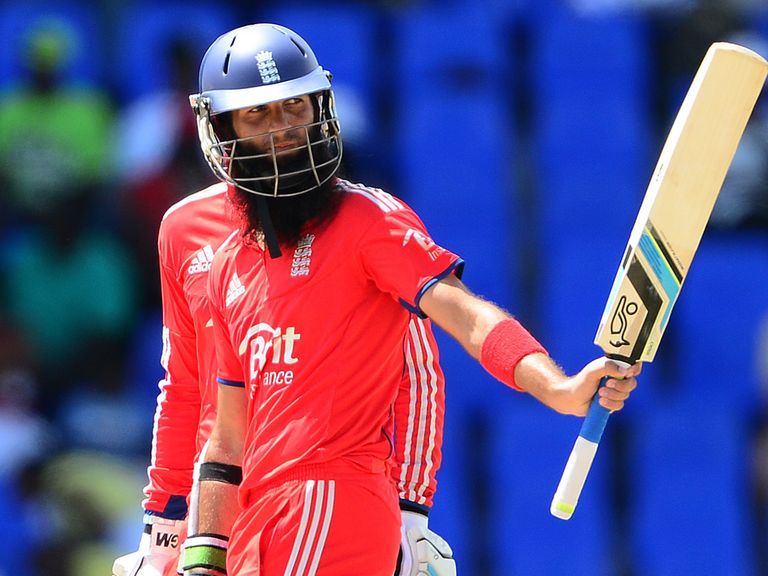 The great Muttiah Muralitharan twice ambushed England on their own patch, to devastating effect for Sri Lanka at The Oval in 1998 and then Trent Bridge in 2006 - latterly with variations pioneered on the sub-continent and which have changed cricket for good.
In Moeen Ali, England have the embryonic potential to return fire in the first Investec Test - against opponents who, these days, house only the conventional spin of Rangana Herath or Dilruwan Perera.
Moeen, sure to capture the imagination on his Test debut thanks to an unmissable signature beard in deference to his Islamic faith, has been picked primarily as a batsman who can bowl.
But after tutorials with his Worcestershire team-mate Saeed Ajmal, another scourge of England for Pakistan in the United Arab Emirates three winters ago, he is ready to start unleashing his new weapon.
Ajmal made mugs of England's batsmen in the desert with his doosra - a delivery with all the hallmarks of a conventional off-break yet which turns away rather than into the right-hander.
Worcestershire's overseas player has been happy to pass on the tricks of his trade to Moeen.
"I worked really hard with it over the last month or so," said England's emerging all-rounder, one of three new faces in the frame for a first cap on Thursday.
"I hope ... I'll be ready to bowl it.
"I bowled about eight in the last championship game, and in Twenty20s I've been bowling five or six each game.
"So far every one's landed."
That story so far is largely thanks to Ajmal.
"He's helped me loads," added Moeen, set to be the first Englishman ever to bowl a doosra in a Test match.
"He's pushed me, given me a lot of confidence - it does take a bit of time, because you bowl a lot of full-tosses in practice.
"It's embarrassing at times. But he said he did exactly the same thing, so that gave me confidence to just keep trying to do it."
Modern cricket is littered with instances of doosra exponents finding themselves under scrutiny, or even banned, as the boundaries are pushed and redefined as to what constitutes a legal action.
Moeen said: "The umpires in the championship games and the Twenty20s said they don't see any difference.
"Speaking to a lot of people, they say it's pretty sound, and I'll definitely be able to bowl it."
His doosra has yet to take a wicket, but he has had "a few plays-and-misses and ... a close lbw that bounced a bit high".
"I can't wait to get that one wicket with it, and then hope it gives me a lot of confidence.
"Saeed says once you get one or two wickets with it, you start bowling it a lot more.
"You always want to be sure you can do it legally.
"You have to get the opinions of everybody, and one or two said maybe you won't get away with it.
"I'm not sure I'm 'mystery' yet, but I hope in time I can become a mystery bowler."
More immediately, Moeen hopes too he is joined as a debutant this week by opener Sam Robson and pace-bowling all-rounder Chris Jordan.
"I know Sam and CJ really well.
"We had a chat yesterday and got quite excited that potentially all three of us could be playing.
"When we were in Australia (with the Performance Programme last winter), we were saying we would love to play international cricket together.
"(We've had) ODIs and Twenty20s - so now Test cricket, we hope."
Whoever takes the field with Moeen, he knows his presence is bound to be noticed beyond the traditional cricket audience.
He describes his beard - the 'beard that's feared' in Worcestershire promotional literature - as a "label" for his faith.
"In terms of trying to inspire other people with faith to play, I am very proud of that.
"All the prophets, from Adam to Muhammad to Jesus, all these guys (had a beard).
"It is a label for us to show we are Muslim, just how it is when you wear a uniform in school.
"It represents that you have to be on your best behaviour all the time."
Moeen will be representing a proud family too, a culmination for him of many hours spent growing up in Birmingham playing backyard cricket with brother Kadeer - who also became a professional.
Their cousin Kabir played one Test for England 11 years ago.
"I have played quite a few Test matches in the back garden with my two brothers, but this one is a bit different - obviously more exciting.
"My two brothers and my dad, who worked very hard on us, I am obviously happy for them.
"I went to Kabir's Test at Headingley - and my two brothers and parents are coming down (here), and my wife and my little boy."