Borthwick catches England bug
All-rounder Scott Borthwick hopes more success with Durham will earn him another international call-up this summer.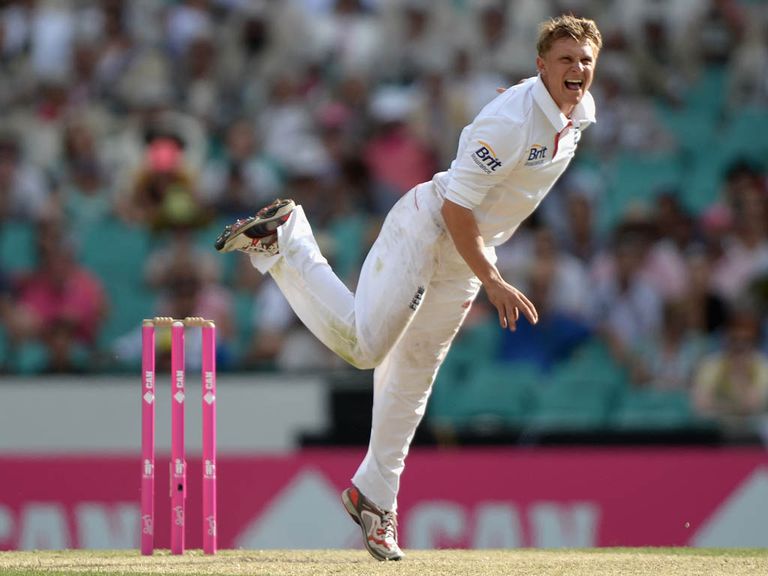 The 23-year-old was a surprise inclusion in the England Test side that lost to Australia in the fifth Ashes Test in Sydney back in January, with Monty Panesar out of form and Graeme Swann having retired midway through a disastrous series that the tourists lost 5-0.
Borthwick managed to pick up four wickets on debut to cap what had been an incredible few months for the Sunderland-born player, who played a key role in Durham winning the County Championship Division One title last season.
With England still to name a successor to head coach Andy Flower, who stepped down after the turmoil Down Under, Borthwick is hoping he can impress the new regime and get a run in the side.
"I was playing grade cricket in Sydney and I was packing my bags just before Christmas, ready to go home for a break before I went to Sri Lanka with the England Lions," Borthwick told sportinglife.com in Abu Dhabi, as he played for Durham in the annual Champion County match against the MCC.
"I got a call from England to say they wanted me to come into the squad ahead of the fourth Test in Melbourne - it was an unbelievable sense of achievement and a very proud moment for myself and my family.
"Then to to play in the fifth Test was incredible - it all happened so quickly. I would have liked to have performed better but it's a Test cap and I managed to burgle four wickets on debut so it was a fantastic experience for me.
"What a great learning curve and hopefully I can take a lot from it in - playing in that environment with 40,000 Aussies giving you stick all the time.
"It was a great help having [Durham team-mate] Ben (Stokes) there and I can remember going onto the field and the hairs were standing up on the back of my neck. I was at third slip and I said to him 'This is just incredible'. He's one of my best mates so to share it with him was amazing.
"Hopefully I can experience again as being in that environment really does give you that hunger to do it again.
"I'm trying not to look too far ahead but if I can keep playing well for Durham then hopefully another England call-up will come."
Borthwick was a key member of a Durham side that started last season in the County Championship as favourites to be relegated, but ended it as champions for the third time in six years.
Promoted up to number three in the batting order, Borthwick made the most of his chance as he scored over 1,000 runs in a hugely memorable campaign.
Durham start their 2014 defence with a trip to newly promoted Northamptonshire this weekend and the all-rounder thinks that the top flight is now even stronger than it was last season.
"Last season was incredible - the media were writing us off but because we were mostly local lads the team spirit was fantastic and I think that played a massive part for us," he said.
"Paul Collingwood was immense as captain, then what happened with coach Geoff Cook taking ill and Jon Lewis stepping in and doing a fantastic job in keeping the lads together and still winning games.
"We had some unbelievable victories last year. We played a strong Yorkshire side at Scarborough who had six of seven internationals and we won at Trent Bridge against a Nottinghamshire side that had Stuart Broad and Graeme Swann in it.
"One of the main things was that everyone stood up at some point and contributed so it was a season of pluses.
"That Scarborough game was when I first started to think that we were in with a real chance of winning the title. I can't speak highly enough of Colly and he said we should treat the last five games as finals and that's what we did.
"I was delighted to contribute to both the bat and the ball. Going up the order was always something I wanted to do, maybe not up to three but certainly five or six so I had no hesitation in saying I'd do it.
"It's always hard to retain a title in any sport because the following season everyone wants to beat you because you are champions.
"So Northants will come at us hard in that first game and the other promoted side, Lancashire, will be tough to beat so it's another difficult season.
"We've lost some good, experienced players. It means we're going to have to rely on some young ladss but they have a lot of talent and that excites us as a team. We can still have a good crack at it."
Borthwick admits he does feel under extra pressure being a leg spinner, as England strive to unearth the next Shane Warne.
But it's a challenge he is determined to meet head on.
"I do feel under more pressure because I'm a leg spinner because there aren't many good ones out there so there's more scrutiny," he said.
"It is a hard skill - I have good days and I have bad days. When it's a good day you have to try and make it a really good one because you know a bad day will come.
"You can have a day when a batsman gets on top of you and can take you down, or you can have a day when you bowl bad balls. As a leggy you have to accept that and try and cut them out as much as you can.
"I keep trying to improve my action as I know it needs to be stronger and you have to have the mindset that if someone is trying to take you down then you have to be brave and keep focused.
"A leggy also has to accept that he's a wicket taker as well so that's more pressure but you have to be positive about it. A leggy can be a strike bowler just as a quick can. I look as it as a good challenge and an exciting time for me."
So now he's up the order, does Borthwick consider himself a bowling all-rounder or a batting all-rounder?
"If I have a good day with the bat then I'm a batting all-rounder ... if I have a good day with the ball then I'm a bowling all-rounder!" he quipped.
"I still think of myself as a leggy because my leg spin can ultimately take me further in my career than my batting.
"Hopefully I can keep contributing with both and ideally I'd like to stay at the top of the order and also be the number one spinner in the side."
---
New Sky Bet customers: Free matched bet up to £30
---