Hussain: KP decision 'huge'
England's decision to jettison Kevin Pietersen has been described as a "massive shock" and a "huge decision" by former national team captain Nasser Hussain.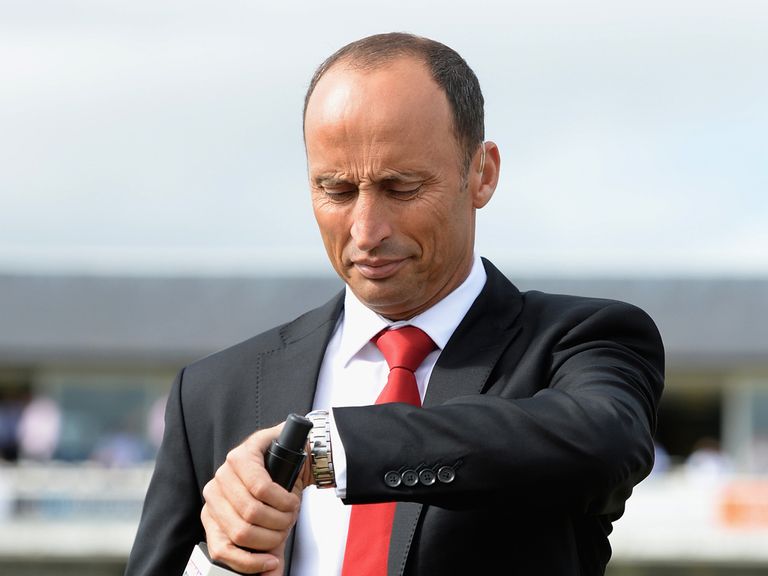 The England and Wales Cricket Board announced on Tuesday night that Pietersen will not be picked for the forthcoming tours of West Indies and then Bangladesh for the ICC World Twenty20.
That announcement appeared to signal the end of Pietersen's colourful international career, with the 33-year-old batsman saying in a joint statement that he was "obviously very sad the incredible journey has come to an end".
Pietersen's omission follows Andy Flower's resignation last week as team director as the implications of England's 5-0 Ashes whitewash this winter stack up.
The decision follows a meeting at Lord's between new ECB managing director Paul Downton and selectors.
Hussain was among the high-profile experts and pundits reacting to the bombshell, telling Sky Sports News: "They had to make a decision pretty soon. It is a huge decision, and a massive shock.
"It's been an incredible winter, and nothing seems to surprise us any more.
"There were rumours of things going on behind the scenes in Australia ... and obviously Andy Flower has made his thoughts felt.
"Paul Downton has taken this decision to move on into this new era and future without Kevin Pietersen."
Hussain acknowledges England had a tough call to make between trying to forge a future with a brilliant player, who has fallen out with management several times over since his earliest days in his native South Africa, and choosing to sever those sometimes troubled ties.
"It's a bold move when you go without one of your best players ... so there must have been things that were happening behind the scenes that Flower and (captain Alastair) Cook weren't amused with," he said.
"It would be nice to know from the ECB, if you're going to axe one of your best players, what those things were.
"It is about man-management - however disruptive a player is, you can still try to manage most players.
"But history tells you with Kevin he hasn't really got a foot to stand on - whether it be back in Natal or Hampshire or Nottinghamshire, or Peter Moores or Andrew Strauss or Alastair Cook or Andy Flower, wherever he has been he has been a problem.
"Eventually English cricket has said 'enough is enough'.
"Some people believe in cutting out the virus and moving on; other people just say 'man-manage your best players'.
"There is no easy solution.
"He is arguably one of the best players England have ever produced.
"Andy Flower said they are going to have to take some pain, going into this new era, and I think we all know and see now what he meant by that."
Michael Vaughan, who captained Pietersen when he made his debut in the successful 2005 Ashes series, insists it is up to management to make sure they get the best out of gifted "mavericks".
Yet Vaughan senses the real story might be that England had to be seen to make some changes after their miserable winter.
He told BBC Radio 5 Live: "England lost 5-0 and need a huge scapegoat.
"He didn't have a great series, by his own accord, but the ECB need to explain what he does that they can't manage any longer.
"You have to be able to manage mavericks. You can't have clones around."
Vaughan argues that there have been more appropriate times to get rid of Pietersen rather than now, barely a month before a global tournament.
"There's a 'World Cup' in four weeks' time; England play India in the summer, another World Cup in 12 months and another Ashes in 14...
"The chance to get rid of KP was in 2012. They had every right. The 'textgate' was disgraceful, and he knows that."
Pietersen was instead reintegrated and went on to contribute important centuries in the Test series wins in India and against Australia last summer.
"They could have drawn a black line through it and moved on," added Vaughan.
"When he won the game in Mumbai everyone said he was rosy - the same at Old Trafford. England would have lost that game without him.
"Now it's all gone pear-shaped, it's 'get rid of Pietersen'. I can't agree with that.
"To make a decision on your star player, I think it's mad to make a decision now.
"Pietersen will be gone at the end of 2105 - he'd have walked away after two World Cups and the Ashes. It was about managing him for another year and a half to try and get England winning games - manage that maverick."
Alec Stewart spent much of Tuesday morning with Pietersen, who was demonstrating to Surrey players at The Oval his tips for playing spin.
Stewart, a predecessor of Hussain's and Vaughan's as England captain, said of Pietersen: "He was quite outstanding.
"Many people enjoyed watching him bat - a box-office cricketer - and now sadly it has all come to an end.
"We don't know what is going on within that dressing room.
"What I can tell you is, everything that's gone on in the Surrey dressing room when he's been with us, he's been outstanding - a breath of fresh air."
With England, it has apparently been very different.
Stewart added on Five Live: "When we were winning, we didn't hear anything.
"When we lose, everyone is pointing fingers at KP - and I find that unfair and unjust."
The quickest reaction of all to the apparent end of Pietersen's international career came via Twitter from one of his greatest rivals, and friends.
West Indies batsman Chris Gayle, no stranger himself in the past to disagreements with his employers, wrote: "No @KP24 for the Caribbean tour later this month against WI? That's really sad for English/international cricket!Don't let the fans suffer."
---
New Sky Bet customers: Free £30 matched bet
---